Newsletter: Essential California: Giving thanks
Good morning, and welcome to the Essential California newsletter. It's Thursday, Nov. 22, and here's what's happening across California:
TOP STORIES
On Thanksgiving, I want to highlight an act of generosity. The story is about Paradise — a town reduced to rubble but a community that has banded together in the face of daunting challenges — but begins with Rancho Santa Fe resident Bob Wilson reading a news story.
The businessman learned in the Los Angeles Times about the class of 2019 at Paradise High School and their uncertain future. It's estimated that 80% to 90% of students lost their homes to the fire. Classmates have been scattered across county and state lines and don't know whether they'll see each other again. It's unclear how this group of kids is going to graduate.
This touched Wilson. He says he decided to donate $1.1 million to the community — meaning all 980 students and 105 employees will receive $1,000 checks.
"When I read about what happened in the L.A. Times, it occurred to me that how significant high school was to me," Wilson told the Paradise Post. "It was the last carefree time in my life."
This last year at The Times has been wild. But now we're under local ownership with a mandate to tell the stories of Californians — and hopefully touch people in the same way that we touched Wilson.
Like so many here, I am grateful to have the opportunity to bring you the news. If you don't already subscribe, I hope you'll consider it. And now, on to the rest of the news.
— Benjamin Oreskes
More from the wildfires
What would you say to your daughters when you think you will die by fire? Tamara Ferguson is a 42-year-old mother of four children who, along with two fellow nurses, a pediatrician, two EMTs, two paramedics, two volunteer firefighters and some patients, saw the Camp fire closing in around her. Los Angeles Times
— Storms raise the threat of mudslides in burn areas across the state. Los Angeles Times
— As the search continues for the dead amid the Camp fire's devastation, a huge Thanksgiving dinner takes shape. Los Angeles Times
— In a season of suffering and loss, small gestures of goodwill at Agoura Hills donation center on the eve of Thanksgiving. Los Angeles Times
— No legislator has confronted the effects of wildfire like this forensic dentist. CALmatters
— During the wildfires, farmworkers say, they felt pressure to keep working or lose their jobs. Washington Post
— Why California fires didn't dominate cable news like hurricanes did. Los Angeles Times
— Some Instagram influencers are using the wildfires to sell products and post nudes. BuzzFeed
-- Chico native and Green Bay Packers quarterback Aaron Rodgers is donating $1 million for California wildfire victims, but not without some family controversy. CBS Sports
Thanksgiving pardons
No governor in California history has given more former offenders a chance at redemption through a pardon or commuted sentence than Gov. Jerry Brown, who Wednesday granted clemency to a group that included onetime drug offenders, immigrants facing deportation and former state Sen. Roderick Wright. Los Angeles Times
Dropping out
Richelle Huizar has announced she is dropping out of the race for Los Angeles City Council, after a tumultuous month marked by two lawsuits against her husband and an FBI raid of her home. Huizar, wife of Councilman Jose Huizar, had launched a bid for her husband's seat two months ago and was immediately seen as a major contender. Los Angeles Times
Get the Essential California newsletter »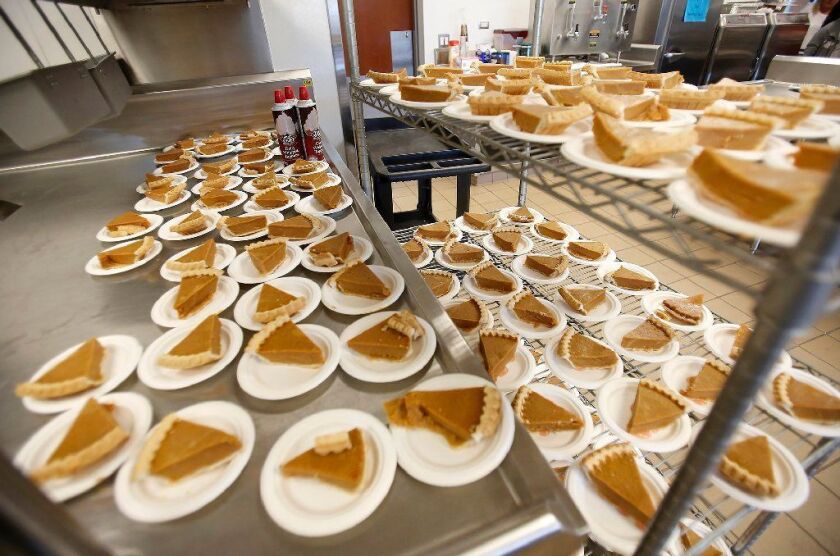 L.A. STORIES
On the fly: Twenty-nine Thanksgiving recipes you still have time to pull off. If you have the ingredients on hand, that is. Well, you can dream. Los Angeles Times
Safety first: Please don't poison yourself or your family this Thanksgiving. LAist
TBT: Remembering Hollywood in the 1990s. L.A. Taco
Reenvisioning the reservoir: Plans to craft a revised vision for the Silver Lake Reservoir took a step forward this week, with the selection of three firms as finalists to create a master plan for the site. Curbed LA
IMMIGRATION AND THE BORDER
New order: In a broad expansion of the military mission along the border, the Trump administration has authorized extensive new powers for U.S. troops to potentially use against migrants, including searches, arrests, riot control measures, and if necessary, deadly force. Los Angeles Times
POLITICS AND GOVERNMENT
Still counting: GOP Rep. David Valadao finds himself in an increasingly harrowing cliffhanger against Democrat TJ Cox, with his lead in the Central Valley House district reduced to 447 votes. Thousands remain to be counted. Los Angeles Times
Perspective: Remember the activists who helped power the blue wave. Los Angeles Times
It's already begun: The campaign to draft L.A. Mayor Eric Garcetti for 2020 is underway. Rolling Stone
In Sacramento: "Even before the cause of the deadly Camp Fire is determined, California lawmakers are drafting legislation to shield PG&E from massive liabilities connected to the blaze." Mercury News
CRIME AND COURTS
No felony charges: Attorney Michael Avenatti will not face felony charges based on allegations of domestic violence lodged against him by a 24-year-old actress. The case was sent to the L.A. city attorney for possible misdemeanor charges. Los Angeles Times
In court: Neil David Kimball, a Los Angeles County sheriff's sex crimes investigator, was charged with raping and tying up a 14-year-old girl he met as part of his job, and with dissuading a witness by force or threat. Los Angeles Times
A grim find: A broken skull and a few other bone fragments found in the scorched hills of Latigo Canyon on Saturday came from a human who died well before the Woolsey fire, Los Angeles County sheriff's investigators said Wednesday. Los Angeles Times
Guilty plea: "A member of a militant Southern California white supremacist group pleaded guilty Tuesday to a federal charge in connection with a violent political rally in Orange County last year in which several journalists were attacked." City News Service
THE ENVIRONMENT
A crisis in the national parks: How tourists are loving nature to death. The Guardian
CALIFORNIA CULTURE
Hollywood talk: "Creed II" punches back at how Russian characters are depicted in movies. Los Angeles Times
Plus: $2 billion in residuals are paid annually, but how much gets lost? The Hollywood Reporter
Stirring the pot: Does California have the worst drivers in the U.S.? SF Gate
Fun one: "The radical splendor of the Los Angeles Philharmonic." The New Yorker
Basketball and more: Kevin Durant of the Golden State Warriors speaks the truth. San Francisco Chronicle
CALIFORNIA ALMANAC
Los Angeles area: partly cloudy, 67, Thursday; sunny, 68, Friday. San Diego: showers, 66, Thursday; partly cloudy, 68, Friday. San Francisco area: rainy, 58, Thursday; rainy, 60, Friday. San Jose: partly cloudy, 63, Thursday; rainy, 61, Friday. Sacramento: showers, 58, Thursday; showers, 54, Friday. More weather is here.
AND FINALLY
Today's California memory comes from James Minow:
"I grew up on Vandenberg Air Force Base and roamed the Central Coast from Santa Barbara to Morro Bay. This was in the '60s and '70s, when EVERY town was a small town with a distinctive identify and personality — a time when chain stores had yet to pasteurize local color. Today I live in Washington, D.C., and when on occasion I return to those roots, I am relieved to see much of 'Old California' as it was 50 years ago, and ever hopeful that the splendor of such irreplaceable Western beauty be preserved."
If you have a memory or story about the Golden State, share it with us. Send us an email to let us know what you love or fondly remember about our state. (Please keep your story to 100 words.)
Please let us know what we can do to make this newsletter more useful to you. Send comments, complaints and ideas to Benjamin Oreskes and Shelby Grad. Also follow them on Twitter @boreskes and @shelbygrad.
---