Newsletter: Essential California: The state is aiming for 100% clean energy, but L.A. might invest billions in fossil fuels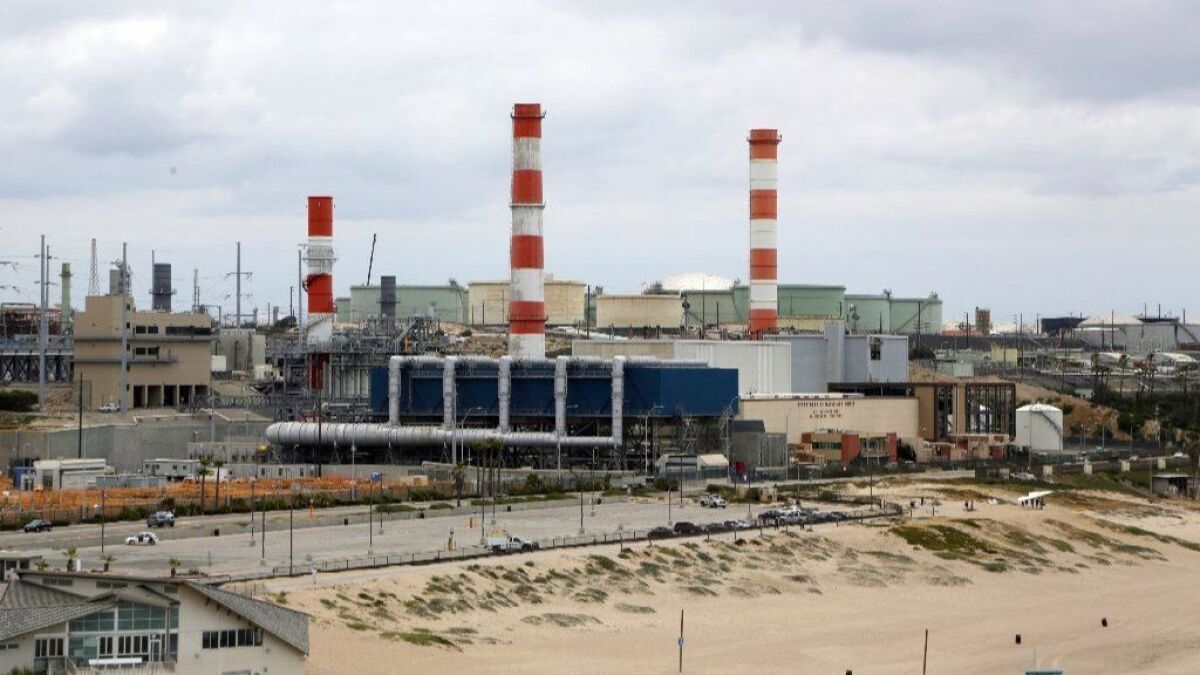 Good morning, and welcome to the Essential California newsletter. It is Saturday, Dec. 22. Here's what you don't want to miss this weekend:
TOP STORIES
The Los Angeles Department of Water and Power is leaning toward spending billions of dollars to rebuild three aging gas-fired power plants, even as California aims to eliminate fossil fuels, a goal endorsed by Mayor Eric Garcetti. Consultants hired by the utility say the city should invest those ratepayer dollars in continuing to burn natural gas at the Scattergood, Harbor and Haynes power plants along the coast. The utility's staff agrees, saying that batteries charged with solar or wind power aren't yet cheap or reliable enough to replace the gas plants, which are critical to keeping the lights on. Environmental activists had cheered last year when the DWP said it would temporarily halt plans to rebuild the plants. Now they're dismissing the consultants' study because it doesn't consider the possibility that battery costs, already far lower than they were a decade ago, will continue to fall. Los Angeles Times
Under examination
FBI agents investigating Los Angeles City Councilman Jose Huizar are examining the activities of two men with close ties to City Hall, including a lobbyist who has represented several real estate developers with projects in Huizar's downtown district. Two sources, who asked not to be named because the investigation is ongoing, said a federal grand jury had issued at least one subpoena seeking records involving Morrie Goldman, a longtime lobbyist, and Art Gastelum, who owns a construction management firm and has been scrutinized during earlier corruption probes but never charged. Goldman has represented companies developing some of the biggest projects in Huizar's district, including the $1-billion Grand Avenue complex across from Walt Disney Concert Hall and the 6 AM project, which would bring two 58-story skyscrapers to 6th and Alameda streets. Los Angeles Times
The traffic ender? Maybe not
Billionaire entrepreneur Elon Musk's plan to help drivers escape traffic by sending cars hurtling through dozens of skinny freeway tunnels has caught the imagination of some Californians who are sick of gridlock, but unwilling to give up their vehicles. But even if that could happen, does that mean it should? That's the question lingering after Musk's much-hyped presentation this week, where he unveiled his first tunnel, beneath the streets of Hawthorne. Before a crowd of investors, celebrities and Tesla owners on Tuesday night, Musk pitched his tunnel vision: building layers upon layers of one-way routes, each 12 feet in diameter, that would be reserved for autonomous electric vehicles to carry riders to their destinations. Los Angeles Times
Plus: Dig your crazy tunnel, Elon Musk! City Lab
AROUND CALIFORNIA
A shocker: The Dodgers completed a blockbuster trade with the Cincinnati Reds on Friday afternoon, sending outfielders Yasiel Puig and Matt Kemp, catcher Kyle Farmer, left-hander Alex Wood, and $7 million to the Cincinnati Reds in exchange for right-hander Homer Bailey and two minor leaguers. The move saves the Dodgers millions of dollars on salaries, granting them additional room under baseball's $206-million competitive-balance tax threshold to perhaps reinvest the money elsewhere. Los Angeles Times
Making sense of the headlines from D.C.: With parts of the federal government shut down, here's how it could affect you. Los Angeles Times
Hearing from you: LAUSD parents, if teachers strike in January, will your child attend school? Los Angeles Times
Who moves to California? The wealthier and better educated, mostly. Los Angeles Times
Ruh-ro: "PG&E has already been convicted in criminal court for a recent deadly tragedy. Could the utility soon find itself as the defendant in a dozen more cases, charged with breaking state laws?" Sacramento Bee
Coming soon: "A new California law taking effect Jan. 1 will protect workers from being sued for defamation when they accuse someone of inappropriate behavior, as long as they do so in good faith." Capital Public Radio
Yum: The best food stops on the I-5 between the Bay Area and Los Angeles. SF Gate
Eeek: A San Francisco police officer who came under scrutiny in 2015 for his role in a racist and homophobic texting scandal in the department was charged Wednesday with robbing a bank. Los Angeles Times
A wet Friday: A century-old water main broke in South Los Angeles, submerging streets and cars and spurring evacuations. Los Angeles Times
Nice: Welcome to the L.A. food bank that works like a grocery store. LAist
Barry O! Caltrans crews have installed signs renaming a stretch of the 134 Freeway after President Obama. Los Angeles Times
Get the Essential California newsletter »
THIS WEEK'S MOST POPULAR STORIES IN ESSENTIAL CALIFORNIA
1.Some L.A. pensions are so huge they exceed IRS limits, costing taxpayers millions extra. Los Angeles Times
2. Police investigate the "reprehensible" behavior of some Camp fire cleanup workers who posted offensive photos. Los Angeles Times
3. Elon Musk unveils his company's first tunnel in Hawthorne, and it's not a smooth ride. Los Angeles Times
4. How George Tyndall went from USC gynecologist to the center of LAPD's largest-ever sex abuse investigation. Los Angeles Times
5. A million California buildings face wildfire risk. "Extraordinary steps" are needed to protect them. Los Angeles Times
ICYMI, HERE ARE THIS WEEK'S GREAT READS
The state of play in Tijuana: As authorities in Mexico and the United States continue to debate policy, with no long-term solution in sight, many migrants are hunkering down for months or possibly years in a purgatory of makeshift accommodations and spotty services. Los Angeles Times
We didn't start the fire: If California wants to get out in front of its wildfire problem, scientists have some clear but counterintuitive advice: Start more fires. Research shows that lighting fires under safe conditions restores a natural process that once kept forests healthy and resilient. Los Angeles Times
Last-second advice: Gift shopping? No problem — just fill in the blanks. Los Angeles Times
Wild story: How a movement is converting El Salvador's gang members into born-again Christians. Longreads
The Paradise fire: "Inside the most destructive fire in American history — and why the West's cities and towns will keep on burning." Outside Magazine
In Alabama with Boogie: "Four-time All-Star DeMarcus Cousins, nearing his debut with the Warriors, is one of the NBA's most polarizing players. A trip to his hometown of Mobile, Ala., reveals the beginnings of 'two different DeMarcuses.'" San Francisco Chronicle
Please let us know what we can do to make this newsletter more useful to you. Send comments, complaints and ideas to Benjamin Oreskes and Shelby Grad. Also follow them on Twitter @boreskes and @shelbygrad.
---