Newsletter: Essential California: The stories of heroism and survival inside Borderline Bar and Grill
Good morning, and welcome to the Essential California newsletter. It's Tuesday, Jan. 1, New Year's Day, and here's what's happening across California:
TOP STORIES
A detailed account from inside Borderline Bar and Grill, when a gunman opened fire on Nov. 7. Witnesses' accounts from the Thousand Oaks massacre paint a portrait of heroism that often goes unrecognized in mass shootings. Most of the people who died that night did so while trying to save others. Their bravery saved lives. Los Angeles Times
Plus: The story of those who died in the Borderline shooting. Los Angeles Times
New laws arising from #MeToo
Critics have long argued that nondisclosure agreements can protect serial abusers from discovery and prosecution, and thus enable further sexual misconduct. California will be among the first places to restrict the use of these pacts, which have come under scrutiny in the #MeToo era. Here's why. Los Angeles Times
BEST OF 2018
Here are more of the best California stories of 2018:
For generations, the L.A. neighborhood of Lincoln Heights has been an Ellis Island for Mexican immigrants, a promised land of good fortune. Not anymore. Economic, political and demographic forces are making it harder than ever to rise as an immigrant. Some wonder if it's still worth it. By Brittny Mejia, Andrea Castillo and Joe Mozingo, Los Angeles Times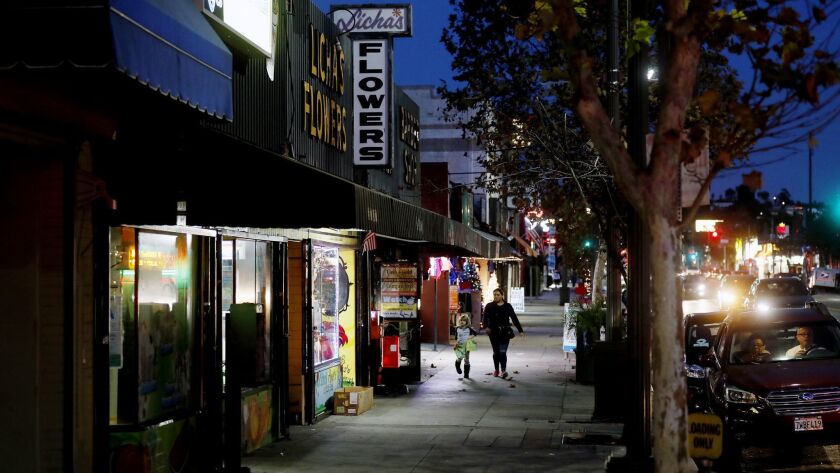 California is struggling with a deep love for its present and a deep-seated hate for its past. This stunning exploration tries to connect the "resistance" of today with the racism, greed and hate of the past. By Tony Platt, Boom California
A gripping look inside the "fire tornados" that caused so much loss in Redding, and a stark warning of how climate change is making California more dangerous. By Lizzie Johnson, San Francisco Chronicle
Max Harris was at the center of Oakland's underground arts, music and warehouse scene. But is the seemingly gentle soul also a mass murderer? By Elizabeth Weil, New York Times
Like so many, he was attracted to the California outdoors, and he wanted to experience it all. Then a rattlesnake bit him, and everything changed. By Kyle Dickman, Outdoors
It's been a year of unspeakable loss for Chris Erskine. Writing helps. So does remembering with joy and love there can be no grief. Los Angeles Times
Get the Essential California newsletter »
L.A. STORIES
The Walgreens shooting: A security guard who police say shot and killed a 21-year-old man in Hollywood was charged with murder in a case that has generated intense attention and protests. Los Angeles Times
Fight, fight, fight: The increasingly poisonous environment surrounding UCLA's flagship program resulted in the dismissal of Steve Alford as men's basketball coach. It was an ugly ride. Los Angeles Times
Showtime: Magic Johnson Park in South L.A. is getting a big upgrade. LAist
Speaking out: This year's Rose Queen is an advocate "for science education, for the importance of science informing public policy, and for inclusion." Los Angeles Times
CRIME AND COURTS
Criminal liability? Pacific Gas & Electric Co. could be charged with murder or involuntary manslaughter if authorities determine that recent deadly California wildfires ignited as a result of the "reckless" operation or maintenance of power lines, state prosecutors said. Los Angeles Times
Perspective: In our push for criminal justice reform, have we forgotten the "broken windows" concept of policing that we not too long ago hailed for L.A.'s big crime drop? Wall Street Journal
An important series: Born on Drugs — the struggles of parents and kids of addiction. Orange County Register
POLITICS AND GOVERNMENT
The shutdown's icky effects: The fun is over at Joshua Tree National Park. Blame feces. Campgrounds at the park will close at noon Wednesday, park officials said, citing health and safety concerns over the park's vault toilets, which are near capacity. Los Angeles Times
The real O.C.: Want to understand why Orange County turned blue so fast? Drive down Bolsa Avenue, which defies all the "Orange Curtain" stereotypes. New York Times
CALIFORNIA CULTURE
One more use for potato chips: Few are the architectural models that can be eaten with onion dip. But then again, few are the architects who create experimental models quite like Sou Fujimoto. Los Angeles Times
The fish man did it: "Aquaman" gave Hollywood one more hit to end a surprisingly strong year. Los Angeles Times
Blue skies in the north: It's not your imagination. It has been remarkably clear of late. San Francisco Chronicle
CALIFORNIA ALMANAC
Los Angeles area: Sunny, 63, Tuesday. Sunny, 62, Wednesday. San Diego: Sunny, 61, Tuesday and Wednesday. San Francisco area: Mostly sunny, 55, Tuesday and Wednesday. San Jose: Mostly sunny, 55, Tuesday. Sunny, 58, Wednesday. Sacramento: Sunny, 55, Tuesday. Mostly sunny, 54, Wednesday. More weather is here.
AND FINALLY
Today's California memory comes from Walter Brem:
"When I was a kid of 11 in Van Nuys in 1954, I remember hearing that UCLA whipped USC 34-0 in the cross-town football rivalry. UCLA, undefeated, shared the national title with Ohio State, of Hopalong Cassady fame. Meanwhile, USC was 8-3, and it went to the Rose Bowl, because UCLA went the year before and couldn't repeat then. So, because my uncle was a honcho at the USC med school, we got good tickets to the only Rose Bowl I ever attended. It was the 1955 game of USC versus Ohio State. Also, it was an El Niño year, and there was a driving, torrential rainstorm throughout the whole game. My dad and I were soaked to the gills. Meanwhile, Ohio State, under Woody Hayes, ground out a 20-7 win, with USC getting its lone score on a muddy 86-yard punt return by tailback Aramis Dandoy, one of the few USC players I really liked, largely because of his name."
If you have a memory or story about the Golden State, share it with us. Send us an email to let us know what you love or fondly remember about our state. (Please keep your story to 100 words.)
Please let us know what we can do to make this newsletter more useful to you. Send comments, complaints and ideas to Benjamin Oreskes and Shelby Grad. Also follow them on Twitter @boreskes and @shelbygrad.
---