Newsletter: Essential California: Pelosi in power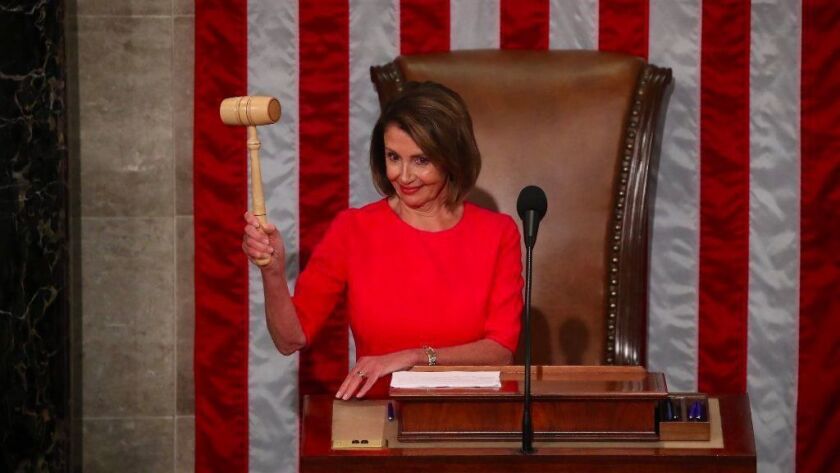 Good morning, and welcome to the Essential California newsletter. It's Friday, Jan. 4, and here's what's happening across California:
TOP STORIES
Yesterday was a big day for California politicians in Washington. Rep. Nancy Pelosi reclaimed her speaker's gavel — becoming the first person since Speaker Sam Rayburn in 1955 to reclaim the speakership after previously holding it. She also ties Rayburn as the oldest person to become the third in line to the presidency at 78. "Our nation is at an historic moment. Two months ago, the American people spoke and demanded a new dawn," Pelosi said after taking the gavel. She was referring to the midterm election, which brought a divided government for the remainder of President Trump's term. "I am particularly proud to be the woman speaker of the House of this Congress, which marks 100 years of women having the right to vote, as we have the honor and the ability to serve with more than 100 women in the House of Representatives — the highest number in history." Los Angeles Times
— House Democrats passed legislation to reopen government agencies despite White House opposition. Where it goes from here is unknown. Los Angeles Times
— Sen. Dianne Feinstein said that she supports former Vice President Joe Biden in what is likely to be a crowded 2020 Democratic presidential field. Los Angeles Times
— Rep. Brad Sherman of Northridge reintroduced articles of impeachment against Trump, but they won't be voted on anytime soon. Los Angeles Times
— The freshman class of House Democrats is already making waves. Los Angeles Times
On crime and punishment
When Gov. Jerry Brown's final term in office ends next week, he will leave behind a California criminal-justice system infused with a new commitment to second chances, a shift away from an era where tens of thousands — many poor, most black or Latino — were imprisoned with little opportunity to turn their lives around. "It's called hope," Brown said in a late December interview. "One hundred fifty thousand young men with zero hope bolsters the gangs, leads to despair, leads to violence and makes the prisons very dangerous. Many of them, the majority, will get out anyway. And they'll get out as very wounded human beings." Los Angeles Times
Strike on the horizon
If teachers in the Los Angeles Unified School District go on strike Jan. 10 as planned, about half a million students won't find their teachers, nurses, counselors and librarians at school. Across the sprawling school system, which stretches beyond the city limits, parents are trying to sort out what to do with their children. Should they send them to school and cross the picket line? Or should they keep them at home in support of their teachers? And if so, how will they manage? Los Angeles Times
Plus: School district officials and the union representing Los Angeles teachers are poised to meet Monday for talks to avert a strike scheduled for late next week. Los Angeles Times
Get the Essential California newsletter »
L.A. STORIES
Alarming statistics: California had 1,140 DUI arrests over the New Year's holiday and at least 36 people were killed in car crashes. Los Angeles Times
Wild ride: A fleeing driver led police on a wild chase through Los Angeles and Orange counties Thursday, crashing into a man riding a scooter and avoiding multiple attempts to stop his vehicle before finally being taken into custody near Camp Pendleton in San Diego County, nearly two hours after the pursuit began. Los Angeles Times
An institution closes: The final days of the restaurant Valentino. Eater LA
IMMIGRATION AND THE BORDER
That tear gas: Mexico's Foreign Affairs Ministry has formally asked the United States government through its embassy for a thorough investigation into a Jan. 1 incident in which U.S. agents fired tear gas into Mexico to stop crossing migrants. Los Angeles Times
Plus: A migrant describes being captured by Border Patrol during the tear gas deployment. San Diego Union-Tribune
POLITICS AND GOVERNMENT
Cuing up: Candidates have started lining up to fill the vacant spot on the Los Angeles City Council after Mitchell Englander left the job for a position with a sports and entertainment firm. Los Angeles Times
A swan song: The Jerry Brown farewell tour continues. New York Times
Big severance: "The troubled Montebello Unified School District paid out $391,000 to former Superintendent Susanna Contreras Smith after the school board fired her in 2016." San Gabriel Valley-Tribune
On the streets: Outreach is key to ending homelessness In Los Angeles. But how does it happen? KPCC
CRIME AND COURTS
Hefty payout: The city of Napa and Napa County will pay $5 million to settle a lawsuit filed by the father and grandmother of a 3-year-old girl who was tortured and killed in 2014. Los Angeles Times
Disturbing stuff: Shortly before Christmas break, Ojai parents received a troubling letter from junior high administrators sharing that nine students had apparently lain down on a field together in the shape of a swastika. Los Angeles Times
THE ENVIRONMENT
Good, not great: The first snowpack survey of the season was not ideal, but better than last year. More storms are on the way this weekend and next week. Los Angeles Times
Changing by the day: SoCal Edison's new rates will vary with the time of day. Some customers may not benefit much — or at all. Los Angeles Times
CALIFORNIA CULTURE
Great tour: Alfonso Cuarón's "Roma" is a critical darling. He shows us the Mexico City movie theater and streets that shaped it. Los Angeles Times
More Oscar drama: Will Kevin Hart return as Oscars host? The comedian said Thursday he is "evaluating" whether to return to the job he stepped down from last month after he faced backlash over past homophobic remarks. Los Angeles Times
Coachella update: Yes, Idris Elba is DJing — and other takeaways from the roster announcement. Los Angeles Times
Plus: Coachella turns 20 this year. Take a look back at the festival's history. Desert Sun
And: Why Ariana Grande is the perfect choice to headline Coachella. Los Angeles Times
Changing laws: It's now legal to sell home-cooked food, but there's a catch. San Francisco Chronicle
Home remedies in East L.A.: Learn more about the store Herbs of Mexico. L.A. Taco
CALIFORNIA ALMANAC
Los Angeles area: sunny, 67, Friday; showers, 60, Saturday. San Diego: sunny, 64, Friday; cloudy, 60, Saturday. San Francisco area: sunny, 64, Friday; cloudy, 60, Saturday. San Jose: partly cloudy, 60, Friday; rainy, 58, Saturday. Sacramento: cloudy, 55, Friday; rainy, 53, Saturday. More weather is here.
AND FINALLY
Today's California memory comes from T.N. Moreno:
"It was a little before noon when my friend and I made it to the top of Half Dome in Yosemite National Park. We had camped the night before in Little Yosemite Valley — a halfway stop between Yosemite Valley and Half Dome — to avoid making the hike to Half Dome an all-day affair. Our plan was to ascend, enjoy, and then head back down to the valley by evening where we already had a campsite and a dinner waiting, and where we could enjoy a nice sense of quiet accomplishment.
"To our dismay, when arriving at the campsite, we found ourselves surrounded by a large group of fifth-grade students who were loudly enjoying their time in the valley. My friend and I quickly surveyed the situation, and without a word, started loading our gear into the car, deciding to make the 4½-hour drive back to the coast, rather than stay and make do.
"We drove in the dark through the central valley, and close to midnight topped the rise of Highway 46 where, under an almost full moon, we could see the coast from south of San Luis Obispo to north of the Piedras Blancas Lighthouse. My friend and I agreed: Where else but in California could you be on top of the granite grandeur of Half Dome, and just about 12 hours later, be gazing at the moonlit expanse of the Pacific!"
If you have a memory or story about the Golden State, share it with us. Send us an email to let us know what you love or fondly remember about our state. (Please keep your story to 100 words.)
Please let us know what we can do to make this newsletter more useful to you. Send comments, complaints and ideas to Benjamin Oreskes and Shelby Grad. Also follow them on Twitter @boreskes and @shelbygrad.
---