Newsletter: Essential California: Newsom takes the reins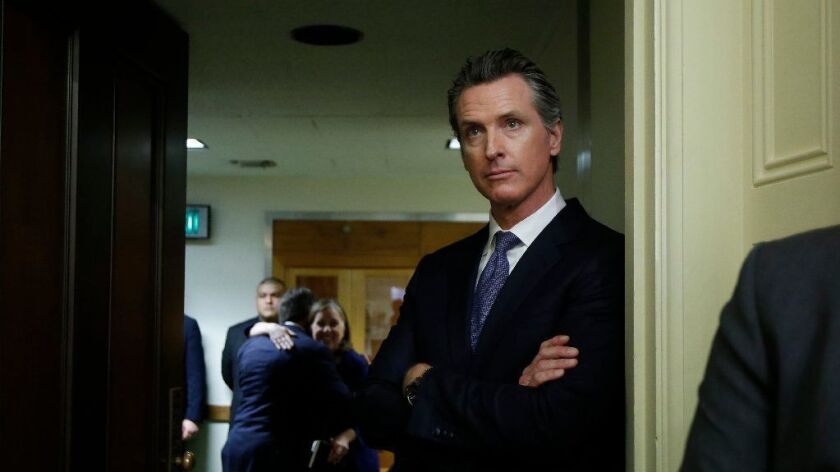 Good morning, and welcome to the Essential California newsletter. It's Monday, Jan. 7, and here's what's happening across California:
TOP STORIES
When Gavin Newsom is sworn in as governor on Monday, he'll do so with the wind at his back: a robust state economy and flush budget, a forceful electoral victory and a Capitol brimming with Democratic allies. With that good fortune comes great expectations for success, brought on by Newsom's "something for everyone" campaign that left key constituencies hungry for follow-through. It can't get much better for Newsom, and it's almost certain to get worse. An economic contraction, a natural disaster, a rebellion among Democratic lawmakers — all threaten the incoming governor's footing. Los Angeles Times
Something to watch: Will Newsom change the state's water policy? Farmers (and fish) will soon find out. Los Angeles Times
Plus: It might not be a bond, but there's a connection between Jerry Brown and Newsom as governors of California. Los Angeles Times
How the Woolsey fire became a monster
It was clear from the beginning that the Woolsey fire had the potential to be a monster. It broke out mid-afternoon Nov. 8 on Boeing property near the Santa Susana Pass, fueled by strengthening winds and burning toward populated areas. But during the critical first hours, the Woolsey fire took second priority. Ventura County firefighters were already engaged in a pitched battle with another blaze, called the Hill fire, about 15 miles to the west that had jumped the 101 Freeway and was threatening hundreds of homes and businesses. The Woolsey fire was growing but still far enough from subdivisions that it got fewer resources from Ventura County. Neighboring fire agencies sent some help, but it would take hours before they launched an all-out attack at the fire lines. These turned out to be fateful choices in what would become the most destructive fire in Los Angeles and Ventura county history. Los Angeles Times
A night at the Golden Globes
Providing the latest set of potentially confusing data points in what has already been an unpredictable awards season, the 76th Golden Globes gave major boosts to the racially inflected period road movie "Green Book" and, more surprising, the Freddie Mercury biopic "Bohemian Rhapsody" in their pursuit of Oscar glory. Los Angeles Times
Oscars soap box: Don't read too much into the Golden Globes results, but with Oscar balloting beginning Monday, the show provided the night's winners a podium to make their case to film academy members. Los Angeles Times
Plus: Best and worst looks from the red carpet. Los Angeles Times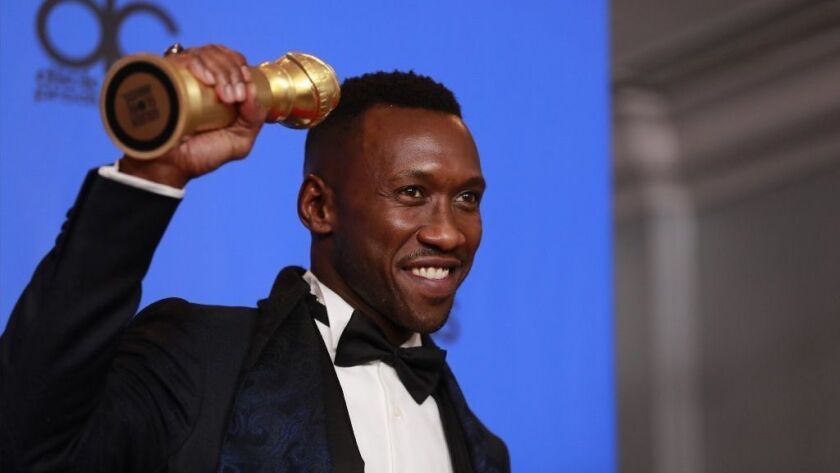 Get the Essential California newsletter »
L.A. STORIES
Strike watch: With more than 30,000 teachers union members ready to strike Thursday, the Los Angeles Unified School District is preparing to bring in highly paid substitutes, supervise students in large spaces such as auditoriums and ease background checks for parent volunteers, according to records obtained by The Times. Los Angeles Times
Plus: The nation's wave of teacher strikes may hit L.A. this week. But here's how ours is different. Los Angeles Times
Muddy mess: A stretch of Pacific Coast Highway in Malibu will remain closed until Monday as crews continue to clean up mud and debris from the highway after a winter storm moved through the area, triggering a mudslide and prompting flash flood warnings overnight in burn areas in Los Angeles and Ventura counties. Los Angeles Times
Ugh: Only months before the opening of its $1-billion Star Wars expansion, the Disneyland Resort announced price increases of up to 25% for daily tickets, annual passes and parking. Los Angeles Times
Spring training starts soon: A big signing was expected after the Dodgers traded Yasiel Puig, so what are they waiting for? Los Angeles Times
IMMIGRATION AND THE BORDER
Standoff continues: President Trump on Sunday pressed his demand for billions of dollars in funding to build a southern border wall — something congressional Democrats again declared a non-starter — and once more talked up the prospect of using emergency powers to begin construction. Los Angeles Times
By the border: "More than two weeks after the Trump administration announced a new policy that would force asylum seekers to wait in Mexico for their turns in U.S. immigration court, there is no sign yet at the San Ysidro Port of Entry that it has been implemented." San Diego Union-Tribune
POLITICS AND GOVERNMENT
More Newsom news: "A California dream for paid leave has an old problem: How to pay for it." New York Times
In D.C.: As a new Congress settles in, California's newest members prove hard to ignore. Los Angeles Times
CRIME AND COURTS
RIP: Hundreds of law enforcement officers from across the country turned out Saturday to pay tribute to Newman Police Cpl. Ronil Singh, 33, who was fatally shot during a traffic stop in Stanislaus County last month by a man authorities say was in the country illegally. Los Angeles Times
Uh oh: The Torrance Catholic school embroiled in a scandal involving two nuns accused of theft can be sued for firing a teacher with breast cancer. Los Angeles Times
THE ENVIRONMENT
Taking on the giant: This tiny community has tried for 20 years to force Southern California Edison to fix the water system. Desert Sun
CALIFORNIA CULTURE
Up north: Whether getting good news or bad, northern Sierra readers can always blame the Mountain Messenger. Los Angeles Times
Squeezed: You'll share this apartment with a stranger, but don't dare call it a dorm. Los Angeles Times
On screen: Hollywood's obsession with cartels. New York Times
Thick reading: A comprehensive guide to the entertainment industry. Los Angeles Review of Books
Such a nice story: A woman waves at Fresno traffic for hours each day. She gives joy and happy hallelujahs. Fresno Bee
CALIFORNIA ALMANAC
Los Angeles area: Showers 62, Monday. Cloudy, 69, Tuesday. San Diego: Sunny, 65, Monday. Cloudy, 67, Tuesday. San Francisco area: Cloudy, 57, Monday. Showers, 60, Tuesday. San Jose: Cloudy, 62, Monday. Cloudy, 61, Tuesday. Sacramento: Cloudy, 59, Monday. Showers, 59, Tuesday. More weather is here.
AND FINALLY
This week's birthdays for those who made a mark in California: actor Nicolas Cage (Jan. 7, 1964), former Rep. Loretta Sanchez (Jan. 7, 1960) and former Rep. Lois Capps (Jan. 10, 1938).
If you have a memory or story about the Golden State, share it with us. Send us an email to let us know what you love or fondly remember about our state. (Please keep your story to 100 words.)
Please let us know what we can do to make this newsletter more useful to you. Send comments, complaints and ideas to Benjamin Oreskes and Shelby Grad. Also follow them on Twitter @boreskes and @shelbygrad.
---