Newsletter: Essential California: Teachers' strike disrupts L.A.'s school day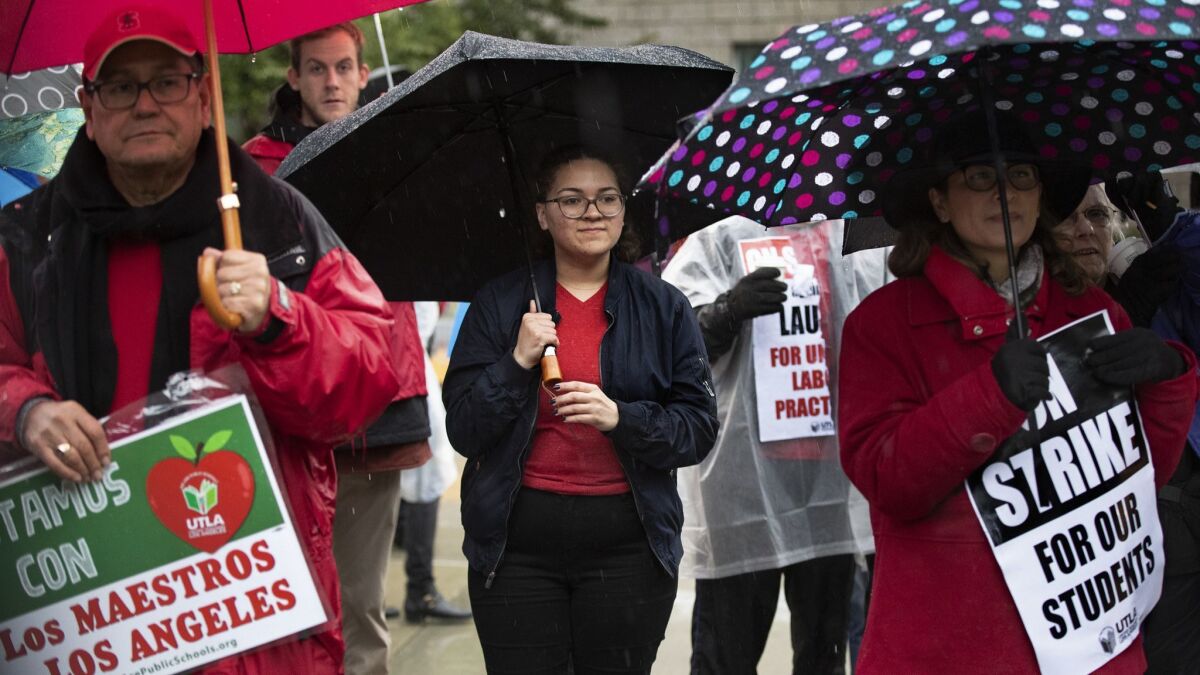 Good morning, and welcome to the Essential California newsletter. It's Tuesday, Jan. 15, and here's what's happening across California:
TEACHERS' STRIKE
The overview: The walkout of 31,000 teachers union members proved to be the massive disruption hundreds of thousands of students and their families had feared. The vast majority of the district's parents and guardians are low income, and many had to choose between missing work to watch their children or sending them into an unknown situation at school. While campuses remained open, the skeletal staff struggled to keep students engaged. Only low attendance prevented an even more chaotic scenario of adults managing hundreds of students apiece. At the end of the day, the district reported that about a third of its K-12 students had shown up. Los Angeles Times
The kids: It is unclear how many students opted to play hooky as their teachers walked out. But they cropped up throughout the city Monday — on picket lines, in Starbucks branches, shopping malls and arcades — basically anywhere dry and, in most cases, without adult supervision. Los Angeles Times
Parallels? The teachers' strike and government shutdown: Political paralysis in blue and red. Los Angeles Times
All was not lost: Bring in the taco trucks. Los Angeles Times
Steve Lopez weighs in: This fight needs to go beyond L.A. if things are going to get better for the city's students. Los Angeles Times
Mayor Eric Garcetti: The strike feels good but needs to end soon. Los Angeles Times
Gov. Gavin Newsom: He wants more charter school transparency. Charters are a ghost lurking in the shadows of the strike. Cal Matters
In solidarity: Hollywood, at least, loves the strike. Los Angeles Times
And: Is Oakland the next to see a teachers' strike? EdSource
MORE TOP STORIES
Not the best PR, Part 1
If Mayor Garcetti runs for president, he could also face uncomfortable questions about a topic that has gripped City Hall: Why are FBI agents seeking evidence of bribes, extortion and money laundering possibly involving L.A. city officials? And why are two of his appointees — one current, one former — being scrutinized in that probe? A look at the potential political fallout for Garcetti and some of L.A.'s other top leaders as the corruption probe appears to be growing. Los Angeles Times
Earlier coverage:
-- A widening FBI probe of City Hall corruption. Los Angeles Times
-- All roads lead to money from a downtown development boom. Los Angeles Times
Not the best look, Part 2
PG&E has a long and unfortunate history of enriching its executives while displaying the most shameless corporate behavior imaginable, writes columnist David Lazarus. This pattern continues as the utility giant falls into bankruptcy amid huge potential liabilities from wildfires. Los Angeles Times
-- Don't expect Sacramento to bail out PG&E. San Francisco Chronicle
-- How PG&E's failure is challenging the idea that utilities are a safe bet for investors. Wall Street Journal
-- Who are the winners and losers in a bankruptcy? Bloomberg
-- "California Screamin' " on Wall Street. Bloomberg
L.A. STORIES
Tragic: A UC Irvine freshman died over the weekend, resulting in the suspension and investigation of his fraternity and leaving his family heartbroken and filled with questions. "As a family, we're hurting, but we're also concerned — could it have been prevented? Is there something we, as a family, can do to make sure something like this doesn't happen again?" said his father. Los Angeles Times
Be safe out there: The first of a series of storms in Southern California dumped rain and snow, heightening the threat of mud and debris flows in areas scarred by recent wildfires, and closing a stretch of Pacific Coast Highway in Malibu and the Grapevine section of the 5 Freeway. And more rain is on the way, prompting more evacuations. Los Angeles Times
Plus: At least it's good news for dry SoCal ski resorts. Los Angeles Times
Amazing: UCLA gymnast Katelyn Ohashi earned a perfect 10 on her floor exercise routine. Los Angeles Times
Get the Essential California newsletter »
CRIME AND COURTS
Justice charged: A state judicial watchdog commission on Monday charged Los Angeles-based state Court of Appeal Justice Jeffrey Johnson with nine counts of misconduct, including sexual harassment and squeezing the breast of a female justice. Los Angeles Times
Under review: Authorities in Butte County are investigating whether the overdose of three people at Gold Country Casino on Monday morning is related to a mass overdose in Chico over the weekend that left one man dead and more than a dozen others hospitalized. Los Angeles Times
Plus: A TV reporter was attacked by a bystander while doing a segment on the overdoses. And it was caught on tape. Mercury News
Fallout: A viral photo of slain Davis Police Officer Natalie Corona has sparked a backlash from a UC Davis student group, and a backlash to the backlash. Sacramento Bee
POLITICS AND GOVERNMENT
Today's the day: Officials from the state health exchange Covered California are ramping up efforts to enroll people in health coverage as the deadline to sign up looms. Tuesday is the last day to enroll in a health plan in California. Los Angeles Times
Leading the charge: California's new battle against high-priced drugs. New York Times
CALIFORNIA CULTURE
Awkward: In a tense and emotional meeting Monday morning, former Pixar and Disney executive John Lasseter asked Skydance Animation employees for a chance to show that he'd changed his ways, after multiple women accused him of inappropriate workplace behavior at his old job. Los Angeles Times
Who knew? Fried chicken. Donuts. Ramen. Now, Los Angeles is having a bagel boom. The New York specialty is getting a makeover in the L.A. hipster corridors. LAist
One shot: The politics of "Hamilton" in Puerto Rico. Los Angeles Times
On TV: A glitzy retelling of the Silicon Valley boom and bust cycle of the 1990s. The New Yorker
Spooky: This woman loved Disneyland so much she decorated her husband's office to look like the Haunted Mansion. Orange County Register
Sad: A 5-month-old male giraffe born at the San Diego Zoo Safari Park was euthanized near the end of December after being gored in the stomach, probably by an antelope. San Diego Union-Tribune
CALIFORNIA ALMANAC
Los Angeles area: Rainy, 58, Tuesday. Rainy, 61, Wednesday. San Diego: Cloudy, 64, Tuesday. Partly cloudy, 66, Wednesday. San Francisco area: Rainy, 54, Tuesday. Rainy, 58, Wednesday. San Jose: Rainy, 55, Tuesday. Rainy, 60, Wednesday. Sacramento: Rainy, 53, Tuesday. Rainy, 58, Wednesday. More weather is here.
AND FINALLY
Today's California memory comes from Ron Pinto:
"I first came to Los Angeles from my country on Dec. 29, 1966. We were living at an apartment on St. George Street in Silver Lake. On the 31st we went to a New Year's party at the Beverly Hilton, and my eyes couldn't get any wider: Tuxedos, gowns, Beverly Hills … wow! What I found most amusing was that the moment I stepped off the curb at the crosswalk, all cars in both directions would stop and not move until I stepped on the curb across the street. That was very different from what I was used to in my country and I thought it was funny, but later understood to be simple respect for pedestrians and respect for the traffic rules. I also looked at John Marshall High School, up the street from our place, and was always in awe. Such a beautiful campus that was. I do believe that Los Angeles has changed and that which made me smile no longer applies. People now are in a hurry to go places and pedestrians became a little less important."
If you have a memory or story about the Golden State, share it with us. Send us an email to let us know what you love or fondly remember about our state. (Please keep your story to 100 words.)
Please let us know what we can do to make this newsletter more useful to you. Send comments, complaints and ideas to Benjamin Oreskes and Shelby Grad. Also follow them on Twitter @boreskes and @shelbygrad.
---