Newsletter: Essential California: Mayhem in Tijuana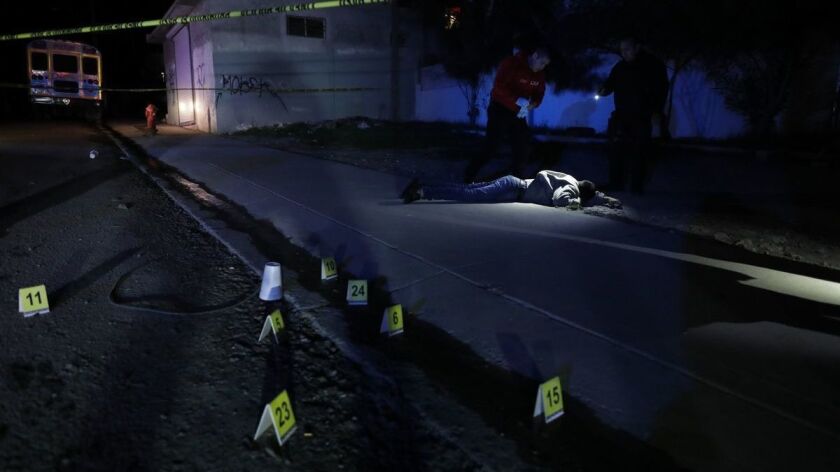 Good morning, and welcome to the Essential California newsletter. It's Thursday, Jan. 31, and here's what's happening across California:
TOP STORIES
Few people know the streets of Tijuana better than Margarito Martinez. As a crime photographer for Zeta, one of the city's most respected newspapers, he spends his days and nights steering a dusty minivan from one homicide to the next. When The Times decided to explore an alarming increase in killings in Tijuana last spring, reporter Kate Linthicum, photographer Gary Coronado and videographer Jessica Chen launched their reporting by embedding with him, sometimes visiting three or four homicide scenes in the span of a few hours. More than snapshots of grisly crimes, they wanted to understand what was driving the violence. So they began returning to the crime scenes, seeking out family members of victims who could explain what had happened. In a country where fewer than 1 in 10 homicides is solved, they couldn't rely on the police. Los Angeles Times
Meth and murder: One of the deadliest cities in the world sits just across the California border. A new kind of drug war has driven the violence. Los Angeles Times
Images: From the front lines of Tijuana's deadly drug war. Los Angeles Times
Watch: This short film shows what it's like on the ground. Los Angeles Times
More about Garcetti's guy
Raymond Chan, a potentially important figure in an FBI probe that touches the worlds of City Hall and downtown development, met with real estate developers as a deputy mayor under Mayor Eric Garcetti. He was also reaching out to some of the same developers for donations to a charitable cause, according to correspondence obtained by The Times. Los Angeles Times
A sheriff under fire
Los Angeles County Sheriff Alex Villanueva, whose 2-month-old administration has already been entangled in controversy, delivered a state-of-the-department address Wednesday that included sharp criticism of his predecessors as well as the consequences of some past reforms. In remarks billed as setting a vision for the organization, Villanueva dwelt on the effect of previous policy decisions relating to staffing, discipline and violence in the department's vast jail system. Los Angeles Times
Plus: Villanueva is off to a bumpy start, writes columnist Steve Lopez. Makes you wonder why we appoint police chiefs but elect sheriffs. Los Angeles Times
Get the Essential California newsletter »
L.A. STORIES
Wet week ahead: Three back-to-back winter storms are expected to hit Southern California through the weekend, bringing the potential for heavy rain along with a chance of debris flows and flooding in areas recently ravaged by wildfires, the National Weather Service said. Los Angeles Times
Back to the grind: For nearly two years, Los Angeles Mayor Eric Garcetti garnered national media attention with his travels around the country. Now that he's set presidential aspirations aside, he faces a new and complex set of issues at home that will test his "mayors get things done" mantra. He also must deal with a changing City Council, with several seats up for election next year. Los Angeles Times
Very cool: The Destination Crenshaw art project aims to reclaim the neighborhood for black L.A. Los Angeles Times
IMMIGRATION AND THE BORDER
Cartel wife: Joaquin "El Chapo" Guzman's wife, Emma Coronel Aispuro, has no regrets. New York Times
Plus: Prosecutors presented closing arguments in the federal trial of Guzman. Los Angeles Times
POLITICS AND GOVERNMENT
Trump's imaginary friends: Are Democrats for a wall any more real than Jim in Paris? Los Angeles Times
Jumping in: "We already have a reality TV star president, so why not New Age love guru Marianne Williamson?" asks columnist Robin Abcarian. Los Angeles Times
In D.C.: Californians dominate the new House like never before. Los Angeles Times
On the trade front: Why California warehouses are bursting with Chinese goods. Bloomberg
CRIME AND COURTS
Following up: Members of the Los Angeles Police Commission expressed concern that the disproportionate number of black drivers stopped by an elite LAPD unit is damaging the public's trust in the police department. Los Angeles Times
Again: Leslie Van Houten, the youngest member of Charles Manson's "family" who was convicted in the 1969 killings of a Los Angeles couple, was recommended for parole Wednesday by a panel of state commissioners in Chino. Los Angeles Times
Resourceful: A 37-year-old maintenance worker is in custody this week after authorities said he set up a secret drug lab inside a hotel where he worked in Goleta, Calif. Los Angeles Times
Missing: Thirteen-year-old Ilene Misheloff disappeared 30 years ago. "How do you give up on your child?" her parents ask. San Francisco Chronicle
THE ENVIRONMENT
In sum, lots of poop: With the partial federal government shutdown over — at least for now — authorities are beginning to tally the damage that occurred to some of California's national parklands during the weeks in which many park officials were off the job. Los Angeles Times
PG&E bankruptcy's consequences: The high costs of climate risk. New York Times
CALIFORNIA CULTURE
The big game's big picture: L.Z. Granderson connects the dots ahead of this weekend's Super Bowl featuring the L.A. Rams and New England Patriots. Los Angeles Times
Trade circus: Although Lakers second-year point guard Lonzo Ball has no say in where he lands in a trade, his preference would be for the Lakers to find a third team such as Chicago or New York as a landing spot if he were part of a deal for New Orleans Pelicans star Anthony Davis. Los Angeles Times
Should they rename it? Despite challenged claims that he belonged to the Ku Klux Klan, a former superintendent's name will remain on a Brea elementary school. Los Angeles Times
Slowing down: The housing market's chill grew colder in December, as sales plunged across Southern California and home prices barely rose. The number of closed deals fell 20.3% compared with a year earlier, hitting the lowest level for a December since the start of the Great Recession and marking the sharpest percentage drop since 2010, according to a report. Los Angeles Times
Congrats! "Garden Grove Vietnamese restaurant Pho 79 has been awarded the prestigious James Beard America's Classics honor for its contributions to the country's dining landscape." Eater LA
Listen: "The inescapable aura of Maggie Rogers," who's asserting herself as a bold new singer. The Ringer
CALIFORNIA ALMANAC
Los Angeles area: Rainy, 59, Thursday. Cloudy, 64, Friday. San Diego: Rainy, 63, Thursday. Cloudy, 64, Friday. San Francisco area: Partly cloudy, 59, Thursday. Showers, 58, Friday. San Jose: Partly cloudy, 62, Thursday. Showers, 59, Friday. Sacramento: Partly cloudy, 65, Thursday. Showers, 59, Friday. More weather is here.
AND FINALLY
Today's California memory comes from Jaime Aguilar:
"When I was 13 years old in 1971, my cousins were members of the Variety Boys' Club in Boyle Heights. They took me there to become a member, and my fondest memories of the club were that you could do crafts, play basketball, go on field trips and that's where I learned how to swim. I believe the club's still open today and I applaud the people that keep it running and continue to create memories for future generations, I'm now 60 years old and thank you for allowing me to be one of your members."
If you have a memory or story about the Golden State, share it with us. Send us an email to let us know what you love or fondly remember about our state. (Please keep your story to 100 words.)
Please let us know what we can do to make this newsletter more useful to you. Send comments, complaints and ideas to Benjamin Oreskes and Shelby Grad. Also follow them on Twitter @boreskes and @shelbygrad.
---