Good morning, and welcome to the Essential California newsletter. It's Friday, Feb. 1, and here's what's happening across California:
TOP STORIES
Talks between the Trump administration and California over rules requiring automakers to steadily decrease car emissions are no closer to reaching a deal than when they began months ago, setting the stage for a protracted legal battle. Behind the scenes, negotiations have been largely cosmetic and unproductive, according to officials in Washington and California with direct knowledge of the talks. Unlike the Obama-era negotiations that led to the creation of national fuel efficiency and emissions standards, the current talks have lacked detailed technical analysis and regular input from the agencies' career staff, according to the officials, who declined to be named, citing the sensitivity of the discussions. Los Angeles Times
Making history at the Super Bowl
They will be two of the toughest guys in the Super Bowl on Sunday, yet they'll be on the field only when the players are not. They are part of the Rams' legacy of pioneers, yet there are no numbers on the front of their shirts or names on the back. After months of being showered with both praise and catcalls, hugs and stares, respect and disbelief, the men will complete their rookie football seasons Sunday by literally dancing their way into history. No matter the final score of the game, Quinton Peron and Napoleon Jinnies have already won. Los Angeles Times
Podcast: Arash Markazi is living the dream. Los Angeles Times
Classic: He reconstructed Tom Brady's knee. Now the Rams' doctor is rooting for L.A. Los Angeles Times
And: Amid Super Bowl excitement in Inglewood, local businesses fear they may soon be crowded out. Los Angeles Times
Big sweep
Several travel agents have been charged with running illicit "birth tourism" schemes across Southern California that allegedly brought hundreds of pregnant Chinese clients to the U.S. illegally so they could deliver their children on American soil, according to court records made public Thursday. The charges are the culmination of a long-running investigation by agents from the Department of Homeland Security and the Internal Revenue Service into three outfits operating for years in Los Angeles, the Inland Empire and Orange County that charged as much as $100,000 for their clandestine services — a price tag authorities say Chinese parents-to-be readily paid to make sure their children would be citizens of what one company's brochures called the "most attractive nationality." Los Angeles Times
Get the Essential California newsletter »
L.A. STORIES
Wet week: The first of three rainstorms forecast for Southern California pummeled the region with heavy rain, hail, thunder and lightning, causing flooding and debris flows that forced the closure of Pacific Coast Highway and prompting a passenger jet to make an emergency landing at Los Angeles International Airport. The strongest storm in the series is expected Friday night into Saturday. Los Angeles Times
Drip drip: For the first time in 15 years, the number of would-be freshmen applying to the University of California has dropped, the first sign that a national trend of declining college enrollment could be hitting the West Coast. Los Angeles Times
Remember this couple? The Orange County district attorney has ordered an examination of all evidence, including numerous videos, in the case of a Newport Beach surgeon and his girlfriend charged with sexually assaulting seven women. Los Angeles Times
He's baaack: LeBron James returned from a groin injury and led the Lakers to an overtime victory over the Clippers. Los Angeles Times
Cool photos: "The downtown L.A. that just won't quit." Curbed LA
POLITICS AND GOVERNMENT
Back to business: With the national spotlight fading, Mayor Eric Garcetti turns to the problems in L.A. Los Angeles Times
Only in San Francisco? A child of Weather Underground parents bids for the top prosecutor job. Los Angeles Times
Spigot reopened: Acting quickly after the reopening of the federal government last week, the U.S. Department of Housing and Urban Development has renewed grants totaling nearly $172 million for the five-county Los Angeles area. Los Angeles Times
Camp fire update: "Previously passed laws in Butte County and the town of Paradise allowing Camp Fire victims to live on property with burned debris may jeopardize $1.7 billion in federal funding for debris removal, according to a letter from the Federal Emergency Management Agency." Chico Enterprise-Record
Plus: "Pacific Gas and Electric Co.'s lobbying expenses have soared as the utility giant struggles to deal with a Legislature determined to avoid a repeat of the deadly wildfires that have ravaged California." San Francisco Chronicle
And: Here's how PG&E's bankruptcy might hurt California's ambitious climate goals. NPR
CRIME AND COURTS
She once worked for Jerry Springer: A former television producer was ordered to stand trial in the 2015 slaying of her deaf and partially blind sister in Studio City. Los Angeles Times
Synagogue attack: A Seattle man accused of trying to run over two Jewish men outside a Hancock Park synagogue last year in what prosecutors deemed a hate-driven attack will now face attempted murder charges, court records show. Los Angeles Times
Priests accused: A Minnesota-based law firm has released a report chronicling decades of alleged sexual abuse by clergy within the San Bernardino Diocese. Los Angeles Times
THE ENVIRONMENT
Great news: A series of January storms that brought record rains to the state and massive amounts of snow to the mountains helped double the snowpack in the Sierra Nevada, experts with the state Department of Water Resources said Thursday. Los Angeles Times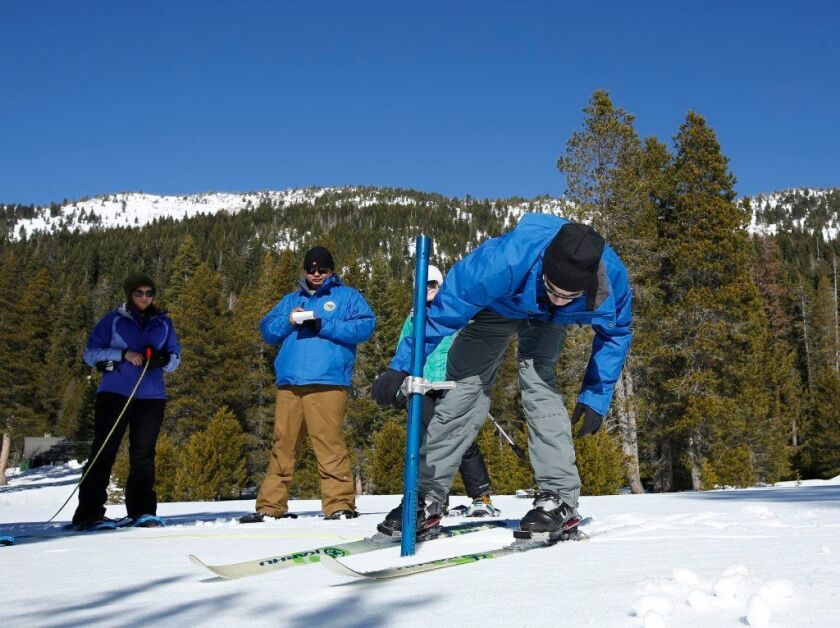 What's up with that? "Joshua trees are blooming early in the desert. It's not a good thing — you can thank climate change." Desert Sun
CALIFORNIA CULTURE
Big board moves: Nearly five months after longtime Chief Executive Leslie Moonves was forced out over a widening sexual harassment scandal, CBS Corp. and its board of directors are facing a pivotal moment in the company's future. Los Angeles Times
Great point! If Marie Kondo wants to tidy something, she could start with Netflix, writes Mary McNamara. Los Angeles Times
Flashback Friday: Who would hire Hunter S. Thompson to take care of a rustic Big Sur coastal estate? That ill-advised decision led directly to the founding of the famed Esalen retreat. Alta Journal
The doorbells have eyes: The privacy battle brewing over home security cameras. Washington Post
Coming this spring: The Tour of California has revealed its route for 2019, and it's the most grueling yet. ESPN
Changing scene: Will states take Hollywood to task for on-set misconduct? Hollywood Reporter
CALIFORNIA ALMANAC
Los Angeles area: cloudy, 64, Friday; rainy, 60, Saturday. San Diego: mostly cloudy, 63, Friday; rainy, 65, Saturday. San Francisco area: rainy, 58, Friday; rainy, 57, Saturday. San Jose: rainy 60, Friday; rainy, 59, Saturday. Sacramento: rainy, 60, Friday; rainy, 58, Saturday. More weather is here.
AND FINALLY
Today's California memory comes from Rozanne McKinney:
"I grew up in Whittier in the '50s and '60s. I have fond childhood memories of frequent summer beach trips, heading down Beach Boulevard toward Huntington Beach. For $2 per car you could entertain a number of kids all day. There were fire pits and we would roast sand-covered weenies and marshmallows and play in the surf until we were all sunburned and exhausted. We wouldn't feel the sand drying all over our bodies until the car ride home when it started to itch!"
If you have a memory or story about the Golden State, share it with us. Send us an email to let us know what you love or fondly remember about our state. (Please keep your story to 100 words.)
Please let us know what we can do to make this newsletter more useful to you. Send comments, complaints and ideas to Benjamin Oreskes and Shelby Grad. Also follow them on Twitter @boreskes and @shelbygrad.
---