Newsletter: Essential California: A night at the Oscars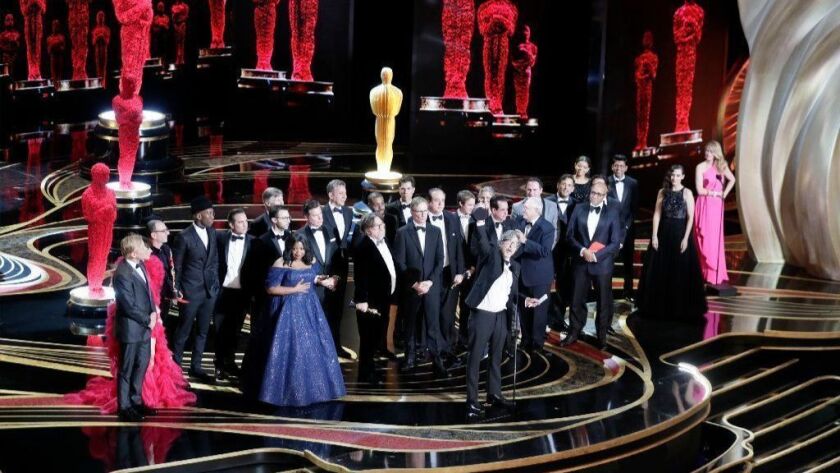 Good morning, and welcome to the Essential California newsletter. It's Monday, Feb. 25, and here's what's happening across California:
TOP STORIES
Putting the final exclamation point on an unusually tumultuous and unpredictable Oscar season, "Green Book" — director Peter Farrelly's racially inflected period road movie about a black virtuoso pianist and his white chauffeur and bodyguard — claimed the top prize Sunday night at the 91st Academy Awards, beating out a diverse field of rivals ranging from the intimate, poetic "Roma" to the superhero smash "Black Panther" to the crowd-pleasing Freddy Mercury biopic "Bohemian Rhapsody." Heading into the night, the best picture race seemed unusually wide open, with no clear and sustained front-runner, and yet the win for "Green Book" was not entirely unexpected. Los Angeles Times
Here's a roundup of some of our Oscars coverage:
-- Critic Justin Chang writes that "Green Book" is the worst best picture winner since "Crash." Los Angeles Times
-- Columnist Mary McNamara has some thoughts about the Oscars and how change is hard. Los Angeles Times
-- Getting a gold statuette isn't just about quality on the screen. Studios put together sophisticated marketing campaigns to get their movies over the hump. Los Angeles Times
-- We looked into why the Oscars show has been so long in the past. Los Angeles Times
-- The 2019 Oscars set the record for the most individual black winners. Los Angeles Times
-- Check out the photos from the red carpet. Los Angeles Times
-- See all the nominees and winners here. Los Angeles Times
A fight for a Clippers arena in Inglewood
A $5-billion stadium for the NFL's Rams and Chargers will soon anchor a sprawling mixed-use development in the heart of Inglewood. But the city's drive to become a go-to sports and entertainment destination includes another potential jewel: In 2017, the City Council approved an exclusive negotiating agreement with a company controlled by the NBA's Clippers for a proposed arena that would be privately financed by team owner Steve Ballmer. But the plan faces a major obstacle. The Clippers want to use 22 acres of vacant city-owned land across West Century Boulevard from the NFL stadium complex. The parcels had been leased to the Madison Square Garden Co., owners of the nearby Forum, to use for overflow parking. A year and a half later, the land is at the center of a bitter legal fight. Los Angeles Times
Plus: In the course of the legal fight, Mayor James Butts has been asked in court proceedings whether he's in a romantic relationship with a highly paid aide. Los Angeles Times
Big potential change for the L.A. River
Los Angeles County officials are proposing to take ownership of 40 miles of flood-control channels along the Los Angeles River from the federal government in an effort to expedite maintenance and water conservation improvements as climate change increases the frequency of extreme weather. The move was spurred by concerns that the Army Corps of Engineers' World War II-era channels, including a lush soft-bottom stretch of the Los Angeles River between Griffith Park and downtown, have not been adequately maintained because of dwindling federal funds, county officials said on Sunday. Los Angeles Times
Get the Essential California newsletter »
L.A. STORIES
Forty years later: They can't go back to Iran. So L.A. Persians built "Tehrangeles" and made it their own. Los Angeles Times
Stepping back: For victims of hate crimes, the Jussie Smollett case is a giant betrayal. Los Angeles Times
Steve Lopez looks: This doctor makes house calls to the terminal ill. Los Angeles Times
IMMIGRATION AND THE BORDER
Coming soon, maybe: After California's landmark "sanctuary state" law limited police from collaborating with federal immigration agents, one legislator wants to prevent local government from doing business with companies that he says play a role in the Trump administration's "deportation machine." Los Angeles Times
POLITICS AND GOVERNMENT
New blood: The California Republican Party elected its first chairwoman after a contentious campaign that exposed deep rifts in its base. Los Angeles Times
Dustup with the kids: Sen. Dianne Feinstein's debate with a group of schoolchildren over climate change policy, captured in a video that went viral late Friday, has underscored tensions brewing within the Democratic Party between its restive liberal activists and more moderate, pragmatic elected officials. Los Angeles Times
Across the state: Are California's teachers' strikes part of a coordinated "wave"? Los Angeles Times
Plus: See where California teachers have the toughest time paying rent and mortgage. Sacramento Bee
And: Charter schools are a flashpoint in all these teachers' strikes. CALmatters
Perspective on PG&E: "The political playbook of a bankrupt California utility." New York Times
On the issues: Here's how presidential candidates want to help solve the housing crisis. Mercury News
CRIME AND COURTS
$$$: After spending 38 years in prison for wrongful murder convictions, a man has been awarded a $21-million settlement from Simi Valley. Los Angeles Times
RIP: For San Francisco public defender Jeff Adachi, life was all about defense — no matter who needed it. San Francisco Chronicle
In court: As California's marijuana industry works to project an image of mainstream respectability, one of its best-known companies, MedMen Enterprises Inc., has come under attack by a former insider. Los Angeles Times
THE ENVIRONMENT
Sea life entanglements: "The Center for Biological Diversity is hopeful its lawsuit filed over whale and sea turtle entanglements is nearing its conclusion after a federal judge suggested she may find the California Department of Fish and Wildlife liable for the entanglements, a center spokesman said." Eureka Times-Standard
Hot take: Is the San Joaquin Valley California's poor stepchild? Sacramento Bee
CALIFORNIA CULTURE
Figuring this out: Are you an employee or a contractor? Carpenters, strippers and dog walkers now face that question. Los Angeles Times
RIP: Stanley Donen, co-director of the movie musical "Singin' in the Rain," has died at 94. Los Angles Times
At LACMA: A two-channel video installation by American-Swiss duo Teresa Hubbard and Alexander Birchler considers unknown artist Flora Mayo, who had a love affair with Alberto Giacometti in the 1920s and died in obscurity in L.A. Los Angeles Times
Nice: "World of Color" has returned to the Disneyland Resort after a long absence. Orange County Register
Better than the alternative: A record number of babies have been surrendered in California. Some say that's "hopeful." Fresno Bee
CALIFORNIA ALMANAC
Los Angeles area: Partly cloudy, 66, Monday. Partly cloudy, 65, Tuesday. San Diego: Partly cloudy, 64, Monday. Cloudy, 63, Tuesday. San Francisco area: Rainy, 55, Monday. Rainy, 57, Tuesday. San Jose: Rainy, 58, Monday and Tuesday. Sacramento: Rainy, 54, Monday and Tuesday. More weather is here.
AND FINALLY
This week's birthdays for those who made a mark in California: Los Angeles County Dist. Atty. Jackie Lacey (Feb. 27, 1957) and architect Frank Gehry (Feb. 28, 1929).
If you have a memory or story about the Golden State, share it with us. Send us an email to let us know what you love or fondly remember about our state. (Please keep your story to 100 words.)
Please let us know what we can do to make this newsletter more useful to you. Send comments, complaints and ideas to Benjamin Oreskes and Shelby Grad. Also follow them on Twitter @boreskes and @shelbygrad.
---