Good morning, and welcome to the Essential California newsletter. It is Saturday, April 6. Here's what you don't want to miss this weekend:
TOP STORIES
President Trump argued Friday that the nation is suffering an immigration emergency, visiting the town of Calexico, Calif., and inspecting a reconstructed border fence a day after he abruptly backed down from his threats to seal the lengthy border between Mexico and the United States. With those threats behind him, Trump shifted gears and promised to construct 400 miles of border wall in the next two years, an unlikely benchmark for a president who has yet to build a single new mile of wall along the 2,000-mile border with Mexico. Los Angeles Times
Plus: In Calexico, where border crossing is a daily event, a Trump closure would be catastrophic. Los Angeles Times
Facts! Five misconceptions about the U.S.-Mexico border. Los Angeles Times
Meanwhile, in court ...: Hours before Trump's visit, state Atty. Gen. Xavier Becerra said Friday he is seeking a preliminary injunction challenging Trump's national emergency declaration that seeks funding to expand the barrier. Los Angeles Times
Sweet deal
Toni Atkins is one of California's most powerful lawmakers, ascending to leadership roles in the Assembly and Senate the last five years. As Atkins' clout has soared, so too have the consulting businesses of her spouse, Jennifer LeSar. The clientele for LeSar's two affordable housing and economic development firms has grown nearly fourfold since 2013, the year before Atkins became Assembly speaker, according to Atkins' economic disclosure forms. Los Angeles Times
The sad reality of Nipsey's killing
Rapper Nipsey Hussle was one of many casualties resulting from violence in the spring in Los Angeles. Compared with the calm at the beginning of the year, the recent rise in homicides and shootings was more of a return to an unfortunate norm than anything out of the ordinary — a steady drumbeat of death and injury primarily afflicting black and Latino men in the poorest parts of the city. Los Angeles Times
Plus: After Hussle's shooting, students closest to him vow to lift up their community. Los Angeles Times
And: For Hussle and rap's thriving middle class, staying close to home can have a price. New York Times
AROUND CALIFORNIA
Impact: The head of the California Air National Guard and one of its five wing commanders have been removed from their positions amid complaints of reprisals against whistleblowers and allegations of a cover-up of misconduct that reached into the highest ranks of the organization, officials announced Friday. In a report released after the ousters, the Military Department inspector general cited findings of a Times investigation two months ago that detailed the whistleblower allegations. Los Angeles Times
Drip drip: Los Angeles County Sheriff Alex Villanueva has reinstated at least six deputies who were previously discharged, according to county documents obtained by The Times. Villanueva has previously defended his department's decisions to rehire two deputies fired for misconduct — one accused of assaulting and harassing a woman and lying about it, the other for using unreasonable force during an arrest. Los Angeles Times
Q&A: Villanueva says he is just "assuming the proper role" of an elected sheriff. Los Angeles Times
New terminal coming soon? Documents released by Los Angeles International Airport officials call for an expansion and reorganization of the nation's second-busiest airport, including changes to existing runways and the construction of a passenger terminal east of Sepulveda Boulevard. Los Angeles Times
Lucy Jones weighs in: The California earthquake drought is an opportunity. Will we take it? Los Angeles Times
News you can use: The slowest road in L.A. Crosstown LA
Not tough enough? Trump withdrew the nomination of "a former top Border Patrol official to run Immigration and Customs Enforcement, saying he wanted someone who would go 'in a tougher direction.' " BuzzFeed
Rough: Six Los Angeles County juvenile detention officers were charged with assault and child abuse Friday for using pepper spray on several teenage girls last year. Los Angeles Times
South of the border: Mexico struggles to contain a surge in Central American migrants. Wall Street Journal
Services, not sweeps: L.A. takes more heat for spending millions of dollars cleaning up homeless camps. Los Angeles Times
Pushing back on pot: In the first significant challenge to California's open cannabis market, 24 cities that restrict pot sales have sued Gov. Gavin Newsom's administration, arguing that by allowing home deliveries in their city limits, the state is violating 2016's Proposition 64, which legalized recreational marijuana. Los Angeles Times
No problems here? Los Angeles City Atty. Mike Feuer said Thursday he has completed an internal review of legal settlements involving a law firm that provided income last year to one of his top lawyers — and concluded that each of those payouts was handled properly. Los Angeles Times
Quick turnaround: "Google is ending a new artificial intelligence ethics council just one week after launching it, following protests from employees over the appointment of a right-wing think tank leader." The Guardian
California sounds: The must-hear locals performing at Coachella. Los Angeles Times
Continuing consequences: Swimming pools left behind in the Woolsey fire trigger mosquito control. Ventura County Star
Get the Essential California newsletter »
THIS WEEK'S MOST POPULAR STORIES IN ESSENTIAL CALIFORNIA
1. Need an emergency kit list? Take this pro's advice. Los Angeles Times
2. Can George Clooney persuade Hollywood to boycott hotels over Brunei's anti-gay laws? Los Angeles Times
3. What's life like as a USC student? Depends on the size of the bank account. New York Times
4.The Instagram account that will leave you drooling — and itching to leave the Bay Area. SF Gate
5. The violent death of rapper Nipsey Hussle stirs anguished reflections, as police hunt for a suspect. Los Angeles Times
ICYMI, HERE ARE THIS WEEK'S GREAT READS
The story of Santa James: For years, the white-bearded man in the red Santa Claus outfit has been a familiar sight around the high-desert town of Kingman, Ariz., his habits so routine people take notice when he's not there. In triple-digit August heat and on frosty January mornings, he pushes an overloaded cart along congested Stockton Hill Road, his companion toy rabbit riding shotgun, trundling unsteadily between his haunts at supermarkets, fast-food joints and coffeehouses. Who is this character, this man in scarlet, people once asked. Is he homeless? Does he have substance or emotional issues? He seemed harmless, because not once did anyone see him stick out his hand to beg, bother or steal. Los Angeles Times
Plus: Read how Times photographer Genaro Molina got the shot of James Zyla who everyone in Kingman calls Santa James. Los Angeles Times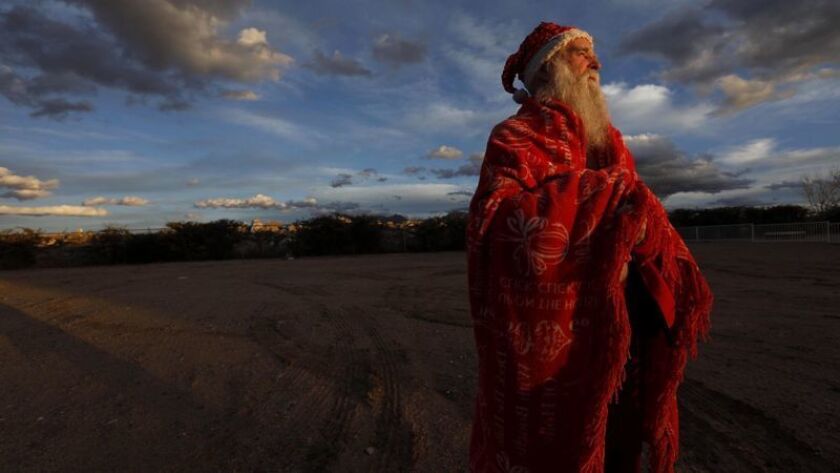 Waiting for BART: "Riders have waited decades for BART to roll into Silicon Valley. Now, an ongoing financial negotiation stands in the way of the opening." San Francisco Chronicle
From Honduras: The United States cannot erect a wall and expect women to resign themselves to being slaughtered, writes former Los Angeles Times corespondent Sonia Nazario. New York Times
The permeable border: "The friends who grew up crossing the U.S.-Mexico border every day." The Atlantic
A smart take: How climate change is fueling the U.S. border crisis. The New Yorker
Please let us know what we can do to make this newsletter more useful to you. Send comments, complaints and ideas to Benjamin Oreskes and Shelby Grad. Also follow them on Twitter @boreskes and @shelbygrad.
---