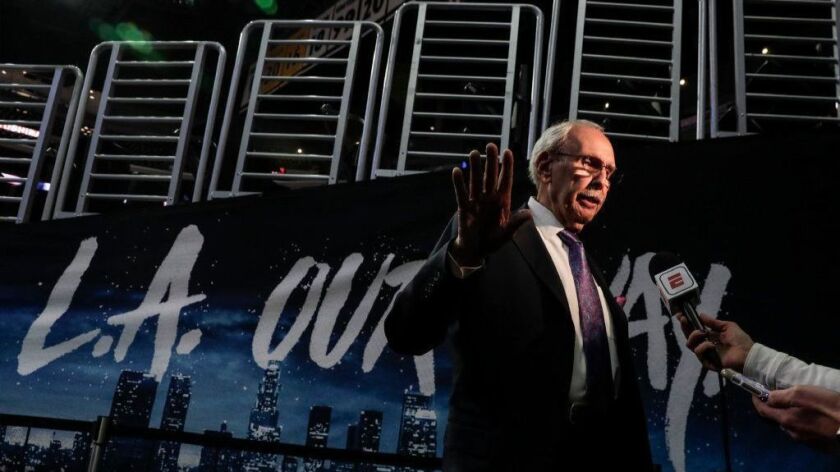 Good morning, and welcome to the Essential California newsletter. It's Wednesday, April 17, and here's what's happening across California:
TOP STORIES
Now, with the Clippers in the playoffs and longtime broadcaster Ralph Lawler calling the final games of his career, we started wondering: How often did Lawler's Law hold true? This is one of the 80-year-old Lawler's signature catchphrases and is used when a team breaks the century mark. Lawler exclaims, "You know Lawler's Law. First to 100 wins. It's the law." Well it's not actually the law, but The Times crunched the numbers and found that, aside from being catchy and alliterative, Lawler's Law turned out to be remarkably accurate. Over the last 23 years, among more than 27,000 NBA games, the first team to reach 100 won 94% of the time. But the modern game may be changing the law. Los Angeles Times
Behind the story: How basketball stats bolstered math theory for one number-crunching reporter. Los Angeles Times
Reliving the comeback: The Clippers' game on Monday against the top-seeded Golden State Warriors was crazy. They resume their playoff series Thursday in L.A. Los Angeles Times
Massive settlement
The Archdiocese of Los Angeles has agreed to pay a record $8-million settlement to a teenager who was sexually abused by the athletic director at her Catholic high school, who continued to work despite prior allegations of misconduct. The award is the highest individual settlement by the archdiocese in a sex abuse case. The religious organization apologized to the victim for her suffering, and Archbishop Jose H. Gomez said he would personally meet with her and her family. Los Angeles Times
A happy ending!
Until recently, Adrian Salgado lived a quiet life mowing lawns and trimming trees in Santa Ana. Then the 65-year-old gardener got swept up in a drama, like the ones he sees in his old Mexican action movies — and his face was broadcast all over television. It was a gripping tale with a surprisingly happy ending. But the most remarkable part of the story didn't come until later, far from the cameras, the day after Salgado was robbed. Los Angeles Times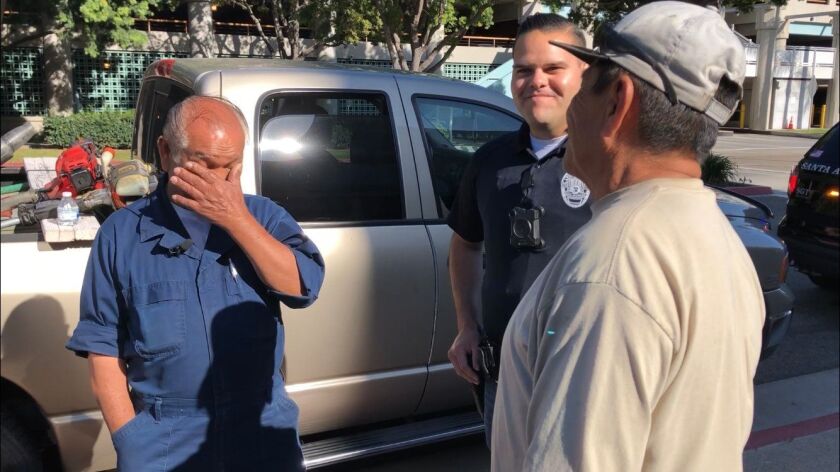 Get the Essential California newsletter »
L.A. STORIES
Warming up: The ominous gray clouds that were above Los Angeles on Tuesday aren't likely to produce much more than the occasional sprinkle for the region before summer-like temperatures return later in the week. Los Angeles Times
The reality: L.A. opens a homeless shelter in Hollywood. But those still outside say they have it worse than ever. Los Angeles Times
Good question: L.A. officials are housing more homeless people than ever, but how? KCRW
And: "A group of Venice residents opposed to plans for a 154-bed homeless shelter in the beachside neighborhood are gearing up for an expensive legal fight." Curbed LA
Fascinating story: To steer her child away from obesity, a mother turns her life upside down. Los Angeles Times
Clapping back: The Game, T.I., Snoop Dogg and other rappers have threatened Fox News' Laura Ingraham with another boycott after the conservative host criticized a song featuring Nipsey Hussle the day after the rapper's funeral procession took over South L.A. Los Angeles Times
IMMIGRATION AND THE BORDER
Worrying times: Members of a tiny Nepali community with temporary protected status now targeted by the government say they will fight to stay in the U.S. Los Angeles Times
POLITICS AND GOVERNMENT
Big housing vote: The Los Angeles City Council is expected to vote Wednesday on an ordinance that would bar landlords from establishing blanket bans on tenants with Section 8 vouchers. Los Angeles TImes
Automation battle: Facing a crowd of more than 1,200 protesting dockworkers, the Port of Los Angeles' Harbor Commission delayed a decision over whether to approve a permit that would open the way to automation in North America's largest terminal. Los Angeles Times
2020 watch, Part 1: While Vermont independent Sen. Bernie Sanders can boast that more than 80% of his hefty campaign account comes from donations of less than $200, other big-name candidates are nowhere close, according to the first round of campaign finance disclosure statements. Los Angeles Times
2020 watch, Part 2: "About 1,600 donors have given more than $200 to multiple Democratic presidential candidates this year, with the largest overlap existing among donors who gave to both Kamala Harris and at least one other campaign." BuzzFeed
Plus: Silicon Valley's biggest Democratic donors are still wrestling with which candidate they want to support in the upcoming primary. ReCode
CRIME AND COURTS
Fatal police shootings down, but … : After adopting policies to reduce shootings, the use of deadly force by Los Angeles police and the number of suspects killed in violent encounters dropped in 2018, according to a report released Tuesday. Even with reductions, the LAPD led the nation in fatal officer-involved shootings last year, with 14, the report said. Two of the deaths were self-inflicted by suspects. Los Angeles Times
Figuring out what's happening: Los Angeles County Dist. Atty. Jackie Lacey has announced the creation of a task force that will investigate conditions at Santa Anita Park after 23 horses died at the racetrack over a three-month period. Los Angeles Times
In court: A Palo Alto couple accused of paying $25,000 to rig their son's college entrance exam asked a federal judge this week to dismiss the indictment against them, claiming there was no conspiracy among the parents entangled in the college admissions scandal. Los Angeles Times
Plus: Donna Heinel, the former USC senior associate athletic director who was fired in March after being indicted in connection with the college admissions scandal, has listed her home in Long Beach for sale at $1.998 million. Los Angeles Times
Clearing the backlog: "Thousands of San Franciscans who had their driver's licenses suspended for missing their date in traffic court now have a significantly better chance of getting back on the road legally." San Francisco Chronicle
CALIFORNIA CULTURE
A San Francisco connection: As Notre Dame Cathedral burned in the heart of Paris, the news reached one of its sister cathedrals more than 5,000 miles away. Los Angeles Times
Ending the battle: Apple Inc. and Qualcomm Inc. have agreed to end a two-year legal war over billions of dollars of technology licensing fees that had threatened to reshape the chipmaker's most profitable line of business. Qualcomm's stock soared 23% on the announcement. Los Angeles Times
A wild, deep dive: Fifteen months of fresh hell inside Facebook. Wired
The way we live: The longer author Roxane Gay lives in Los Angeles, the more she tries to find places where she feels like a thread in the fabric of something bigger than herself. Enter: Little Dom's. Bon Appetit
The newest King: Todd McLellan is the new coach of the Los Angeles Kings. Los Angeles Times
CALIFORNIA ALMANAC
Los Angeles area: sunny, 73, Wednesday; partly cloudy, 80, Thursday. San Diego: sunny, 69, Wednesday; partly cloudy, 75, Thursday. San Francisco area: sunny, 64, Wednesday; partly cloudy, 70, Thursday. San Jose: sunny, 74, Wednesday; partly cloudy, 82, Thursday. Sacramento: sunny, 77, Wednesday; sunny, 82, Thursday. More weather is here.
AND FINALLY
Today's California memory comes from Joel Leanse:
"My father, circa 1918, came from Minnesota to California along with one of his brothers on motorcycles, mostly over dirt roads, settling in what would be the Leimert Park area. As a youngster, 39th Street seemed like our domain. Everyone seemed know the name Elizabeth Short, the "Black Dahlia," and even though I didn't understand the circumstances, when others visited us we would walk to the rear of the large, then-vacant lots on Crenshaw Boulevard, as they wanted to see the spot where her life had been taken. It was a time before freeways, and on late weekend afternoons we would stand on our street corner counting the bumper-to-bumper cars going west after football games at the Coliseum. Needless to say, our efforts to sell lemonade on those days never proved positive."
If you have a memory or story about the Golden State, share it with us. Send us an email to let us know what you love or fondly remember about our state. (Please keep your story to 100 words.)
Please let us know what we can do to make this newsletter more useful to you. Send comments, complaints and ideas to Benjamin Oreskes and Shelby Grad. Also follow them on Twitter @boreskes and @shelbygrad.
---