Newsletter: Essential California week in review: LAX pot smuggling arrests
Good morning, and welcome to the Essential California newsletter. It is Saturday, May 18. Here's a look at the top stories of the past week:
WEEK IN REVIEW
LAX pot smuggling arrests: With arrests for weed smuggling up 166% at LAX, experts say legalization has had the unexpected effect of turning the world's fourth-largest airport into an expanding hub in the illegal export of marijuana. (Plus, a quick primer on what the rules for bringing weed into a California airport actually are, from Tuesday's newsletter.)
Police raid: When a reporter would not betray the identity of a source who gave him a confidential police report, officers came to his home with guns and a sledgehammer and handcuffed him for six hours while performing a search. He's now fighting back in court.
Newsom's headaches: Gov. Newsom is already facing criticism for not delivering on some of his grander promises. It's bad timing as he travels the state to try and sell his unpopular plan to levy hefty fines on those who do not have medical coverage.
Vanishing restaurants: The Chinese-restaurant-dense San Gabriel Valley has seen a wave of major closures in recent months, including the shuttering of dim sum powerhouses Ocean Star and Empress Harbor Seafood Restaurant.
Death of SB50: A bill that would have boosted housing density near mass transit and in single-family-home neighborhoods was held in a Senate committee on Thursday, ending a major battle that has attracted significant attention around California. (ICYMI: L.A. Times policy reporter Liam Dillion explained the politics behind the bill's sudden demise in Friday's newsletter.)
Camp fire cause: A Cal Fire probe has found that Pacific Gas & Electric power lines sparked the devastating Camp fire that destroyed nearly 14,000 homes and killed 85 people last year in what's considered to be the deadliest blaze in state history.
Racist "promposal": A photo of two Palos Verdes High students holding a sign that spelled out a racist slur — within a message for a prom invitation — spread quickly on social media this week, prompting backlash from students and parents. Some have argued the situation highlights larger issues about the normalization of hate speech among youth in affluent, predominantly white communities, leading to groups of people "who think bigotry is funny."
Disneyland legacy: As Disneyland readies itself for its future (the giant expansion for the "Star Wars"-themed Galaxy's Edge), Kim Irvine, art director at Walt Disney Imagineering, stands as a connection to the park's beginnings.
Whoops, high-speed rail: The looming threats by the Trump administration against the California bullet train project became a sour reality Thursday, when federal transportation officials terminated a $929-million grant for construction in the Central Valley.
Alarming increase: San Francisco saw a 17% jump in the number of homeless residents since 2017. That's an increase of thousands of people over the last two years, according to reports released Thursday.
Your support helps us deliver the news that matters most. Subscribe to the Los Angeles Times.
ICYMI, HERE ARE THIS WEEK'S GREAT READS
The North remembers: In Northern Ireland, "Game of Thrones" leaves a lasting legacy for a country once synonymous with intractable sectarian violence. Los Angeles Times
La caravana mujeres: For single men in Spanish towns, the "caravan of women" brings hope of love. Los Angeles Times
Lonely city: In L.A., people silently imploding from loneliness live among us — but we don't talk much about it. Los Angeles Times
The Liberator: Unearthing the Black newspaper that sold the California dream to freed slaves. Columbia Journalism Review
Get the Essential California newsletter »
THIS WEEK'S MOST POPULAR STORIES IN ESSENTIAL CALIFORNIA
1. What's it like to live in Northern California's first tiny-home community? The Bold Italic
2. Racist "promposal" by Palos Verdes High School students prompts outrage. Los Angeles Times
3. In-N-Out owner Lynsi Snyder-Ellingson gives Biola grads life advice (and gift cards). Whittier Daily News
4. The seven most-talked-about films at this year's Cannes Film Festival. Wall Street Journal
5. When a reporter would not betray his source, police came to his home with guns and a sledgehammer. Los Angeles Times
LOOKING AHEAD
Saturday Recommendation: The chorizo at Chori-Man in San Pedro
Our weekly recommendation offers a succinct pitch for a single great thing around the state — be it a restaurant meal, a specialty bookstore, or the stairs to climb for the best view of an iconic vista.
Some of the best chorizo in Southern California can be found inside a red-and-white storefront about a mile north of the waterfront in San Pedro. Humberto Raygoza learned how to make the spicy sausages from his father and is considered by various media outlets to be the best chorizo maker in all of Los Angeles.
But opening a brick-and-mortar restaurant was not actually a part of Humberto Raygoza's original plan. He was already providing wholesale chorizo to some of L.A.'s most-praised Mexican restaurants in 2017 when he went in search of his own commercial kitchen space. (At the time, he was preparing up to 500 pounds of chorizo a week for buzzy restaurants like Salazar and Sonoratown from a shared kitchen in Playa del Rey.)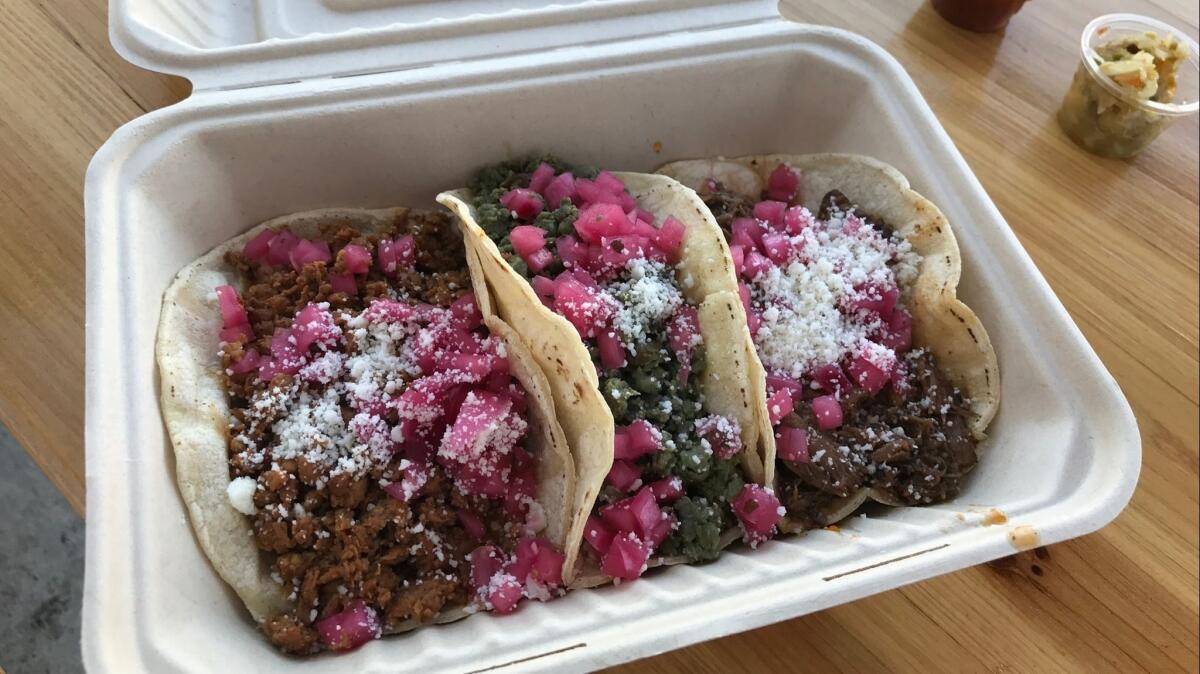 But when the fourth-generation chorizo maker and his business partner Mandy Barton happened upon the vacant kitchen and counter space that once housed Zina's Pizza in San Pedro, they "made a deal with the landlord on the spot," according to San Pedro Today.
Sandwiched between a bakery and a market on the corner of a sleepy, tree-lined street in a largely residential neighborhood, the Chori-Man sells heartbreakingly good chorizo by the pound, along with a food menu that includes burritos, tacos, quesadillas and tortas.
The Chori-Man is located at 2309 S. Alma Street in San Pedro. They are open Wednesdays and Thursdays from 8 a.m. to 2 p.m. and Friday through Sunday from 8 a.m. to 7 p.m. (424) 287-2414
Please let us know what we can do to make this newsletter more useful to you. Send comments, complaints, ideas and unrelated book recommendations to Julia Wick. Follow her on Twitter @Sherlyholmes.
Sign up for Essential California for news, features and recommendations from the L.A. Times and beyond in your inbox six days a week.
You may occasionally receive promotional content from the Los Angeles Times.