Newsletter: Essential California: Airplane noise and systemic inequity in Inglewood
Good morning, and welcome to the Essential California newsletter. It's Friday, May 24, and I'm writing from Los Angeles.
Yesterday, my colleague Doug Smith — a powerhouse Metro reporter who has been at the paper for nearly five decades — published a big story about systemic inequity in Inglewood.
The city had spent millions of dollars in public funds to soundproof middle-class areas of the city, but bypassed one of the poorest neighborhoods where the sound from the LAX flight path is actually loudest. (The wealthier neighborhoods that got the soundproofing were on the east side of the city, furthest from the airport.)
The city wasn't without its reasons: Decades ago, officials had decided to eliminate homes where the noise exposure was greatest and rezoned the area to industrial. However, some of that redevelopment never came about and homes remained in the loudest area. And despite housing the residents whose lives are most disrupted by the noise, their location in an industrial zone made them ineligible for soundproofing funds and improvements.
[Read "Poor neighborhoods endure worst LAX noise but are left out of home soundproofing program" by Doug Smith]
Doug is a longtime data reporter who excels at finding the ragged edges where public policy meets real people's lives — people like Inglewood resident Jose Peralta, whose windows rattle every two to five minutes from the deafening roar of the jetliners above. The inequities at play would be obvious to anyone who has seen a map that overlays Inglewood zoning with the areas where soundproofing has occurred, but who would ever think to build that map?
I called Doug up to find out how he found the story.
How did you discover that Inglewood was disproportionately soundproofing in more middle-class neighborhoods?
This was actually kind of a spinoff from the Clippers story. [Doug had previously written about the basketball team's bid to streamline construction of a new arena in Inglewood.] I was curious how the city acquired that property. I was looking at that and realized that the property the city had bought with a combination of redevelopment funds and airport improvement program funds was not in the middle of the [airport noise] footprint. It was in the outer edges of the footprint. I was focused on that and I realized I should actually take a look at the soundproofing.
So, I went to the city and I asked them for a list of the assessor information numbers of all the properties they had soundproofed. [Having those would allow him to map them.] I filed a public records request for that, and it took a while for them to respond, but they finally gave me 14 spreadsheets of assessor parcel numbers. I merged those all together and joined them to a GIS [mapping software] file of parcels. And it just jumped out at me: Whoa, all of these in the noisiest area didn't get soundproofed, but all these other ones out on the edges of the noise contour got soundproofed. What's going on here?
How did you start to figure it out?
I kept asking people and nobody seemed to know. The director of the residential sound insulation program said, "I don't know."
If I had been able to find the right people at City Hall, I would have figured it out quickly. But the mayor keeps a tight lid on everything there, so they won't talk to us. I had acquired hundreds of documents and I was just reading through them all. I finally found this guy's name, as a former director of the residential sound insulation program. So I called him and we met, and he said maybe you should look at a zoning map. That brought the whole thing into perspective — I could see that that area had been zoned industrial. And then it didn't take long to figure out this was something that happened in the early 1980s. Basically, the city wanted to tear out all those properties and turn it into businesses. It just never happened.
And now, here's what's happening across California:
TOP STORIES
Secret USC records released Thursday show that the university received a report from a group of medical experts saying there was evidence its longtime campus gynecologist, Dr. George Tyndall, was preying on vulnerable Asian students and had signs of "psychopathy." USC quietly arranged a deal with the doctor that allowed him to leave his post with a substantial financial payout and a pristine professional record. A judge released the records in response to a court motion by The Times. Los Angeles Times
Disgraced movie mogul Harvey Weinstein has reportedly reached a tentative $44-million settlement with women who have accused him of sexual assault, creditors of his former studio and the New York attorney general. The proposed deal is not yet final. Los Angeles Times
Get the Essential California newsletter »
L.A. STORIES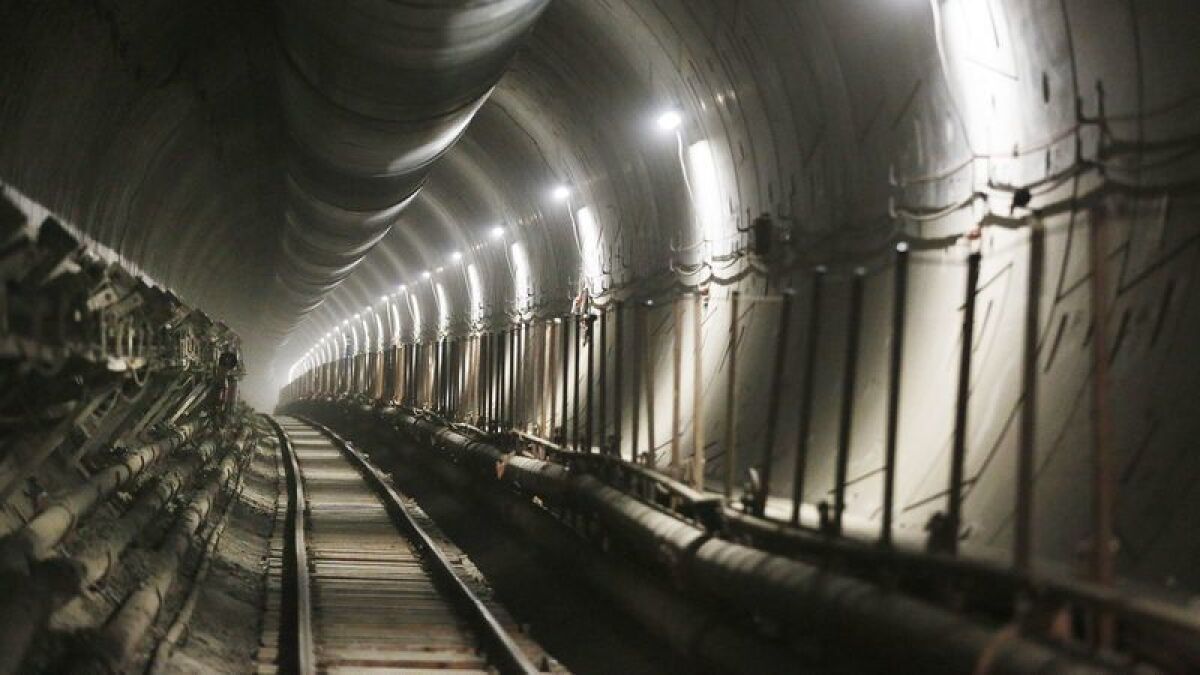 Los Angeles County transportation officials have approved the last major contract needed to build the Purple Line subway extension to the Westside, a significant step for the region's most anticipated rail project in a generation. Los Angeles Times
The celery juice craze in Southern California has caused celery prices to spike and made the fibrous green vegetable nearly impossible to find at organic stores and farmers markets in Los Angeles. Los Angeles Times
Endeavor, the Hollywood talent agency and media behemoth, just filed plans to go public — the first major Hollywood talent agency to do so. The news comes in the midst of an ongoing battle between Hollywood's writers and their agents. Los Angeles Times
Your support helps us deliver the news that matters most. Subscribe to the Los Angeles Times.
IMMIGRATION AND THE BORDER
After a series of delays, the federal government is likely to soon implement a rule that would strip the spouses of H-1B visa holders of their right to work. Mercury News
POLITICS AND GOVERNMENT
The unknowable Kamala Harris: A long-form profile of the senator from California and 2020 presidential candidate looks at her career as a self-proclaimed progressive prosecutor. California Sunday
The Bakersfield City Council is considering a proposal to add "In God We Trust" decals to cop cars. Bakersfield Californian
(Previously: In April, the fellow Kern County city of Delano voted to add the slogan to their police vehicles. Delano is believed to be the first California city to do so.)
Plus: There was quite a lot of movement in Sacramento, as lawmakers tried to push bills through their house of origin before an end-of-the-month legislative deadline. May 31 is the last day for each house to pass bills introduced in that house. A quick reminder: Anything that "passes" this week still has to go through the whole process in the other house.
Some highlights below:
— A bill to create "safe injection sites" in San Francisco cleared the Assembly.
— A bill to put health warnings on soda and sugary drinks advanced in the state Senate.
— A controversial police use-of-force bill now has buy-in from law enforcement after changes were made to it. The bill is likely to advance to a vote of the full Assembly in coming days.
CRIME AND COURTS
The California-based U.S. 9th Circuit Court of Appeals is about to get a little more conservative. Two Trump nominees have been confirmed to the influential appeals court, and a third will likely follow. Sacramento Bee
California's county jails are so bad, some inmates beg to go to prison instead. Los Angeles Times
CALIFORNIA CULTURE
After a contentious debate, the East Bay city of Dublin voted against allowing a rainbow flag to fly at City Hall in celebration of Pride. San Francisco Chronicle
A visual history of Heath Ceramics, a Sausalito-based company that's become a hallmark of midcentury modern design. KCET
After a months-long, multistate adventure, a wayward dog is back with his "mom" in Modesto. Welcome home, Benny. Modesto Bee
Here's how locals are responding to that viral Washington Post eulogy for the soul of San Francisco. SF Gate
(See also: "How San Francisco broke America's heart," the Washington Post story in question)
In this important piece of service journalism, food columnist Lucas Kwan Peterson goes deep on explaining (almost) everything you might find at your local taco truck, from suadero to birria to barbacoa. Los Angeles Times
Binge drinking, raucous parties and trauma from sexual encounters shadow the UC Davis marching band. Modesto Bee
A former farmworker, now a doctor, runs two clinics in the Central Valley providing care — often free of charge for migrant farmworkers. Kaiser Health News
CALIFORNIA ALMANAC
Los Angeles: sunny, 69. San Diego: sunny, 68. San Francisco: sunny, 63. San Jose: partly sunny, 73. Sacramento: sunny, 78. More weather is here.
P.S. What else are you reading? And what am I missing? I do my best to scour the state for the most important and interesting stories of the day, but I'm always trying to broaden my horizons. What local publications do you rely on? What kind of stories do you want to see more of (or less) in the newsletter? I'd love to hear your thoughts. And, as always, if you'd like to recommend a particular story for potential inclusion in the next day's newsletter, please email me the link.
AND FINALLY
We only have two kinds of weather in California, magnificent and unusual.
— author James M. Cain
If you have a memory or story about the Golden State, share it with us. (Please keep your story to 100 words.)
Please let us know what we can do to make this newsletter more useful to you. Send comments, complaints, ideas and unrelated book recommendations to Julia Wick. Follow her on Twitter @Sherlyholmes.
The stories shaping California
Get up to speed with our Essential California newsletter, sent six days a week.
You may occasionally receive promotional content from the Los Angeles Times.