Newsletter: Essential California: Regular Angelenos step up amid a homelessness crisis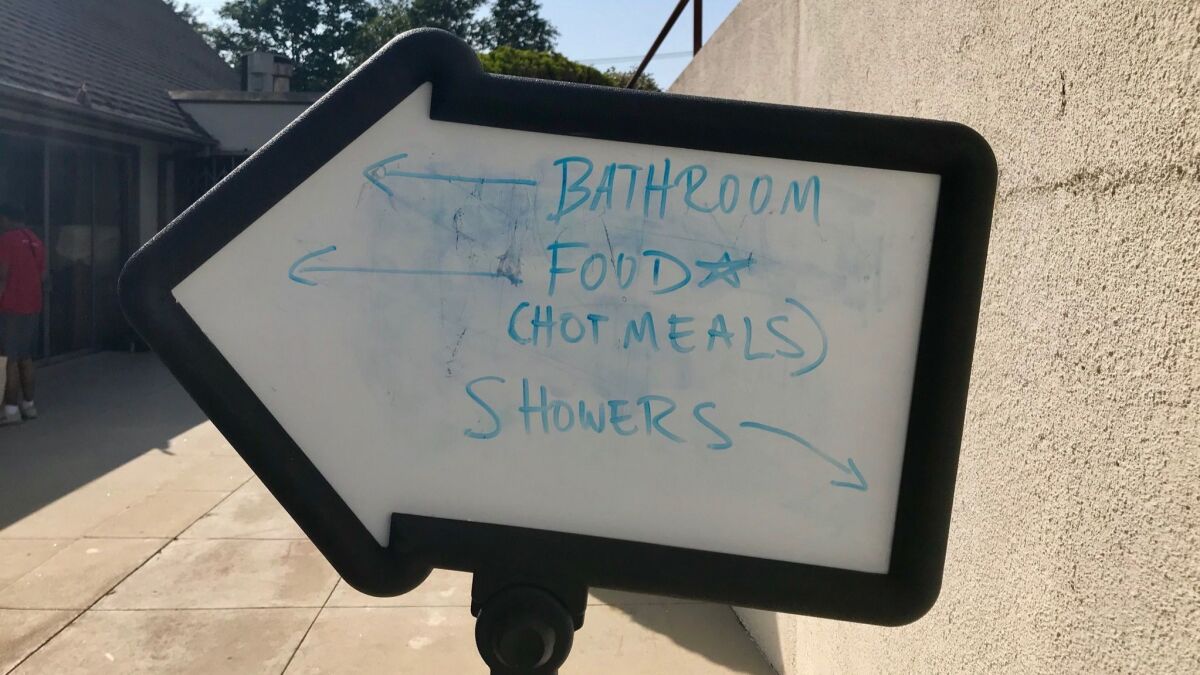 Good morning, and welcome to the Essential California newsletter. It's Wednesday, June 19, and I'm writing from Los Angeles.
The late Fred Rogers famously told his television neighbors that when he would see terrible things happening as a boy, his mother would say to him, "Look for the helpers. You will always find people who are helping."
Here in Los Angeles, it is difficult for anyone with half a heart to step outside without being troubled to the bone by the sheer number of people eking out a life in our streets.
You can and should be outraged, and morally pained by the scale of human suffering in our 21st century American city. But some people are also called to action. And, if you look closely, you'll find the helpers.
"I feel wonderful. God, I can't tell you," Susan Samuelson said, sitting outside a Silver Lake church in a fresh set of clothes, with a plate of Mediterranean food from a restaurant balanced on the chair next to her. The 60-year-old has been living on the streets for about a decade. She had just taken her first real shower in "years" in a mobile shower set up in the church parking lot.
Samuelson was one of more than 35 Angelenos who received a clean shower, a hot meal and access to a service provider at last weekend's Saturday Supper, a regular event organized by the SELAH Neighborhood Homeless Coalition.
SELAH — which stands for Silver Lake, Echo Park, Los Feliz, Atwater Village and Hollywood — is a volunteer-led group that focuses on direct action and engagement.
Their work is rooted in a principle that should be obvious, but has instead come to seem almost radical in an increasingly stratified Los Angeles: SELAH members refuse to see the homeless people in their neighborhoods as anything less than full community members, worthy of the same respect and representation afforded to anyone with a roof over their head.
It is difficult to overstate the gargantuan importance of access to showers, both in terms of an individual's well-being and their ability to function in the broader world with any semblance of dignity. But, in a geographically dispersed county with nearly 59,000 homeless people, access to showers for the unhoused remains abysmally limited.
"When I was homeless in the San Fernando Valley, I began working at a fast-food restaurant. But of course you have to come to work with good hygiene," Jonathan Oskins recalled. Oskins now works with the Los Angeles Homeless Services Authority, but he spent time living on the streets two decades prior.
He was lucky, in the sense that the bathrooms at that particular Taco Bell happened to be outside the restaurant and around the back, making it a little easier for him to stealthily take a daily "bird bath" in the bathroom sink.
Oskins was eventually able to save up enough money to secure housing and get back on his feet. "But if I had had [access to] a mobile shower, I could have more easily interviewed and more easily sustained my employment without risking losing it," he said.
The four-stalled mobile shower trailer in the parking lot of Silver Lake Community Church on Saturday was provided by Shower of Hope through a mini-grant from a state mental agency. The grant SELAH received funded a four-week pilot, and the organization is raising money to continue the Saturday Supper program through the rest of the summer.
"We asked the government to do it for a year and they didn't, so we did it," SELAH co-founder Nithya Raman explained of the program. SELAH has been advocating for the construction of a drop-in center where homeless individuals could access showers, as well as various other services. The Saturday program is an interim step on the way to ultimately realizing that goal.
[See also: "Meet the Angelenos Who Aren't Waiting for the Government to Address the Homelessness Crisis" by Matt Tinoco in LAist]
Shower of Hope, which has four mobile shower trucks and operates in 14 locations around the Los Angeles area every week, does contract with the city and county, according to executive director Mel Tillekeratne. But Tillekeratne said that four other weekly locations are operated by community and religious groups, including a father-son team that runs a Thursday morning shower operation at a Huntington Park church.
Though he has long been involved in homeless advocacy work, Tillekeratne himself was working full time in the private sector as a property manager until last June.
SELAH board member Mike O'Shea told me that there's a running joke that people call SELAH "TV writers against homelessness," because there are so many TV writers deeply involved with the group.
O'Shea, who himself writes for "Chicago Fire," made clear that the joke sort of misrepresents the group, especially because the vast majority of SELAH members are not, in fact, television writers.
But that's the thing about the helpers — in what feels, for many Angelenos, like a vacuum of formal leadership around our most urgent crisis, the regular people stepping up take all forms.
SELAH's Saturday Suppers are just one program of many, but you can learn more about volunteering and supporting them here. Shower of Hope also needs about 70 volunteers a week at its various locations (learn more on its website).
Curbed LA's Alissa Walker put together an excellent resource on ways to help the homeless in Los Angeles earlier this month. A guide to helping homeless Angelenos created by the mayor's office can be found here.
And now, here's what's happening across California:
TOP STORIES
California's proposed vaccine bill has undergone some major changes, winning the support of Gov. Gavin Newsom. The changes sharpen the focus on bad doctors while easing the list of medical conditions that doctors could cite in allowing schoolchildren to skip required shots. Los Angeles Times
Google has pledged $1 billion over the next 10 years to fight the housing crisis in its Bay Area backyard. Los Angeles Times
Get the Essential California newsletter »
L.A. STORIES
The L.A. City Council has approved an ordinance that bars landlords from refusing to consider tenants who pay rent through Section 8, the federal subsidy program for low-income households. Los Angeles Times
This look at how Malibu became the celebrity rehab capital of America goes deep into L.A. history. Curbed LA
The number of women directing films is abysmal. Alma Har'el has a plan to change that. Los Angeles Times
In an internal memo, Universal Music's CEO vowed "transparency" around damage from, and the subsequent cover-up of, the 2008 fire that may have destroyed as many as 500,000 master recordings. Los Angeles Times
Big Willie Robinson could get cops and criminals, movie stars and miscreants, even Crips and Bloods, to see eye to eye on the drag strip. "Larger Than Life" is a new documentary podcast about the street racer who burst on to the scene in 1960s Los Angeles. The podcast premieres in July, but check out this Facebook group if you can't wait until then. They'll be sharing parts of the story and discussing it with members.
Your support helps us deliver the news that matters most. Subscribe to the Los Angeles Times.
IMMIGRATION AND THE BORDER
President Trump vowed to deport "millions" of migrants in a tweet, but that pledge vastly overstates the number of likely deportees and the ability of federal agents to carry out those mass arrests. Los Angeles Times
POLITICS AND GOVERNMENT
Gov. Newsom issued an executive order apologizing on behalf of the citizens of California for the state's history of violence against Native Americans. Los Angeles Times
Sacramento is likely to soon require "panic buttons" for hotel workers in the city to protect them from sexual harassment and assault. Sacramento Bee
San Francisco has moved a step closer to banning e-cigarettes. But Juul, the San Francisco-based e-cigarette giant, has a backup plan. San Francisco Chronicle
CRIME AND COURTS
PG&E has agreed to pay $1 billion in settlements with California towns and counties ravaged by wildfire. The negotiated civil settlement involved fires caused by the utility company's equipment in 2015 and 2017, as well as the 2018 Camp fire. Sacramento Bee
A cancer patient sued UCLA and Dr. James Heaps on Tuesday, accusing the former campus gynecologist of repeatedly sexual assaulting her during her two years of treatment. Los Angeles Times
Fresno police have made an arrest in connection with terrorist threats made against an LGBTQ-friendly bar. Officers also seized several guns, along with hundreds of rounds of ammunition, after an investigation of the threats made on Facebook. Fresno Bee
THE ENVIRONMENT
In another incident of agricultural chemical exposure in the Central Valley, nearly 60 farmworkers were exposed to pesticides while working on a vineyard about 30 minutes northwest of Visalia. Some individuals reported symptoms of nausea and vomiting, and three were hospitalized. Fresno Bee
Here are the best scuba diving spots in California, according to the Monterey Bay Aquarium's dive director. San Francisco Chronicle
CALIFORNIA CULTURE
Raul Ruiz, a journalist and activist for the Chicano movement in L.A., has died at 78. Making no pretense of objectivity, Ruiz simultaneously reported on and helped to organize the movement, eventually becoming co-editor of the pioneering La Raza newspaper. Los Angeles Times
Work crews are preparing to dismantle a 50-year-old mosaic by California artist Millard Sheets on Wilshire Boulevard in Santa Monica. The mural will be relocated to an Orange County museum. Santa Monica Lookout
A primer on banh cuon — Vietnamese rice noodles — and where to find them in north Orange County. Los Angeles Times
Love Disneyland but don't care about Star Wars? Now is the time to visit. The opening of Star Wars: Galaxy's Edge has drawn so many visitors since it opened that it has substantially reduced wait times at all the other Disneyland attractions. Los Angeles Times
If you live between Long Beach and Huntington Beach and recently woke up to "The Star-Spangled Banner" inexplicably blaring at full volume into your home at 8 a.m. sharp, this is why. Orange County Register
For Catholic quinceañeras, Oakland's Mormon temple has become the place to be for photo shoots. Mercury News
In the Oildale neighborhood of Bakersfield, a homeowner's new 5-foot "rustic country style" fence is sowing division. Bakersfield Californian
CALIFORNIA ALMANAC
Los Angeles: partly sunny, 72. San Diego: sunny, 70. San Francisco: sunny, 66. San Jose: partly sunny, 83. Sacramento: sunny, 95. More weather is here.
AND FINALLY
I would like to write a poem as long as California / And as slow as a summer.
— Jack Spicer
If you have a memory or story about the Golden State, share it with us. (Please keep your story to 100 words.)
Please let us know what we can do to make this newsletter more useful to you. Send comments, complaints, ideas and unrelated book recommendations to Julia Wick. Follow her on Twitter @Sherlyholmes.
---