Newsletter: Essential California: Will there be drug screening at Burning Man?
Good morning, and welcome to the Essential California newsletter. It's Thursday, June 20, and I'm writing from Los Angeles.
Every summer, tens of thousands of people descend on a dry lake bed two hours north of Reno and build a temporary city in the desert. Yes, I'm talking about Burning Man.
The festival, which is now in its third decade, draws eccentrics, celebrities and some of the most powerful players in Silicon Valley for a week of all-out art, futurist jargon, free-ish love and — especially in recent years — an undercurrent of semi-clad class warfare.
The festival is still two months away, but Bay Area media outlets and longtime burners alike have been aflutter over its future in recent days. Burning Man may be built on principles of "radical self-reliance," but its pop-up city is erected on public land managed by the Nevada division of the Bureau of Land Management. And on Friday, the BLM released its final environmental impact statement on Burning Man, which stated that attendees could face drug screenings at entrances.
It remains unclear whether these screenings would be instituted at this year's festival or in 2020. (A BLM spokesperson told the Reno Gazette Journal that it may hire a private security firm to do it this year or potentially wait until 2020; the BLM has yet to return my call.)
[See also: "Burning Man could start drug screening at all entrances, federal agency says" in the Sacramento Bee]
Sure, some people may attend Burning Man sober, but drugs (particularly those of the powder, paper and pills variety) are central to the festival's reputation as a 9½-day "anything goes" escape from reality. And "whatever reputational expectation anyone has, it's not terribly inaccurate," says Burning Man expert Brian Doherty, a senior editor at Reason magazine and author of the 2004 book "This Is Burning Man."
One quick thing to clarify before we go any further, as the festival is held in the Nevada desert and this is, of course, the Essential California newsletter: Even though Black Rock City is technically about 40 miles east of the California border, as the crow flies, I think it's fair to say that Burning Man is (for better or worse) deeply California in every sense of the word — from its San Francisco roots (Burning Man began on Baker Beach in 1986) to the deep importance it has among Silicon Valley elites, to say nothing of the ethos of experimentation and artsy weirdness.
Another thing to note: Illegal drugs are still illegal at Burning Man, and they always have been. Laws don't dissipate willy-nilly in a cloud of playa dust, even if did you pay upwards of $425, not including fees, to spend Labor Day creating a new society in your underwear.
But, as Doherty put it, "If you're asking me to estimate, 99.8% of people who do illegal drugs there don't get in trouble." There were only 43 arrests, the majority of which were drug-related, during last year's festival, which was attended by roughly 70,000 people.
But drug screening at the entrances could change that equation and fundamentally alter the DNA of the festival. According to Doherty, it could also raise serious 4th Amendment concerns around warrantless searches. (He wrote about those concerns at length in a recent piece for Reason.) According to Capital Public Radio, festival-goers have also called the suggested drug searches unconstitutional, after the issue was initially raised in a draft report this spring.
So, what comes next? The associate director of government affairs for the Burning Man Project — the San Francisco-based nonprofit that manages the event — authored a post before the release of the final impact report saying that the festival doesn't believe that the big changes will be instituted this year.
A 30-day review and appeal period began June 14, when the report was published, so we'll probably be hearing plenty more in the coming days. The Burning Man Project's communications manager told me that it would be issuing a "comprehensive statement" later this morning, and we'll update the online version of the newsletter when it's out.
In Doherty's view, the relationship between the festival and the BLM has never been simple, "but this is the first time something has exploded into anything that could publicly threaten the event continuing to happen at that location."
Update: I received the following statement from the BLM on Thursday morning:
"BLM will continue to work with our law enforcement stakeholders and partners on a range of security-related tasks and support activities for Burning Man 2019. Our law enforcement personnel are focused on life, health and safety issues for attendees and staff which can be complex for an event this size at a unique location like the Black Rock Playa. Screening process and procedures are just one facet of a multi-jurisdictional law enforcement approach to ensure the safety and security of the event. These procedures will be carried out in a manner similar to previous Burning Man events. At this time, BLM has no new announcements on changes to law enforcement and security policy or procedures related to Burning Man 2019."
And now, here's what's happening across California:
TOP STORIES
A seismic storm unleashed more than 1,000 small earthquakes in San Bernardino and Riverside counties. How nervous should we be? Los Angeles Times
Citing the homelessness crisis, activists are targeting Mayor Eric Garcetti with a recall campaign. Los Angeles Times
Get the Essential California newsletter »
L.A. STORIES
Gentrification and the passage of time are wiping away some of Los Angeles' weird texture — not the high culture exactly, just the anti-bland edges. Los Angeles Times
The L.A. Unified school board has voted to end the school district's "wanding" weapons search policy. Los Angeles Daily News
L.A. could overhaul how homeless encampments are cleaned. Los Angeles Times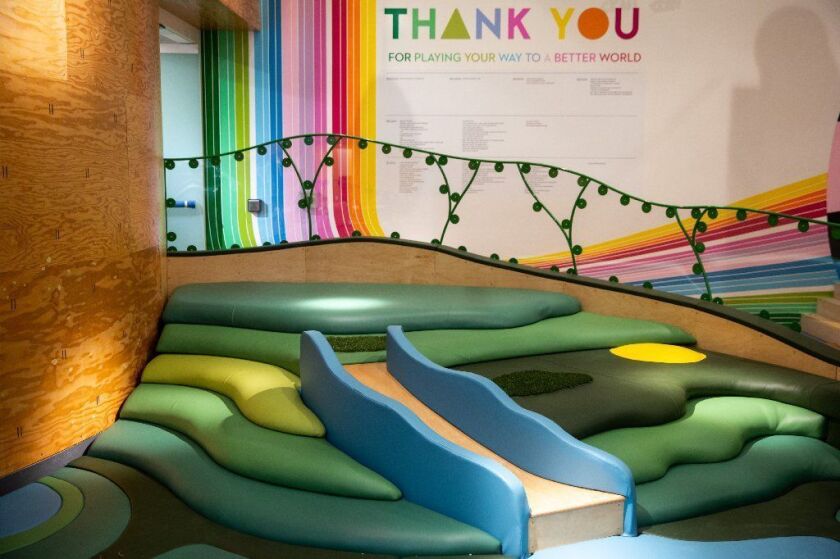 The Cayton museum in Santa Monica rethinks what a children's museum is, and can be, in 2019. Los Angeles Times
How Pixar Studios is keeping Don Rickles' legacy alive two years after his death, through "Toy Story 4." Los Angeles Times
Your support helps us deliver the news that matters most. Subscribe to the Los Angeles Times.
POLITICS AND GOVERNMENT
Starting July 1 in San Francisco, another round of fare hikes on Muni will go into effect. Curbed SF
Rep. Devin Nunes hired a longtime supporter with little experience to handle his 2018 campaign ad buys. Los Angeles Times
Marin County has voted to eliminate library late fees, joining a growing number of Bay Area locales that have done so. KPIX 5
A woman screaming that Santa Barbara's mayor was a "petty tyrant" was escorted out of Santa Barbara council chambers on Tuesday. The mayor had called a recess to prevent a councilman from speaking a second time on the city's budget. (The councilman in question also had some choice, albeit less spicy, words for the mayor: He accused her of a "pattern of stifling dissent.") Santa Barbara Independent
CRIME AND COURTS
Wildly different stories have emerged of the deadly shooting in a food line at a Corona Costco. Los Angeles Times
THE ENVIRONMENT
Yosemite National Park's only road over the Sierra Nevada will reopen Friday, with limited access. Fresno Bee
CALIFORNIA CULTURE
An editor reflects on how the Long Beach Post became the most-read publication in Long Beach. Long Beach Post
Monterey County is exploring potential reuse plans for a 1930s-era jail that famously housed civil rights activist Cesar Chavez for 20 days in 1970. Monterey County Weekly
Amazon wants to start delivering alcohol in San Francisco. Mercury News
How Redding became an unlikely epicenter of modern Christian culture. CalMatters/KQED
Dimple Records, a Sacramento chain of independent record stores, will be closing all seven locations this year. It'll be holding a "retirement sale" in the interim. Sacramento Bee
CALIFORNIA ALMANAC
Los Angeles: sunny, 71. San Diego: partly sunny, 68. San Francisco: partly sunny, 63. San Jose: partly sunny, 76. Sacramento: sunny, 88. More weather is here.
AND FINALLY
Today's California memory comes from Amelia Nuñez:
"Growing up in Riverside, when there were still orange groves, drive-in movies and A&W root beer floats. On the Fourth of July, our family would spend the afternoon at Fairmont Park, where you could rent a boat to row on the lake, ride carnival-type rides and feed the ducks. We'd take fried chicken, potato salad, watermelon, drinks and other snacks to eat. After an afternoon of playing and eating, we waited anxiously for the fireworks show to start from Mt. Rubidoux. I now live in beautiful Long Beach and miss those simple times."
If you have a memory or story about the Golden State, share it with us. (Please keep your story to 100 words.)
Please let us know what we can do to make this newsletter more useful to you. Send comments, complaints, ideas and unrelated book recommendations to Julia Wick. Follow her on Twitter @Sherlyholmes.
---