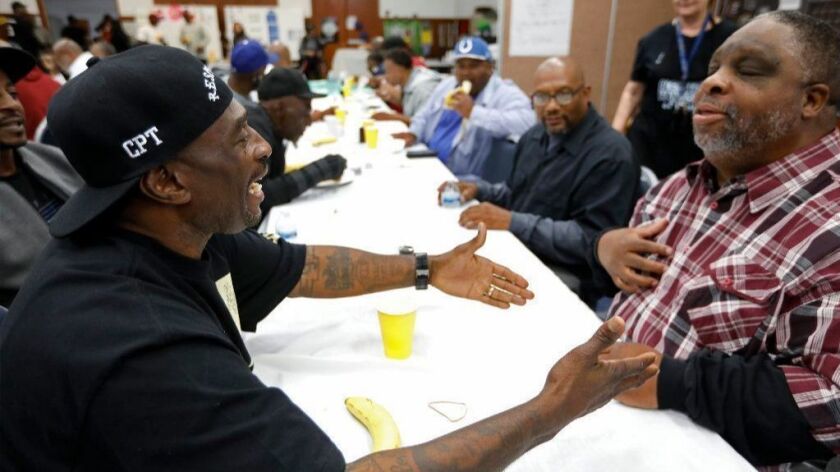 Good morning, and welcome to the Essential California newsletter. It's Monday, June 24, here's a quick look at the week ahead:
Think-piece watch: This Tuesday is the 10th anniversary of Michael Jackson's death. Expect to hear plenty about the King of Pop's life and legacy, particularly in light of the recent documentary "Leaving Neverland," which aired in March and painted a deeply disturbing portrait of how Jackson allegedly sexually molested two boys for decades.
Wednesday will mark the first Democratic presidential primary debate, with Sen. Elizabeth Warren, former Rep. Beto O'Rourke and Sen. Cory Booker, among others, taking the stage.
But viewers waiting to see the California candidates enter the gladiatorial ring/podium-cluttered stage at Miami's Adrienne Arsht Center for the Performing Arts will have to wait until Thursday. Sen. Kamala Harris, Rep. Eric Swalwell and author Marianne Williamson are all set to appear on the second night of the debates.
Also Thursday: Slain Sacramento Police Officer Tara O'Sullivan will be laid to rest at a public memorial service in Roseville. The young rookie cop was fatally shot Wednesday while assisting a domestic violence victim, sparking an outpouring of grief in the region.
Saturday and Sunday: It's the last weekend in June, which means San Francisco Pride is here at long last. Here's everything you need to know about the parades, routes, street closures and more. And a few off-the-beaten-path picks, for those in search of some less crowd-heavy ways of celebrating. Plus, where to eat and drink along the Pride route.
And now, here's what's happening across California:
TOP STORIES
Nipsey Hussle's death unified Crips and Bloods in grief. Here's an intimate, in-depth look at how the death of the rapper, activist and entrepreneur has inspired the largest gang cease-fire since the landmark truces of 1992. Los Angeles Times
In 2003, the largest and longest supermarket strike in U.S. history reshaped the Southern California grocery industry. This week, United Food and Commercial Workers union members in Southern and Central California plan to vote on whether to authorize a strike. Will history repeat itself? Los Angeles Times
Get the Essential California newsletter »
L.A. STORIES
Two people with measles may have exposed others to the disease in Brentwood and Westwood this month. Anyone who visited the Geffen Playhouse in Westwood on June 7 between 8 and 11 p.m., or Toscana in Brentwood on June 8 between 7 and 11 p.m., may have been exposed, officials warned. Los Angeles Times
The opening of the Academy Museum has been delayed again, with it now slated to open after the Oscars in 2020. Curbed LA
Is this 70-year-old marathon runner from East L.A. a record setter or a cheater? Los Angeles Times
The Los Angeles Times Book Club, which is reading "The Library Book" by Susan Orlean, will have its first event Tuesday in East Hollywood. Here's an excerpt of the very Los Angeles book in question. Los Angeles Times
Plus, a flashback to 1986 in the aftermath of the L.A. Library fire, when a massive volunteer effort mobilized to remove 3 million books from Central Library before they were irreparably damaged. Los Angeles Times
[See also: Here's our Essential California Q&A with Book Club doyenne Donna Wares]
After another horse death at Santa Anita, Hall of Fame trainer Jerry Hollendorfer was banned from the track. Santa Anita's meeting ended Sunday. Los Angeles Times
Your support helps us deliver the news that matters most. Subscribe to the Los Angeles Times.
IMMIGRATION AND THE BORDER
On Saturday, President Trump delayed the immigration sweeps that he'd previously pledged would begin Sunday. Here's why California police say they won't take part if and when they do occur. Los Angeles Times
Plus: Here's how immigrant advocates prepared for the now-delayed ICE sweeps: "The effect is terror. We're getting call after call." Los Angeles Times
Meanwhile, a high school English teacher in Lancaster made sure students knew that in a worst-case scenario where their parents faced deportation, they would be welcomed into his home. Last year, one of his students whose mother was deported stayed in the same spare room he is offering now. NBC News
POLITICS AND GOVERNMENT
The third Black Women's March drew hundreds to the state Capitol on Saturday. Sacramento Bee
Oakland has opened the first 24/7 safe parking area for homeless RV dwellers in the Bay Area. San Francisco Chronicle
Humboldt County's cannabis abatement program looks for greenhouses first and asks questions later. Farmers have received notices to shut down their illegal cannabis operations — which are published in the local paper — even though they were actually just growing peaches and tomatoes. Eureka Times-Standard
How L.A. County made collecting child support less punitive. The results of the more human-centered approach have been notable. Next City
CRIME AND COURTS
Theranos founder Elizabeth Holmes' fraud trial may not begin until September 2020. Mercury News
Stockton's fire chief was arrested on suspicion of spousal abuse. Capitol Public Radio
THE ENVIRONMENT
A magnitude 5.6 earthquake struck in Humboldt County, but as of Sunday morning, there were no reports of injuries or significant damage. San Francisco Chronicle
California fishermen are reporting the biggest salmon season in a decade, on the heels of three years of low catches because of the drought. San Francisco Chronicle
Here are six old-fashioned swimming holes to keep your cool this summer around the state. Los Angeles Times
CALIFORNIA CULTURE
"Stephon Clark will never die": More than a year after his death, a three-story mural honors Clark's memory in Sacramento. Clark — an unarmed black man holding a cellphone — was fatally shot by Sacramento police in March 2018, sparking widespread protests and outrage. Sacramento Bee
Trying to score tickets to Comic-Con? The Better Business Bureau would suggest you watch out for these potential scams. NBC San Diego
The city of Imperial, which is about 15 miles north of the U.S.-Mexico border, has fewer than 17,000 residents. That number includes heavyweight boxing champion Andy Ruiz Jr., who received a hero's welcome when he was honored with a parade Saturday. Los Angeles Times
Overdose deaths from fentanyl, a synthetic painkiller that is up to 100 times more potent than morphine, are rising in San Francisco. San Francisco Chronicle
A Bakersfield native has made a big name for himself in the hobby board game industry. Bakersfield Californian
Congratulations to the Mendocino Transit Authority, which now has an app that offers mobile phone access to real-time bus locations and schedules. Ukiah Daily Journal
Sadie Barnette mines memories to turn them into glittering, physical spaces. Her latest installation is an homage to the first black-owned gay bar in San Francisco, which her father ran in early '90s. Hyperallergic
CALIFORNIA ALMANAC
Los Angeles: partly sunny, 74. San Diego: partly sunny, 70. San Francisco: partly sunny, 69. San Jose: partly sunny, 85. Sacramento: sunny, 95. More weather is here.
AND FINALLY
This week's birthdays for those who made a mark in California:
Actress Mindy Kaling (June 24, 1979), former Rep. Mike Honda (June 27, 1941), former LAPD Police Chief Charlie Beck (June 27, 1953), filmmaker Mel Brooks (June 28, 1926), entrepreneur Elon Musk (June 28, 1971) and movie producer Robert Evans (June 29, 1930)
i will never leave here
poet Wanda Coleman, "Prisoner of Los Angeles"
If you have a memory or story about the Golden State, share it with us. (Please keep your story to 100 words.)
Please let us know what we can do to make this newsletter more useful to you. Send comments, complaints, ideas and unrelated book recommendations to Julia Wick. Follow her on Twitter @Sherlyholmes.
---