Newsletter: Essential California: What everyone in Los Angeles is reading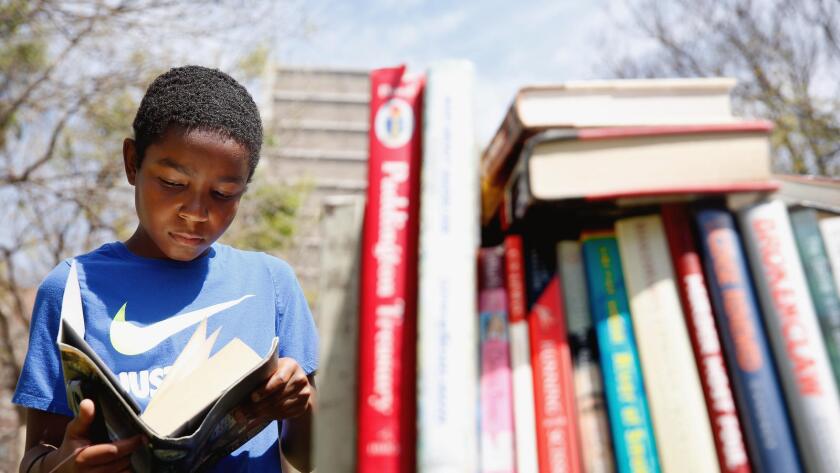 Good morning, and welcome to the Essential California newsletter. It's Thursday, June 6, and I'm writing from Los Angeles.
"What are you reading?"
Ask a single individual, and it's personal preference. Ask an entire city, and it's collective id.
Los Angeles Times reporter Maria La Ganga took on a herculean task. She surveyed 28 library systems, across not just the city of Los Angeles but also the county, to see which books were most circulated in the first quarter of 2019 and which have the longest waiting lists. Her reporting paints a portrait of how we spend our precious free time, and what makes us tick.
In what will likely come as little surprise to anyone who has followed recent bestsellers, Michelle Obama's "Becoming" was the most popular book across county libraries, followed by titles by Michael Connelly and John Grisham.
But things really get much more telling in the results for the individual neighborhood branches.
In liberal Santa Monica, Bob Woodward's "Fear: Trump in the White House" was the most popular volume. At the Chinatown Branch Library, the 10 most requested books are all Chinese-language volumes. Ralph Ellison's "Invisible Man" was the most popular book at the Baldwin Hills branch. A book on the art and craft of directing was among the most checked-out volumes at a library in the heart of Hollywood.
[Read "What's L.A. reading? Our habits are as diverse as the city itself" by Maria La Ganga]
The list goes on (and on and on). I highly recommend you poke around on the interactive map that accompanies La Ganga's story for a look at the most popular titles at libraries all around the county.
The story also had a news peg: the launch of the new Los Angeles Times Book Club, led by Donna Wares. The first pick will be Susan Orlean's "The Library Book," culminating in a June 25 forum with Orlean.
I asked Donna a few questions about the book club in celebration of the launch.
What do you think draws people to book clubs?
It isn't just the books. It's about bringing people together. Often to just have an evening out, or to have an intelligent discussion.
Why start with "The Library Book"?
Susan Orlean's love letter to the library is a quintessentially L.A. story. It's a look at the mysterious and unsolved L.A. library fire, which was the biggest library fire in U.S. history. We'll start with that, but the readers will help us decide where it goes. It will be an evolving process.
How can people participate in the L.A. Times Book Club?
People can participate in any way that they like. We'll pick a book every month. We'll write about it and talk about it online, and then we'll host a forum with the author. The events will be a conversation. And we'll have some videos and other surprises.
One thing about book clubs is people will often say, "Oh, I didn't have a chance to read the book." But there are no rules. Read, come, join the event. Or read along at home. If you haven't read the book, just come and enjoy a delightful evening and a glass of wine.
[You can sign up for the L.A. Times Book Club and its newsletter here.]
And now, here's what's happening across California:
TOP STORIES
Tuesday was a rough day for Los Angeles Mayor Eric Garcetti. New homelessness numbers were released showing that the region's unhoused population had continued to soar despite substantial financial investment. Measure EE, a proposed parcel tax to fund L.A. schools that the mayor had heavily backed, earned only 45% of voters' support, well short of the two-thirds needed to pass. Education reporter Howard Blume looks at what went wrong for the parcel tax plan. Los Angeles Times
California's economy is slowing down, with fewer jobs likely to be created through 2021, UCLA forecasters predict. California's low unemployment rate should persist through the next two years, but the state's generation of new jobs will lose steam, according to the forecast. Los Angeles Times
Get the Essential California newsletter »
L.A. STORIES
Los Angeles International Airport lost power Wednesday evening, leaving some very unhappy travelers. Los Angeles Times
Downtown L.A.'s Main Museum had big ambitions and a high-profile staff. But it shuttered within a few years. Arts writer Catherine Wagley looks at the Main's closure — and what it teaches us about the perils of private museums. Artnet
Los Angeles will make the city's DASH buses free for students. The one-year pilot program will eliminate fares for K-12 and college students. Curbed LA
A man attempted to swim in the Silver Lake reservoir and was later taken into police custody. Eastsider LA
If there's anything the new Los Angeles homeless count numbers make clear, it's that no magic cure is going to solve anything soon. So what do we do? Nita Lelyveld explores the issue in her City Beat column. Los Angeles Times
West Hollywood has approved a temporary street vending law just in time for this weekend's Pride parade. Eater LA
Plus: Meet the 100-plus LGBTQ icons and iconoclasts who are shaping culture in Los Angeles and beyond. Los Angeles Magazine
Your support helps us deliver the news that matters most. Subscribe to the Los Angeles Times.
IMMIGRATION AND THE BORDER
Arrests along the U.S.-Mexico border surged again in May, to the largest one-month arrest total since President Trump took office and the highest monthly figure in 13 years. Associated Press
POLITICS AND GOVERNMENT
San Francisco Mayor London Breed officially filed for reelection Tuesday, to run for what would be her first full four-year term in a November election. So far, she has no serious opposition. San Francisco Examiner
Oakland voted to decriminalize magic mushrooms, making it the second city in the U.S. to do so. The resolution was passed with a unanimous vote. Los Angeles Times
CRIME AND COURTS
The arrest of the leader of La Luz del Mundo church amid allegations that he sexually abused children and solicited sexually explicit photos of minors has sent shock waves through Mexico and the United States. The organization, which claims more than 1 million followers worldwide, has churches in East and West L.A., Orange County and Palm Springs. Los Angeles Times
Tony Bland, the former USC associate head coach who pleaded guilty to a felony count of conspiracy to commit bribery in the college basketball corruption scandal, was sentenced to two years of probation Wednesday. Los Angeles Times
Plus: Federal investigators are scrutinizing whether Pat Haden, former USC athletic director, was involved in the college admissions bribery and cheating scheme. Los Angeles Times
A Ghost Ship defendant's Tinder messages were used as evidence against him in court in the ongoing manslaughter trial over the deadly warehouse blaze. East Bay Times
THE ENVIRONMENT
The state has released new guidelines for school activities (and when to move them indoors) during wildfires and other poor air quality events. Mendocino Voice
California has too much solar power. That might be good for ratepayers. Los Angeles Times
Malibu's Leo Carrillo State Park will reopen after months of cleanup following the Woolsey fire, and online reservations are already filling up. Los Angeles Daily News
CALIFORNIA CULTURE
As part of the Golden State Warriors' farewell to Oakland, Stephen Curry went around gifting sneakers to 30 people who shaped his time there. The Undefeated
Plus: Curry scored a playoff career-best 47 points, but the Warriors still lost Game 3 of the NBA Finals to the Toronto Raptors. Los Angeles Times
Sephora stores across the country closed for an hour to hold diversity training for employees. This comes just over a month after R&B star SZA said she had security called on her while shopping at a Calabasas outpost of the beauty retailer. Associated Press
MTV's "Punk'd" and "Singled Out" will be revived at Quibi, Meg Whitman and Jeffrey Katzenberg's billion-dollar video start-up. Quibi, which hasn't yet launched, will traffic in short-form video content (the name is a take on "quick bite"). Episodes of the revived unscripted series will be under 10 minutes in length. The Hollywood Reporter
In George Lucas' hometown of Modesto, an annual summer homage will be paid to Lucas' seminal film "American Graffiti." Graffiti Summer, as the collection of events is known, will bring festivals, film screenings, music and plenty of classic cars to the Central Valley city. Modesto Bee
Skateboarding has made it to the Olympics, but it still owes a debt to American architecture — and the public spaces, including San Francisco's former Justin Herman Plaza, that shaped the sport. Curbed
The restaurant world is famous for its excesses, but these new programs are addressing sobriety, addiction and mental health inside the hospitality industry. Los Angeles Times
Did rats infest a homeless encampment in Orange County? Or did someone plant them there? LAist
CALIFORNIA ALMANAC
Los Angeles: partly sunny, 75. San Diego: partly sunny, 70. San Francisco: windy, 64. San Jose: partly sunny, 73. Sacramento: sunny, 87. More weather is here.
AND FINALLY
Today's California memory comes from Arturo Fierro:
"A friend recently said that there was more air pollution than he remembered years ago. How wrong he was! In the 1970s I was part of the busing program meant to desegregate LAUSD. I remember returning from the San Fernando Valley to East Los Angeles. Coming over the hill, we could see a brown layer of dirty air shrouding downtown. I also remember the days we could not go outside for recess because the air was too polluted. For the sake of my grandson, I am glad we have made so much progress on reducing pollution of all types."
If you have a memory or story about the Golden State, share it with us. (Please keep your story to 100 words.)
Please let us know what we can do to make this newsletter more useful to you. Send comments, complaints, ideas and unrelated book recommendations to Julia Wick. Follow her on Twitter @Sherlyholmes.
---