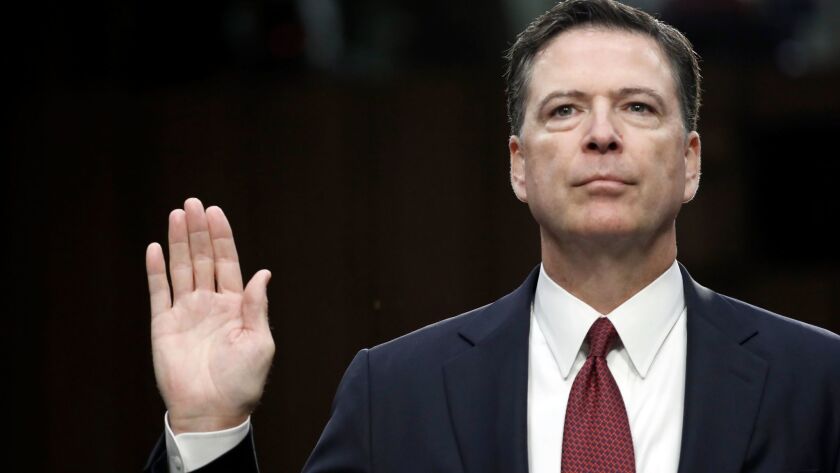 James B. Comey says he was fired over the Russia investigation, and that the reasons President Trump gave were "lies, plain and simple." I'm Davan Maharaj, editor-in-chief of the Los Angeles Times. Here are some story lines I don't want you to miss today.
TOP STORIES
Comey Calls Out Trump: 'Lies, Plain and Simple'
If Donald Trump wanted to "lift the cloud" over his presidency, former FBI Director James B. Comey has shown that the storm won't dissipate so easily. As millions of Americans watched, Comey was calm and collected as he stated, "It's my judgment that I was fired because of the Russia investigation," and described Trump's claims that the FBI was poorly led and in disarray as "lies, plain and simple." During the three-hour public portion of the hearing, Trump didn't tweet so much as a "covfefe" — though his first-born son filled in the gap, the White House denied the president is a liar, and Trump's personal lawyer said Comey's testimony had vindicated the president. Here is a side-by-side look at how Comey's story stacks up to Trump's.
Explosive Testimony, or a Nothing Burger?
Comey did what few others can in an age of multiple digital devices and fidget spinners: Focus America's attention for a few hours. The reaction was predictably divided. Explosive testimony — or a big, fat nothing burger? For Trump's GOP defenders, House Speaker Paul D. Ryan set the tone: "The president's new at this. He's new to government." Other Republican leaders were more circumspect. Times political analyst Cathleen Decker says the fact that no GOP senator openly contradicted Comey's assertion that the president lied and at least tacitly attempted to interfere is bad news for Trump.
More About the Comey Hearing
-- Did Comey's release of memos about his Trump meetings violate executive privilege?
-- What did Sen. John McCain say? He blames any confusion on staying up late to watch baseball.
-- Times TV critic Lorraine Ali says Comey has something in common with women trapped in inappropriate employee-boss relationships.
Dodd-Frank Gets Its Own Stress Test
While much of America's attention was locked on the Senate Intelligence Committee, the House of Representatives voted to repeal many of the stricter regulations enacted after the 2008 financial crisis. The Dodd-Frank Wall Street Reform and Consumer Protection Act was passed in 2010 with virtually no Republican support, and the measure to repeal it got no Democratic votes. Now it's on to the Senate, where it faces major hurdles.
California Democrats Play the Family Feud
California's Democratic Party would seem poised to lead the resistance to President Trump, especially with the 2018 midterm election coming — if only it could stop fighting with itself. Feelings are still raw over the selection of a new leader last month, with accusations and counter-accusations flying. Though this isn't the first time the party has suffered from infighting, it's not the message Democratic leaders want to see.
Did Theresa May Score an 'Own Goal'?
British Prime Minister Theresa May called a snap election to strengthen her support ahead of negotiations to leave the European Union. Instead, she appears to have weakened it. Her Conservative Party lost its majority in Parliament, which is unlikely to entirely derail Brexit. But the political chaos could complicate matters.
The Mysteries Buried in Hollyhock House
Frank Lloyd Wright was born 150 years ago this week, a milestone that has prompted the architectural world to reappraise his work. But as Times architecture critic Christopher Hawthorne observes, Wright's houses in Los Angeles from the early 1920s are underappreciated and often misunderstood. Hawthorne says they're "inscrutable and even crypt-like not by accident but by design." Why? To bury Wright's grief over the murder of a woman who changed his life.
FLASHBACK FRIDAY
On June 6, 1944, Allied soldiers and military equipment landed on the shores of Normandy, France, starting a massive operation that lasted more than two months and precipitated the defeat of Nazi Germany in World War II. Here are front pages and photos from the Los Angeles Times' 1944 cov­er­age of D-day.
MUST-WATCH VIDEO
-- Highlights from Comey's testimony in just under three minutes.
-- Should the Lakers select Lonzo Ball with the No. 2 pick in the NBA draft?
-- Sergio Romo and family talk about his playing for the Los Angeles Dodgers after nine seasons with the San Francisco Giants.
CALIFORNIA
-- The state attorney general argued that Trump had no legal authority to revoke or modify national monuments created by previous administrations.
-- The death of a motorcyclist on Interstate 5 has revived the debate about lane splitting on California freeways.
-- Major streets in West Hollywood and surrounding areas will be closed this weekend for LGBTQ pride events and a protest march that will replace the L.A. Pride parade.
-- There's a reason it's gray when we wake up these days; here's how June gloom works.
YOUR WEEKEND
-- Your ultimate guide to planning the best summer road trip, including routes, destinations, the right candy to take along and how to coexist with your traveling companions.
-- Chefs explain why you should be grilling with mayonnaise.
-- Five summer cocktails to keep you chill.
-- They found a real estate unicorn: A house with great "bones," ready for decorating. See the before and after photos.
HOLLYWOOD AND THE ARTS
-- Film critic Kenneth Turan says Tom Cruise's best efforts can't save a chaotic reboot of "The Mummy."
-- Ice Cube has some real talk for Bill Maher: "Everybody needs to check they self before they wreck they self."
-- Pop music critic Mikael Wood breaks down why the depressing CMT Awards felt like one long commercial.
NATION-WORLD
-- Nevada moved a step closer to a landmark Medicaid-for-all healthcare model; it awaits the governor's signature.
-- An armed drone fired on U.S.-backed coalition forces in Syria, then a U.S. F-15 fighter jet shot it down. It was the first time an American fighter destroyed an enemy aircraft in air-to-air combat since February 2009.
-- The leaders of Germany and Mexico will meet today, and on the agenda is how to deal with Trump.
-- These 12 Americans had the right stuff to be picked for NASA's new class of astronaut trainees.
BUSINESS
-- House Republicans threatened the director of the Consumer Financial Protection Bureau with contempt of Congress, saying his agency has not complied with a demand to provide documents related to Wells Fargo's unauthorized-accounts scandal.
-- "Alexa, what's my blood sugar level?" Columnist David Lazarus looks at the dawn of a new era in personal technology for a variety of chronic health conditions.
SPORTS
-- Some may not like the building of a dynasty in the Golden State Warriors, but LeBron James of Cleveland thinks it's fair.
-- Columnist Bill Plaschke says if Clayton Kershaw gets mad when he gets taken out of a game, good. He should get mad.
OPINION
-- Trump's behavior toward Comey may or may not meet the legal definition of obstruction of justice, but any American can see that it was grossly inappropriate.
-- Chef Donald's recipe for climate disaster: See the David Horsey cartoon.
WHAT OUR EDITORS ARE READING
-- David Frum offers "the five lines of defense against Comey — and why they failed." (The Atlantic)
-- CNN chief political correspondent Dana Bash says an interview with Transportation Secretary Elaine Chao made her want to speak openly about the biological clock. (Cosmopolitan)
-- Political pundits had a good laugh on Twitter about the British elections. (The Guardian)
-- Melania Trump's hometown in Slovenia is cashing in on her fame as first lady. Care to go on a five-hour walking tour at $90 for two? (NPR)
ONLY IN L.A.
What could be more L.A. than yoga, mimosas and Comey-watching early on a Thursday morning? That was the scene at actor-writer-producer Kelly Perine's house in Los Feliz, where two TVs were tuned in (one to MSNBC and the other to Fox News, in a nod to bipartisanship) and many lava lamps were turned on.
Please send comments and ideas to Davan Maharaj.
If you like this newsletter, please share it with friends.
---