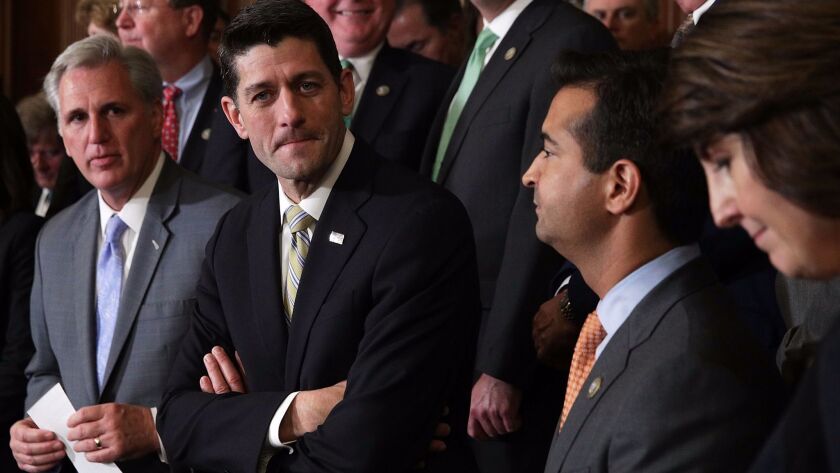 The fight over the Republicans' tax revamp shifts to the U.S. Senate, where lawmakers will consider a much different bill that changes Obamacare too.
TOP STORIES
The GOP Tax Plan Takes a Big Step, but an Even Bigger One Remains
House Republicans have approved a tax overhaul bill, with most of California's representatives voting for it and some saying they did so because they think the Senate will make it better. But it won't be so simple, as the significantly different Senate version has already stoked dissent within the GOP. Adding to criticism that the plan favors the moneyed class, an analysis by Congress' bipartisan tax experts concluded the Senate bill would raise taxes for some of the poorest Americans by 2021 — which some Republicans dispute. The vote is likely to be after Thanksgiving.
Al Franken: 'Disgusted With Myself'
Democratic Sen. Al Franken has apologized after an L.A. radio show anchor said Franken had aggressively kissed her and later groped her while she was asleep on a USO tour in 2006. She even provided a photo, which Franken responded to by saying, "I look at it now and I feel disgusted with myself." Amid a barrage of criticism, Franken said he would cooperate with a Senate Ethics Committee investigation. Late Thursday, President Trump weighed in with two tweets, reigniting discussion of his "Access Hollywood" tape and the allegations by women against him.
More Politics
-- A defiant Roy Moore got a reprieve, as both Trump and the Alabama GOP said voters should decide his fate in the Senate race.
-- A deadlocked jury in the corruption case against Democratic Sen. Robert Menendez led the judge to declare a mistrial.
-- Senators said Trump's son-in-law, Jared Kushner, had failed to turn over some documents as Congress investigates Russian election interference.
It's Not Easy Being Green
California officials are finding "resistance" is easier said than done when it comes to trying to protect the environment. In the name of cutting red tape for business development, the Trump administration has been rolling back so many regulations so quickly, Sacramento hasn't been able to keep up. The changes affect industrial facilities, farmworkers and even fish.
Could the Tehama Shooting Have Been Prevented?
For more than a year, Kevin Neal had been battling with neighbors. They'd complained when they heard him firing guns at his mobile home in Rancho Tehama, even though a court had ordered him to turn over all of his weapons. His deadly rampage this week is prompting questions about whether more could have been done to prevent it.
The Media Gods Must Be Crazy
Comcast is interested in 21st Century Fox's movie and sports TV assets. Publisher Meredith Corp. has approached Time Inc. about a deal for its magazines, reportedly armed with more than $500 million from the Koch brothers. The Sinclair broadcasting company is looking to buy Tribune Media stations. AT&T wants to take over Time Warner. It's a dizzying time in the media business, and on top of that, the FCC's rollback of decades-old regulations will make it far easier for outlets to be bought and sold.
FLASHBACK FRIDAY
Seventy-nine years ago this week, Helen Hulick had to fight for her right to wear slacks in a downtown L.A. court. When Hulick showed up as a witness in a burglary case, Judge Arthur S. Guerin rescheduled her testimony and ordered her to wear a dress. Five days later, she arrived — in slacks. Again, the judge told her to return in a dress or be held in contempt. "I'll come back in slacks and if he puts me in jail I hope it will help to free women forever of anti-slackism," she said. Hulick did and was thrown in jail. But she didn't stay there for long.
MUST-WATCH VIDEO
-- Film critic Justin Chang reviews "Mudbound," a sweeping epic of racial discord set during the 1940s.
-- We talk with the spirited child stars of the movie "The Florida Project."
-- Take a look inside a Cape Cod-style home in Newport Beach that Green Day bassist Mike Dirnt recently sold for $3.09 million.
CALIFORNIA
-- University of California regents have admonished UC President Janet Napolitano for agreeing to a plan that led to interference in a state audit on the operation of her office.
-- Hate crimes committed by white supremacists increased 67% in Los Angeles County last year, according to a study.
-- A Malibu woman was sentenced to one year in jail for hitting two pedestrians in a crosswalk, killing one of them, and later lying to police.
YOUR WEEKEND
-- Our complete guide to the perfect Thanksgiving meal.
-- The joy of autumnal ice cream in Los Angeles (and Italy too).
-- After all that food, you'll need a good walk. How about around the Hansen Dam Recreation Center?
-- How to make your guests feel at home when you don't have a guest room.
HOLLYWOOD AND THE ARTS
-- Film critic Kenneth Turan says Denzel Washington's remarkable performance in "Roman J. Israel, Esq." isn't helped by the plot.
-- The late Sharon Jones' final album, "Soul of a Woman," captures her at her most defiant.
-- The L.A. Phil has found a new CEO for one of the most coveted jobs in classical music.
NATION-WORLD
-- Days before a Nebraska commission will announce its ruling on the proposed Keystone XL pipeline, the related Keystone pipeline leaked an estimated 210,000 gallons of oil in northeastern South Dakota.
-- Zimbabwe reached a critical impasse after President Robert Mugabe turned aside military demands to step down.
-- The terrorism case against a Libyan militia leader accused of plotting the deadly Benghazi attacks is going to the jury.
-- A Trump administration policy allowing U.S. hunters to bring home elephant trophies from Zimbabwe and Zambia is stirring debate.
-- Tit-for-tat: Russia has warned some news organizations to prepare to register as foreign agents.
BUSINESS
-- Elon Musk lifted the veil on Tesla's electric truck of the future and (surprise!) teased a new sports car.
-- Forget $700 juicers. This venture fund wants to help solve middle-class problems.
SPORTS
-- Scouts representing 20 NFL teams will be at the UCLA-USC game at the Coliseum on Saturday; they'll be zeroing in on the quarterbacks.
-- LeBron James had some nice things to say about the Lakers' Lonzo Ball breaking one of his records.
OPINION
-- A moment of reckoning for Al Franken and everyone else who contributes to the culture of harassment.
-- California politicians in Washington need to defend the state's pot laws from federal attack.
WHAT OUR EDITORS ARE READING
-- The U.S.-led war on Islamic State is killing many more Iraqi civilians than acknowledged. (New York Times)
-- The former commissioner of the Internal Revenue Service says to "beware the collapse of the IRS." Also, it's creating a safe for Trump's tax returns. (Politico)
-- Yes, it's a satire: "A selection of the 30 most disappointing under 30." (The New Yorker)
ONLY IN L.A.
The Wende Museum of the Cold War has 100,000 pieces of Eastern Bloc art and artifacts. Though it's been around for 15 years, it hasn't had a proper museum building to call home, until now. On Sunday, it will open in — what else? — a former atomic bomb shelter built in 1949 in Culver City.
If you like this newsletter, please share it with friends. Comments or ideas? Email us at headlines@latimes.com.
---