Newsletter: Today: Deadly Mudslides Hit Santa Barbara County
Officials are still trying to assess the damage after heavy rains brought devastating mudslides, debris flows and flooding Tuesday to areas of Southern California that survived the recent wildfires.
TOP STORIES
Deadly Mudslides Hit Santa Barbara County
At least 13 people died and dozens more were injured when mudslides struck Santa Barbara County, with much of the devastation centered in fire-ravaged Montecito. Boulders crashed into houses, structures plunged into trees, and the muddy currents swept away one child who was rescued half a mile away from home. "It looked like a World War I battlefield," said Santa Barbara County Sheriff Bill Brown. For days, officials had advised residents in areas burned by the Thomas fire that a storm could bring major mudflows, but some ignored the warnings, thinking they were overblown — until it was too late. More from the scene.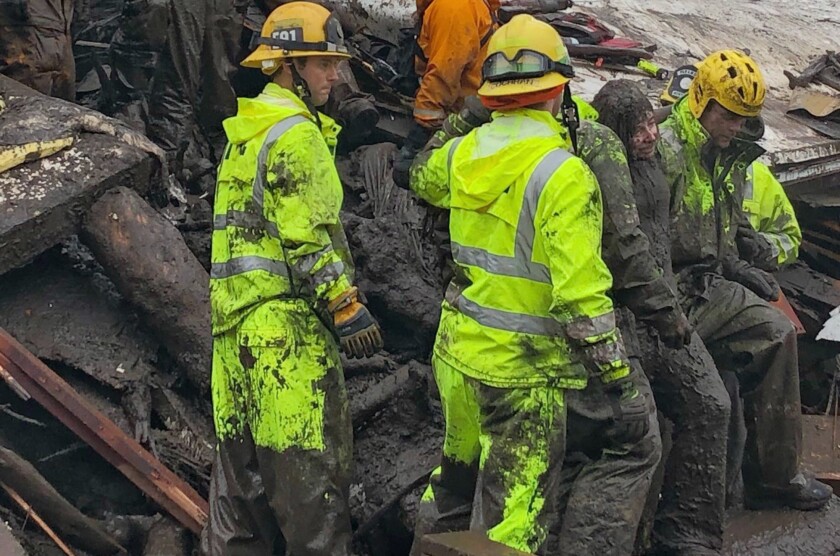 A Victory and a 'Whatever' for the Dreamers
For the so-called Dreamers, the head-spinning developments keep coming. In San Francisco, a judge temporarily blocked the Trump administration's decision to phase out the program shielding them from deportation. That came hours after an on-camera discussion involving President Trump and congressional leaders, during which Trump said he'd "take the heat" for a comprehensive immigration bill to address not just the hundreds of thousands of Dreamers but 11 million people in the country illegally. "I'll sign whatever immigration bill they send me," Trump said at one point. Why was the discussion all done in front of the media? Some suggested it was to counter questions of Trump's fitness raised in the book "Fire and Fury."
The Dossier on the Dossier
What to make of the notorious Trump dossier? The partisan battle over it and the larger investigations into Russian election meddling has taken another turn after Sen. Dianne Feinstein released a 312-page transcript of testimony from the co-founder of Fusion GPS, the firm behind that dossier. (Read it all, or get some key takeaways here.) Feinstein says it sets the record straight; Republicans argue it interferes with the inquiry. Meanwhile, Senate Democrats have released a separate report saying Russian President Vladimir Putin has long attacked democratic institutions in Europe and in his own country — and warning of threats to the next U.S. elections.
Taxpayer Revolt 2.0
Call your state income taxes a donation. Convert them into a payroll tax. Or just plain sue. Politicians in California, New York and other blue states are looking at some creative ways to help their constituents get around a $10,000 cap on deductions for state and local taxes in the Republican tax overhaul. Whether they hold up to scrutiny is the multibillion-dollar question.
More Politics
-- Democratic officials in California and New York accused the Trump administration of unfair partisan treatment after Interior Secretary Ryan Zinke exempted Florida from expanded offshore drilling without offering similar exemptions to other coastal states.
-- Remember that "season of war"? Stephen K. Bannon has stepped down as head of Breitbart News after he was quoted disparaging Trump's children.
-- Sen. Joe Arpaio? After being pardoned by Trump, the former Arizona sheriff says he's running to fill Sen. Jeff Flake's seat.
After a Long Delay, a Sex Offender Could Go Free
It's been 17 years since George Vasquez, a convicted child molester from South L.A., was set to get out of prison. Instead, he was locked up in a state hospital while awaiting a trial to determine whether he met the definition of a sexually violent predator. On Feb. 7, he's scheduled to be released, after a judge ruled the long delays from prosecutors and public defenders had violated Vasquez's constitutional rights.
A Rapper's Rise From Behind Bars
Hollywood has been having its #MeToo moment of reckoning, but hip-hop is among the few genres where a person's real-life troubles can still translate into fame. One recent example: the rapper XXXTentacion, who saw his big breakout moment come last year while sitting in a Florida jail after being arrested on charges of beating and strangling his then-pregnant ex-girlfriend. As one rap blogger puts it: "You shouldn't be [accused of] beating women and then getting a record deal."
MUST-WATCH VIDEO
-- Images of the 101 Freeway at the Olive Mill Road overpass flooded with runoff water from Montecito Creek.
-- How does Oprah Winfrey stack up against Donald Trump? The tale of the tape.
CALIFORNIA
-- Health officials say the state's flu season appears to be among the worst in a decade. In San Diego County, 91 people have died.
-- Columnist Steve Lopez: "We know L.A.'s new recycling program is a fiasco, but how'd it get so screwed up?"
-- Sexual harassment allegations have given new life to a long-stalled effort to extend whistleblower protections to employees of the state Capitol.
-- The Los Angeles Police Department took another step toward using drones in some tactical situations after its civilian bosses approved a $31,500 donation to purchase four.
HOLLYWOOD AND THE ARTS
-- Christopher Plummer, Oscar nominee again? Not long ago, he "was ready to go to Florida and lie down in the sun" when he got the call to replace Kevin Spacey at the last minute in "All the Money in the World."
-- Rose McGowan vows to raise "awareness and consciousness" with her E! series "Citizen Rose."
-- This year's Screen Actors Guild Awards will invite only female presenters and will be hosted by Kristen Bell.
-- Meanwhile, sources say the Weinstein Co. is closing in on a sale to a group of investors led by former Obama administration official Maria Contreras-Sweet.
CLASSIC HOLLYWOOD
He took on personae such as Ziggy Stardust, Aladdin Sane and the Thin White Duke, but David Bowie was always true to his iconoclastic self. "For me, rock was always about narrative or putting forward little stories and ideas, however strange or off the wall they might be," said Bowie, who died on this date in 2016 just two days after his 69th birthday. This graphic looks at the albums he made and collaborated on.
NATION-WORLD
-- The State Department says it still doesn't know the cause or culprit behind what it calls attacks on American diplomats in Cuba. They've suffered hearing loss, dizziness and other ailments.
-- A lawmaker in Iran says up to 3,700 people were arrested during the recent anti-government unrest.
-- Tens of thousands of people have fled the northwestern Syrian province of Idlib as government troops enter to battle rebel groups.
-- A half-mile stretch of "solar highway" in China has been closed after thieves reportedly made off with a six-foot photovoltaic panel.
-- Prisons in New York and New Jersey are among those putting greater limits on what books inmates can read.
BUSINESS
-- The technology industry is dominated by Silicon Valley giants, but at the industry's biggest trade show, CES in Las Vegas this week, the small start-ups and less buzzworthy brands get the spotlight.
-- Growers and agriculture contractors in California recruited 14,252 foreign guest workers last year, the most they have hired in the program's modern history, according to a Times analysis.
SPORTS
-- Dwight Clark made "The Catch" for the San Francisco 49ers back in 1982. Today he's battling ALS, also known as Lou Gehrig's disease.
-- Given the state of U.S. soccer, columnist Dylan Hernandez explains why American-born Jonathan Gonzalez's representing Mexico in international competition shouldn't come as a surprise.
OPINION
-- Memo to Trump: The Dreamers are people, not bargaining chips.
-- Columnist Gustavo Arellano writes that if he and Rep. Dana Rohrabacher can agree on marijuana being legal, then all of us can unite on this — and against Atty. Gen. Jeff Sessions.
WHAT OUR EDITORS ARE READING
-- Two former Trump administration officials say a senior National Security Council official proposed withdrawing some American military forces from Eastern Europe as an overture to Putin. The proposal wasn't adopted. (The Daily Beast)
-- Talk to the cardboard cut-out: Thailand's prime minister found a novel way to avoid questions from journalists. (The Guardian)
-- Late-night news-comedy shows are using a writing app called Scripto that Stephen Colbert helped initiate. (The New Yorker)
ONLY IN L.A.
USC physicist Clifford Johnson spends a lot of time thinking about quantum gravity, string theory and black holes. He'd like you to join him. That's why he worked off and on for two decades writing and illustrating a graphic novel that features conversations on astrophysics and the like, including two people talking about the motion of space next to — where else? — Angels Flight in downtown L.A.
If you like this newsletter, please share it with friends. Comments or ideas? Email us at headlines@latimes.com.
---