Newsletter: Today: What Led to the YouTube Shooting?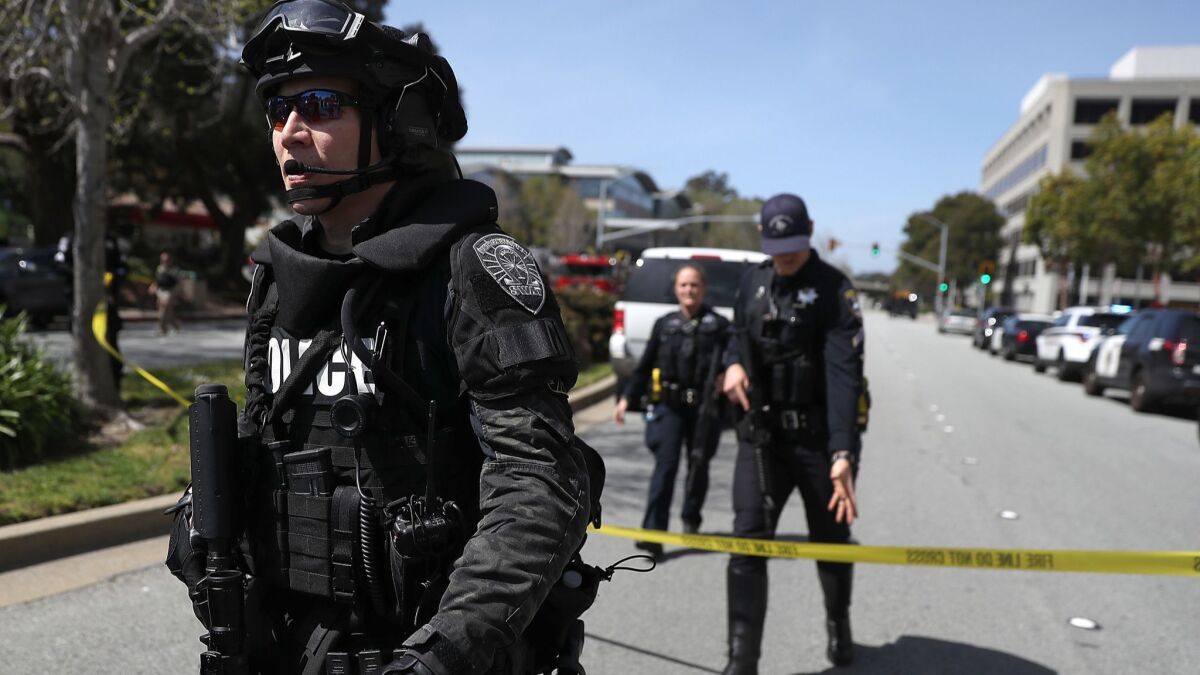 Authorities investigating why a woman opened fire at YouTube's headquarters are focusing on a website filled with anger at the video platform.
TOP STORIES
What Led to the YouTube Shooting?
A woman's website complaining about YouTube stifling her traffic and suppressing her videos has become a focus of the investigation in Tuesday's attack at the company's campus in San Bruno, Calif. "Youtube filtered my channels to keep them from getting views!" reads one of the items on the site, which also includes videos promoting veganism. Authorities say a woman with a similar name stormed YouTube's campus with a 9-millimeter handgun and opened fire in a courtyard during lunchtime, wounding three people before killing herself. Police in Mountain View say the woman's family in Southern California had recently reported her as missing and that officers found her asleep in a car hours before the shooting. The attack almost immediately became the subject of online hoaxes and conspiracy theories.
Trooping to the Border
President Trump hasn't gotten full funding from Congress (or, for that matter, Mexico) for the border wall he wants. So here's Plan B: "Until we can have a wall and proper security, we are going to be guarding our border with our military," he said. "That's a big step." How big? It depends. In the past, Presidents George W. Bush and Barack Obama mobilized National Guard troops to help the Border Patrol, but the Guard did not do actual policing, given that deploying active-duty troops for domestic law enforcement is prohibited under the Posse Comitatus Act. Trump's suggestion comes after he has repeatedly decried a "caravan" of Central American immigrants hoping to make it to the U.S. They've stopped in Mexico to negotiate with immigration authorities there.
An Eye for an Eye, a Fake Tooth for a Fake Tooth
After rebounding a bit Tuesday, the stock market is bracing for more turmoil after the Trump administration released a long list of imports from China — including car parts, semiconductors and even artificial teeth — that could be hit with 25% tariffs as early as June. Though the figures involved amount to just a fraction of the $630 billion in trade between the two countries, the pattern of rhetoric and retaliation has raised anxieties — but also offered hope that it will lead to direct negotiations.
More From Washington
-- Special counsel Robert S. Mueller III informed Trump's attorneys last month that he is continuing to investigate the president but does not consider him a criminal target at this point, according to three people familiar with the discussions.
-- A federal judge sentenced Alex van der Zwaan, an attorney, to 30 days in prison and a $20,000 fine for lying to federal investigators in the Russia probe.
-- Trump may have threatened Honduras over migrants, but his administration has sought close ties with the Central American nation.
Politics May Not Be Wasted on the Young This Time
Will this be the year young people rock the midterm vote? Since the 26th Amendment in 1971 lowered the voting age from 21 to 18, turnout among the youngest has been generally abysmal. But since the Parkland, Fla., high school shooting, teen activists have been at the forefront of a movement that is aiming to unleash their untapped power. And baby boomers, take note: Next year, those born between 1981 and 1996 (yes, millennials) will outnumber you.
The Day MLK Died
Fifty years ago today, the Rev. Martin Luther King Jr. was shot and killed as he was standing on the balcony of the Lorraine Motel in Memphis, Tenn. The night before, facing death threats, King was well aware of his own mortality when he gave what's become known as the "I've Been to the Mountaintop" speech. The events of April 4, 1968, shook the nation and are seared in the memories of those who experienced it.
Laying Down the Homeless Law
The federal judge overseeing a key homelessness case in Orange County is giving local officials a choice: Either create temporary shelters for hundreds of people being cleared out of tent cities, or face the prospect of being unable to enforce laws banning people from camping in public places. The county has already seen one plan to house the homeless go up in flames after loud protests from residents in three cities.
Sign up to get Today's Headlines delivered to your inbox. »
MUST-WATCH VIDEO
-- Video reveals a boy's handprints deep in the L.A. sewer system, leading to his rescue.
-- The chef and owner of Father's Office demos his latest creation: an interpretation of a mint julep inside a "bar of soap."
CALIFORNIA
-- After the Stephon Clark shooting in Sacramento, state lawmakers introduced a bill to make it easier to prosecute police officers. Some law enforcement unions have already spoken out against it.
-- A judge has overturned Los Angeles' approval of a 27-story apartment tower in Koreatown. The ruling deals the city yet another defeat in its handling of real estate projects.
-- After years of uncertainty, Gladstones seafood restaurant on Pacific Coast Highway near Malibu could be replaced with a dining complex designed by Frank Gehry and operated by Wolfgang Puck.
HOLLYWOOD AND THE ARTS
-- On the other side of "The Last Jedi," writer-director Rian Johnson found the "Star Wars" journey he was looking for.
-- "The Shape of Water" writer-director Guillermo del Toro and Fox Searchlight Pictures have signed a development deal that includes a new genre label for horror, sci-fi and fantasy.
-- After 40 years, Wendy and Richard Pini have finished "Elfquest," considered to be the longest-running American fantasy comic book series and the "first American manga."
-- Veteran rapper Nas drops some knowledge on the Netflix docuseries "Rapture," Killer Mike and why hip-hop's mainstream appeal won't kill the music.
CLASSIC HOLLYWOOD
The late Shelley Berman helped break the mold for comics by confronting the anxieties, neuroses and foibles of life in 1950s and '60s America. Now, his files of material will be part of the National Comedy Center, a fledgling institution scheduled to open in August in Jamestown, N.Y. — Lucille Ball's hometown.
NATION-WORLD
-- India's government abruptly withdrew a plan to blacklist journalists for spreading "fake news," after an outcry from reporters who said it would muzzle the press ahead of national elections next year.
-- French railway workers brought the country's high-speed train network to a halt Tuesday in the first of a planned series of rolling strikes that will challenge President Emmanuel Macron.
-- Johan van Hulst, a Dutch schoolteacher who saved hundreds of Jewish children during the Holocaust, has died at age 107.
-- A Las Vegas casino owner bet big that Michigan would win it all in the NCAA men's basketball tournament. Instead, he watched $1 million slip away.
BUSINESS
-- The music industry is increasingly looking to film and TV to grow its audience. That's why record label BMG has become involved with documentaries about David Crosby and Joan Jett.
-- Are we ready for self-driving cars? Recent fatal crashes have put that idea to the test.
-- Wondering why Sinclair's TV news anchors don't just quit rather than read a script about "false news"? Some face expensive penalties in their contracts.
SPORTS
-- Tiger Woods isn't done. He could win the Masters. "Are you kidding me?" asks columnist Bill Plaschke.
-- Shohei Ohtani homered in his first-ever plate appearance at Angel Stadium. So much for an adjustment period.
OPINION
-- Trump needs a new motto, ASAP: Make the White House Calm Again.
-- Texting while driving is as dangerous as being drunk. We need to treat it accordingly.
WHAT OUR EDITORS ARE READING
-- Behind Trump's attacks on Amazon: He is said to be contemplating a multi-front campaign against Jeff Bezos and the Washington Post. (Vanity Fair)
-- How Environmental Protection Agency Administrator Scott Pruitt this week avoided some tough questions. (CNN)
-- Kareem Abdul-Jabbar writes that "Roseanne," the show, is actually anti-Trump. (The Hollywood Reporter)
ONLY IN L.A.
Baxter Street in Echo Park is listed as one of the 10 steepest streets in the U.S. When it was built more than 100 years ago, it was never meant to be a thoroughfare. Too bad navigation apps weren't around then. As columnist Steve Lopez found out, technology keeps sending drivers onto Baxter, where things can go downhill very fast.
If you like this newsletter, please share it with friends. Comments or ideas? Email us at headlines@latimes.com.
---