Newsletter: Today: Lordy, There's a Book
The first words on the new book from fired FBI Director James B. Comey won't be the last.
TOP STORIES
Lordy, There's a Book
Former FBI Director James B. Comey said he has a story to tell, and now it's coming out — even though his book, "A Higher Loyalty," isn't being released until next week. In it, he criticizes President Trump as unethical and "untethered to truth," calls Trump's leadership "ego driven and about personal loyalty," and even has a remark about the president's hand size ("smaller than mine, but did not seem unusually so"). Trump fired Comey in May 2017 and has called him a "showboat" and a "liar." On Thursday night, the GOP made clear where it stood, by tweeting out a link to a website called "Lyin' Comey."
More Politics
-- Trump has asked trade officials to explore the possibility of the U.S. rejoining the Trans-Pacific Partnership after he pulled out last year as part of his "America first" agenda.
-- In his Senate confirmation hearing for secretary of State, Mike Pompeo called for using "relentless diplomacy" to avoid war, pushing back on criticism that he is a war hawk and hard-liner.
-- Trump's personal attorney Michael Cohen sometimes taped conversations with associates, according to three people, and allies of the president worry federal investigators seized recordings.
-- Trump is expected to pardon Lewis "Scooter" Libby, who was convicted for obstruction of justice and perjury in the disclosure of a CIA agent's name a decade ago, according to a senior administration official.
-- Reports say the National Enquirer's parent company paid a Manhattan doorman $30,000 for a story it never published alleging that Trump secretly fathered a child.
'Sanctuary' Cities Win This Round
While the push-and-pull over "sanctuary" policies at the state and local level continues, a federal judge in Los Angeles has made a key ruling: The U.S. Department of Justice cannot favor police departments that cooperate with immigration agents when it goes to hand out money. The case centered on tens of millions of dollars given each year for community policing programs. When the LAPD was turned down last year, the city sued — and now has won.
Pain at the Pump
It's not your imagination: Southern California drivers are paying the highest prices for gasoline in 2½ years: $3.522 for a gallon of regular, on average, as of Monday. And it could get worse. Oil prices shot up after Trump tweeted that missiles "will be coming" to Syria, and continued to increase even after he appeared to take a step back Thursday. But the high price of gas isn't just tied to geopolitics. Here's a closer look at why.
Your Money or Your Data
Would you pay for Facebook if it didn't have ads so tailored to your life that it sometimes seems as if the company is listening to your every conversation? In a survey, roughly a quarter of respondents said yes. Apple co-founder Steve Wozniak told USA Today he would too. (Of course, he is said to be worth $100 million.) Whether that translates into Facebook changing its business model is a whole other matter.
From Fringe to Infringement
For nearly two decades, the Coachella Valley Music and Arts Festival has been a symbol of youthful abandon, featuring live music, avant-garde art and fringe vests — at least for those who can afford it. This year's edition starts today, with the Weeknd, Beyoncé and Eminem headlining over three days and ultra-luxury yurts awaiting a select few concertgoers. Behind the scenes, it's all business. After the Las Vegas massacre last year, police have deployed a fleet of drones to increase security. And if you want to use "Coachella" or even just "-chella" for promoting something, you'll be getting a letter from a lawyer.
Sign up to get Today's Headlines delivered to your inbox. »
FLASHBACK FRIDAY
The 1929 cruise ship that would become known as La Jenelle had a storied history, including carrying troops in World War II and plying the waters between Miami and the Bahamas. Eventually, the ship made its way to Ventura County. On this date in 1970, a day before it was to be sold to the Indonesian government, La Jenelle broke loose from its moorings and was wrecked off Port Hueneme.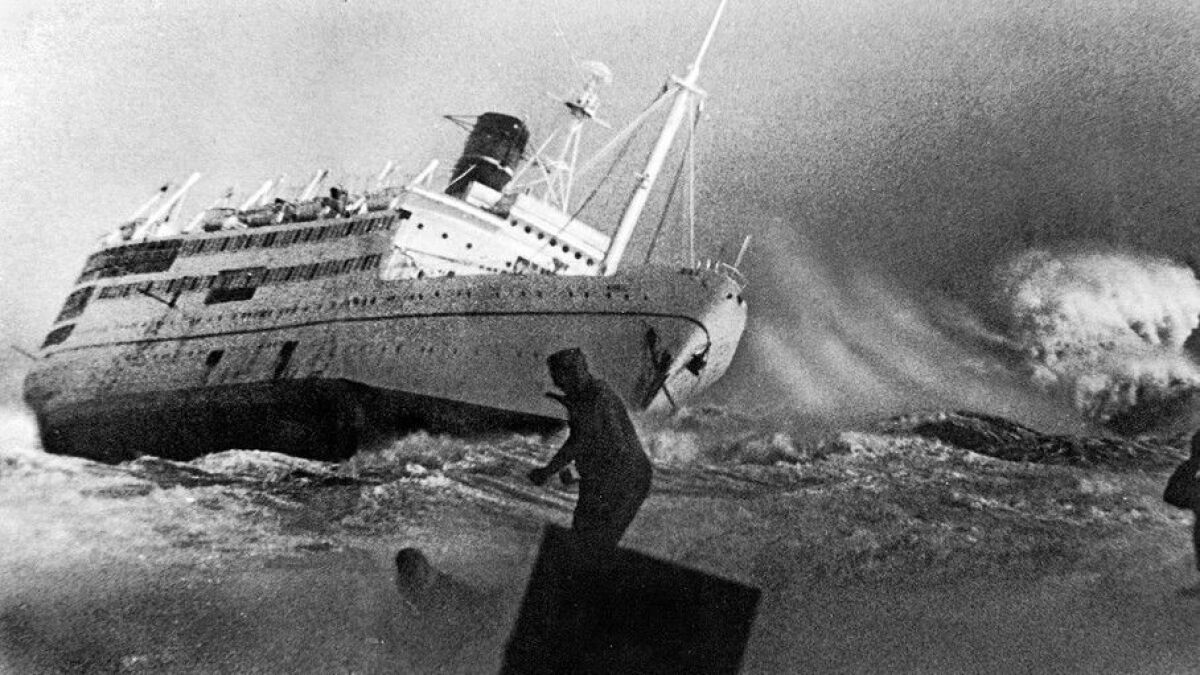 MUST-WATCH VIDEO
-- How does Neil Patrick Harris keep his "Series of Unfortunate Events" characters distinct? Just watch.
-- Yosemite's recent flooding produced some thundering waterfalls.
CALIFORNIA
-- Republican Rep. Jeff Denham of Turlock says he could force a vote in the House on four immigration bills to protect "Dreamers" over the objections of GOP leadership, but he's not ready to go there yet.
-- An under-the-radar housing bill in Sacramento aims to force cities and counties to double the amount of land made available for condominium and apartment complexes.
-- Rebuilding after a fire seems easy, but columnist Robin Abcarian discovered it's harder than you think.
YOUR WEEKEND
-- A weekend escape to Sonora, Calif., where the charm of the Old West remains.
-- Fancy a shot of mezcal? We checked out some of L.A.'s finest with a mezcal master from Oaxaca.
-- Inspiration time: A patchy lawn is remade as a showstopping urban meadow.
HOLLYWOOD AND THE ARTS
-- "Rampage," the latest action film starring Dwayne Johnson, is in theaters. Film critic Kenneth Turan says it's enjoyable, if you don't think too hard about it. (Not that you probably would, anyway.)
-- The Cannes Film Festival has unveiled its most surprising lineup in years, including a new Spike Lee joint.
-- The Lost Rolls America project has come to L.A., putting on display a trove of images from rolls of film that once sat in the back of a closet or in a desk drawer.
NATION-WORLD
-- "I wanted to hit him": Model Janice Dickinson told the jury in the Bill Cosby retrial that the comedian raped her in 1982.
-- A chemical weapons watchdog has confirmed a former Russian and his daughter were poisoned by sophisticated nerve agent, as the plot twists surrounding the incident in Britain continue.
-- Violence is roiling the Democratic Republic of Congo. Some human rights authorities suggest it's a strategy to keep the president in power.
BUSINESS
-- Trump took aim at federal air quality standards, directing the Environmental Protection Agency to relax restrictions on state governments and businesses that have been key to cutting smog.
-- A panel of federal judges is contemplating whether to remove Mick Mulvaney as acting head of the Consumer Financial Protection Bureau, but the case is far from clear-cut.
SPORTS
-- The Anaheim Ducks lost 3-0 to open their first-round Stanley Cup playoff series against the San Jose Sharks.
-- Lonzo Ball will need to get tougher if he wants to have staying power with the Lakers, writes columnist Bill Plaschke.
OPINION
-- Gov. Jerry Brown said "yes" to Trump's lame-brained National Guard deployment. Here's why Brown made the right call.
-- A co-founder of Black Lives Matter says her brother's abuse in an L.A. County jail was a motivation for the movement.
WHAT OUR EDITORS ARE READING
-- Trump has formed a task force to study the finances and operations of the U.S. Postal Service, less than two weeks after blasting Amazon for making the USPS its "Delivery Boy." (USA Today)
-- Documents show that a USC professor was warned that a student wanted to kill him, 17 months to the day before he was stabbed to death. (USC Annenberg Media)
-- Sandra Oh says she waited years before landing a role like the one she has in "Killing Eve." (Vanity Fair)
ONLY IN L.A.
Silver Lake, despite its name, is usually blue. These days, it's looking a little green. That's led to speculation that chemicals, or even urine, caused the color change. But the Los Angeles Department of Water and Power says there's nothing to see here. And at any rate, no one's drinking it.
If you like this newsletter, please share it with friends. Comments or ideas? Email us at headlines@latimes.com.
---