Newsletter: Today: To the Finland Station
Presidents Trump and Vladimir Putin are meeting in Helsinki, Finland. "I go in with very low expectations," Trump said.
TOP STORIES
To the Finland Station
When President Trump met with North Korean leader Kim Jong Un, the agenda was clear. As he meets with Russian President Vladimir Putin today for four hours of scheduled talks — including 90 minutes one on one without any note-takers or aides — Trump has not publicly said what he hopes to gain. Leaders in Washington have urged him to confront Putin over Crimea, Syria and Russia's interference in the 2016 U.S. election, especially after a dozen Russian military officers were charged in the hacking of Democratic Party computers. But Trump has continued to dance around the issue and kept up his criticism of America's closest allies, including calling the European Union a "foe" when it comes to trade. Here is the latest from Helsinki, including Trump's prediction that the U.S. and Russia "will end up having an extraordinary relationship."
More Politics
-- Special counsel Robert S. Mueller III may have little choice but to seek a subpoena if Trump won't agree to be interviewed, yet doing so before the November midterm election is a prospect Mueller might hope to avoid.
-- Never mind the candidates. In this key congressional contest in California's high desert, it's all about Trump.
Locked and Loaded?
The Supreme Court hasn't had much to say about the 2nd Amendment, especially since a 5-4 ruling a decade ago that protects the right of individuals to have a gun for self-defense. But if Trump nominee Brett Kavanaugh is confirmed to the high court, that could change. The judge's record shows he has taken an unusually strong stand in favor of broad gun rights. With a conservative majority, the court could be prepared to strike down bans on semi-automatic weapons in liberal states such as California — and decree that Americans have a right to carry a gun in public.
Behind the Feinstein Snub
In California's June primary, voters overwhelmingly chose longtime incumbent Sen. Dianne Feinstein over fellow Democrat and state Sen. Kevin de León. But at a meeting of state party leaders this weekend, liberal activists endorsed the underdog, who's been so outspoken in his opposition to Trump that he hosted an "ABOLISH ICE CREAM SOCIAL" for delegates. Of course, the real question will be which side is more in touch with voters when the November election comes around.
An Angst-Filled Reunion
Hermelindo Che Coc and his 6-year-old son, Jefferson Che Pop, traveled from Guatemala to seek asylum in the U.S. The two were separated at the border and didn't see each other for nearly two months. When they reunited at Los Angeles International Airport over the weekend, the boy had a vacant look in his eyes — as well as a bruise, a cough and a rash on his arms, stomach and back. The reunion was one of the first to take place in L.A., as the Trump administration unveiled a new plan to meet a court-imposed deadline.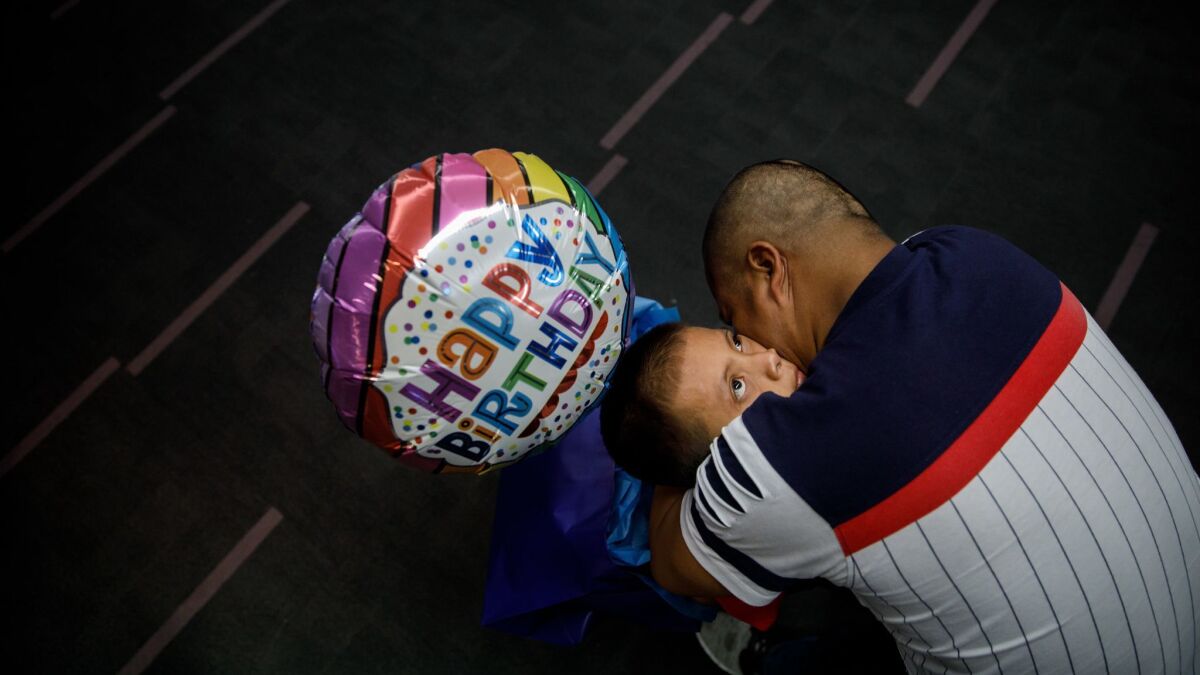 Sign up to get Today's Headlines delivered to your inbox. »
OUR MUST-READS FROM THE WEEKEND
-- Phoenix Bakery in L.A.'s Chinatown turns 80 this year. Its survival has required the collective efforts of a far-flung multigenerational Chinese American family trying to uphold a legacy.
-- In the latest L.A. homeless count, the number of tents, vehicles and makeshift shelters had increased, while the number of homeless dropped. How to explain?
-- From "Black Panther" to "Marvel's Luke Cage," 2018 has seen more African American superheroes in their own namesake productions than any other time in history.
-- How to keep plants alive in this blistering summer heat. Turns out, watering in the middle of the day can do more harm than good.
MUST-WATCH VIDEO
-- This former LAPD officer was filmed giving scuba lessons, biking and lifting heavy equipment while on paid injury leave. But he's far from alone in claiming injuries while continuing an active life.
CALIFORNIA
-- A forest fire burning near Yosemite National Park has left one firefighter dead, forced the closure of Highway 140 into the park and prompted evacuations of nearby communities.
-- A federal judge ordered the Los Angeles Times to remove information from an article that described a plea agreement between prosecutors and a Glendale police detective, a move the newspaper decried as highly unusual and unconstitutional.
-- A former Border Patrol agent has pleaded guilty in San Diego federal court to a conspiracy charge stemming from his role in a drug-trafficking ring.
-- Authorities say a couple on a camping trip came upon a missing Oregon woman who survived a week after her car went over a cliff near Big Sur.
HOLLYWOOD AND THE ARTS
-- In Showtime's "Who Is America?" Sacha Baron Cohen returns to TV in the guise of gun-loving Israeli security "expert" Erran. TV critic Robert Lloyd weighs in.
-- The new movie "Eighth Grade" takes an R-rated look at school life. Here's what a group of about-to-be eighth- and ninth-graders think of it.
-- After a nearly yearlong classic arena tour, Harry Styles may be the future of rock 'n' roll.
-- If male architects had to navigate their own buildings in skirts, they might not build glass floors and other see-through walkways.
CLASSIC HOLLYWOOD
In the 1940s and '50s, Asian Americans were rarely seen in Hollywood movies and on TV. When they were, it was often in stereotypical roles. Over the course of a long career as a dancer, actress and nightclub impresario in San Francisco and Honolulu, Mai Tai Sing tried to break that mold. Sing, who died last week at age 94, appeared in movies such as 1953's "Forbidden" and TV shows including 1961's "Hong Kong."
NATION-WORLD
-- The worst of recent fighting between Israel and Hamas militants in the Gaza Strip has subsided, but Israeli Cabinet officials and top military officials appeared deeply divided over how to respond.
-- A woman shown in a viral video being berated for wearing a Puerto Rican flag T-shirt said she hopes the incident "shines a light on what's going on with racism" nationwide.
-- After a measles outbreak in Brazil, a health emergency has been declared in a northern city.
-- Revving up to fight the patriarchy: In Pakistan, women are learning to ride motorbikes.
BUSINESS
-- More and more technology workers are leaving the likes of Apple, Amazon and Lyft to shape the future of the cannabis industry and help you get stoned.
-- Elon Musk had quite a weekend: first, defending his contribution to a Republican political action committee, and then suggesting a cave diver was a pedophile. The diver had criticized Musk's plan to rescue a group of Thai boys via submarine.
SPORTS
-- France defeated Croatia in the World Cup final, providing a fitting end to the wildest, most unpredictable and entertaining tournament in recent memory. The Pussy Riot protest group even claimed responsibility for a second-half appearance on the field.
-- Novak Djokovic won his fourth Wimbledon championship, while Angelique Kerber defeated seven-time singles champion Serena Williams for her first.
OPINION
-- Taking the Los Angeles County Museum of Art's collection and putting it in South L.A. sounds like a great idea to us.
-- Comedian Tom Segura gets nostalgic for the R-word and mocks Down syndrome for laughs. That's despicable, writes Lawrence Downes.
WHAT OUR EDITORS ARE READING
-- How Israeli agents say they absconded with much of Iran's clandestine nuclear archive. (New York Times)
-- The president of Kazakhstan threw himself and the country's capital a $55-million birthday party. Yet, some villages there still lack running water. (The Economist)
-- Artificial intelligence as talk therapist: How does that make you feel? (Aeon)
ONLY IN L.A.
What do Kenny Chesney, Pink, Kris and Kylie Jenner and billionaire Sidney Kimmel have in common? The intimate details of their luxury real estate purchases have ended up on the blog known as Yolanda's Little Black Book. The author has remained anonymous for years, going by aliases such as Yolanda Yakketyyak, the Real Estate Yenta and Donald Frump. So who is the elusive writer?
If you like this newsletter, please share it with friends. Comments or ideas? Email us at headlines@latimes.com.
---