Newsletter: Today: The Pariah President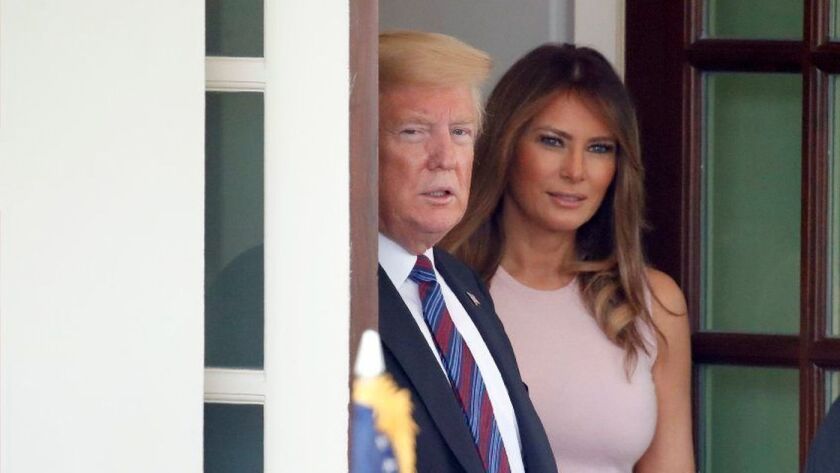 Two funerals and a wedding are on President Trump's disinvite list.
TOP STORIES
The Pariah President
President Trump has upended the usual order in Washington, yet one unprecedented aspect of his term has been particularly striking: being unwelcome at events where a sitting president ordinarily would be expected, such as the funerals of Sen. John McCain and Barbara Bush, the wedding of Prince Harry and Meghan Markle, and the championship celebrations of NFL and NBA teams. Trump has used such rejection to appeal to his base, even as he has fanned the flames (see the White House flag controversy). Yet friends and allies say he is also deeply wounded by the snubs, which he views as part of an effort to delegitimize his presidency.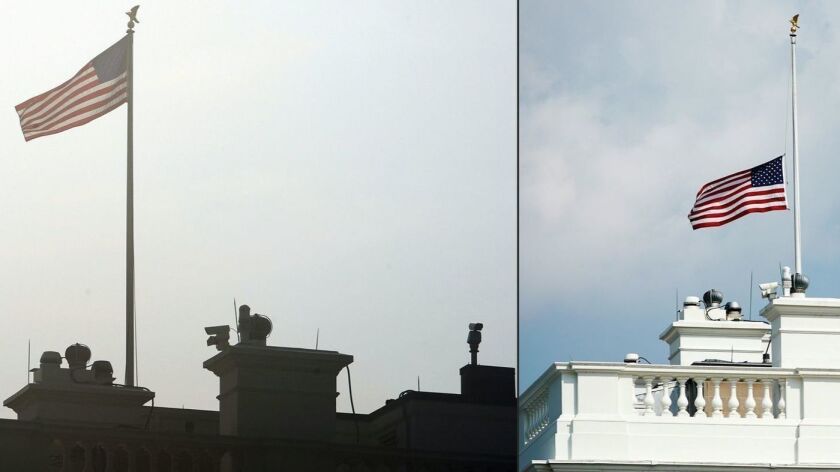 NAFTA Scorecard: Two Out of Three Isn't Bad?
On Monday, Trump was celebrating what could be his first significant victory on trade: agreeing with Mexico on a revamped North American Free Trade Agreement. One problem: Canada, the third party in NAFTA, hasn't been at the bargaining table. Although it's expected to rejoin the talks today, the U.S. and its neighbor to the north appear to be far apart on trade issues. But there's a big incentive to get things done this week.
More Politics
-- The top government official overseeing the $1.5-trillion U.S. student loan market is resigning, citing what he says is the White House's open hostility toward protecting the nation's millions of student loan borrowers.
-- Trump will nominate Arizona Magistrate Judge Bridget Shelton Bade for an open position on the U.S. 9th Circuit Court of Appeals. Trump has largely avoided the 9th Circuit so far in his bid to reshape the judiciary.
-- Today is primary day in Arizona and Florida. In the latter state, two GOP candidates for governor are neck and neck after Trump endorsed the underdog, a frequent Fox News guest.
Preparing for an Apocalyptic Future
Worsening heat waves. More destructive wildfires. A faster-rising ocean. The state of California's new threat assessment on the effects of climate change in the coming decades feels a bit like a disaster movie, except it's based on the latest science, including more than 40 new peer-reviewed studies. State leaders say they will use the report to inform their policy decisions, even as the Trump administration seeks to roll back climate change regulations.
Oh, Give Me Land, Lots of Land …
Is one solution to the housing crisis in Southern California a new master-planned community 70 miles northwest of downtown Los Angeles? The backers of the Centennial development at Tejon Ranch say it will provide spacious homes at reasonable prices. In addition to some environmental groups having concerns, critics argue L.A. should focus on building up in urban areas rather than out into the land. The project is coming before L.A. County's Regional Planning Commission on Wednesday.
Sign up to get Today's Headlines delivered to your inbox. »
MUST-WATCH VIDEO
-- Cameron Silver, the King of Vintage and the Duke of Melrose, is parting with some of his personal trove of designer and vintage menswear.
CALIFORNIA
-- Facing a federal indictment for misuse of campaign funds, a poll shows GOP Rep. Duncan Hunter is still the front-runner in his congressional race.
-- Four Democratic congressional candidates are opposing a recent increase in the state gas tax. The defections could bolster the GOP-led Proposition 6.
-- The FBI and Capitol Police want to talk with Omar Navarro, Rep. Maxine Waters' 2018 Republican opponent, about a fake letter he posted to Twitter.
-- More than 1,000 dead fish at Malibu Lagoon may be tied to record-warm ocean temperatures.
HOLLYWOOD AND THE ARTS
-- USC pre-med student Katherine Ho landed an unusual gig in the film "Crazy Rich Asians": singing a Coldplay song in Mandarin and, in the process, redefining it.
-- Studio 8 was supposed to be the big comeback for former Warner Bros. executive Jeff Robinov when it started four years ago, but it's struggled to take off.
-- Ariana Grande has been performing intimate shows around L.A. to promote her new album. Here's what it was like inside one at the Ace Hotel.
CLASSIC HOLLYWOOD
"When I first met Neil Simon, one of us was a world-respected humorist with a slew of awards including two Emmys, four WGA Awards and a Tony, and the other was a 9-year-old girl," writes Quinn Cummings, the young star of his 1977 film "The Goodbye Girl." Here's how she remembers the late playwright.
NATION-WORLD
-- The fatal shooting at a "Madden NFL 19" tournament in Jacksonville, Fla., has cast a pall over e-sports, which features players battling for ever-larger prizes.
-- Another SAT scandal? Students taking the test Saturday claim the College Board reused an exam and that the answers to the reading test had been leaked online.
-- Violence erupted in Chemnitz, Germany, when right-wing demonstrators clashed with anti-fascists and migrants after the arrests of an Iraqi and a Syrian in a fatal knife attack on a German man.
-- Who is Carlo Maria Vigano, the man accusing Pope Francis of covering up sex abuse?
BUSINESS
-- Nine months after a mysterious new company bought the LA Weekly newspaper, one of the company's owners is suing the rest, alleging they have pillaged it for their own gain.
-- The fabled Amazon effect appears to be boosting Whole Foods, at the expense of Trader Joe's, Walgreens and Dollar Tree Stores.
-- This woman paid $3.47 for a prescription drug. The retail price was 10,000% higher. Consumer columnist David Lazarus found out why.
SPORTS
-- UCLA has suspended six football players for the opening game against Cincinnati for unspecified violations of athletic department policies.
-- At tennis' U.S. Open, Simona Halep became the first No. 1-seeded player in the 50 years of the Open Era to exit in the first round.
OPINION
-- Trump wants to update NAFTA? Great. Kill it? No thanks.
-- Columnist Jonah Goldberg argues that McCain's patriotism can still win out over Trump's nationalism.
WHAT OUR EDITORS ARE READING
-- "It is the era of Trump": How the president is remaking the GOP. (Wall Street Journal)
-- A man in Austin, Texas, was charged nearly $109,000 after having a heart attack. After this story was published, the hospital dropped the bill to less than $800. (Kaiser Health News)
-- Did you see the finale of "Sharp Objects" on HBO? Discuss. (Vulture)
ONLY IN CALIFORNIA
Farmers in Riverside County are used to motorists sneaking a few pieces of fruit from their fields. But 800 pounds of lemons? Authorities say they pulled over an L.A. man on (where else?) Grapefruit Boulevard in Thermal with a load of ill-gotten citrus. He was arrested on suspicion of felony grand theft, which no doubt left a sour taste in his mouth.
If you like this newsletter, please share it with friends. Comments or ideas? Email us at headlines@latimes.com.
---