Newsletter: Today: Crisis in the Carolinas
A deadly storm is causing widespread misery in the Carolinas, and the worst may be yet to come.
TOP STORIES
Crisis in the Carolinas
Tropical Depression Florence, the wettest storm in the recorded history of the Carolinas, has been responsible for at least 17 deaths. As is often the case, the disaster has posed the toughest challenges for poorer residents, many of whom live in low-lying neighborhoods in eastern and central North Carolina that are expected to flood in the coming days. It's also served as a grim reminder that a storm doesn't have to be a Category 5 hurricane to be deadly — a fact that has led some to suggest rethinking how storms are classified.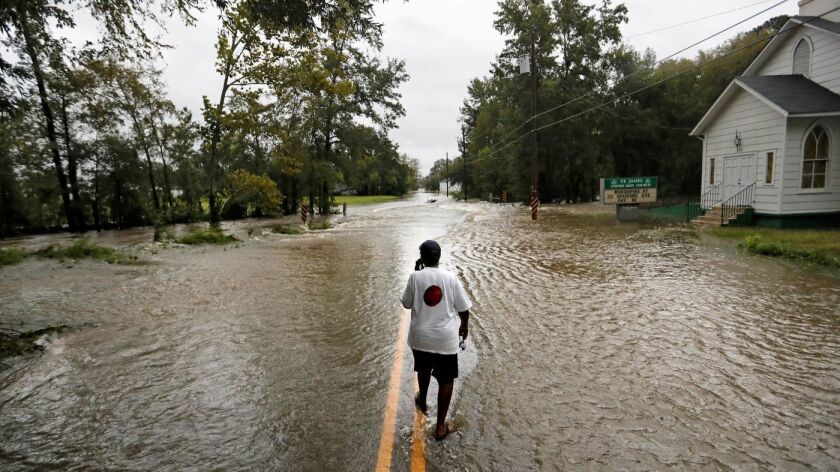 A Nomination in Turmoil
Republicans have been on a fast track to get Brett Kavanaugh, President Trump's Supreme Court nominee, confirmed for the bench before November's midterm election. Now they may come to at least a temporary halt. A woman who has accused Kavanaugh of sexually assaulting her while they were in high school has publicly identified herself and told her story in the Washington Post. Kavanaugh had denied the allegations before Palo Alto University professor Christine Blasey Ford's name was attached to them. At least two GOP members of the Senate Judiciary Committee said they want to hear from Ford before voting on Kavanaugh's nomination, while Democrats have called for the vote, scheduled for Thursday, to be placed on hold while the FBI investigates.
More Politics
-- Paul Manafort's agreement to plead guilty and cooperate with the special counsel marks a milestone in the investigation led by Robert S. Mueller III. Here are five takeaways.
-- As Trump and Defense Secretary James N. Mattis clash in public, some wonder whether the retired Marine general will be the next to depart.
No Way to Call Home
Last month, a United Nations committee estimated that about 1 million Muslims — mostly ethnic Uighurs — are being held in detention centers in China's Xinjiang province under the pretext of countering terrorism. While Beijing has denied that there are reeducation camps for Muslims, horror stories have emerged. Contacting anyone in the region is difficult and potentially perilous. That leaves many Uighurs living in countries like Turkey to worry about whether their families have been swept up in a massive social engineering campaign.
The Man in the Middle
Nate Boyer has witnessed death and devastation in Africa, had several war deployments as a Green Beret, went through a period of homelessness and even spent a few weeks in an NFL training camp as a long snapper. Still, he never expected he'd end up advising quarterback Colin Kaepernick to kneel instead of sit during the national anthem as a way to protest social injustice. Now he wishes people on the left and the right would stop fighting and start focusing on the real issues.
Sign up to get Today's Headlines delivered to your inbox. »
OUR MUST-READS FROM THE WEEKEND
-- Immigration. Technology. Trump. A lot has changed in small-town America. Webster City, Iowa, drew the line at its movie theater.
-- Trying to shake off its ultraconservative image, Saudi Arabia is launching a new industry: Fun.
-- The big guitar makers are struggling, but boutique guitar manufacturers are playing a happy tune, especially in California.
-- The crowd shouted racial slurs as C.R. Roberts ran into the record books. This is the story behind USC's 1956 win against the Texas Longhorns.
-- Our readers share their summer vacation photos. Take a look to inspire your next trip.
MUST-WATCH VIDEO
-- Former U.S. Secretary of State John Kerry on truth, Trump and the 2020 presidential election.
CALIFORNIA
-- Investigators have spent nearly a year trying to determine what caused the Tubbs fire, which devastated Santa Rosa. The answer will have profound implications.
-- Stanford University plans to remove some campus references to Junipero Serra, who established the California mission system that critics now blame for decimating Native American communities.
-- A Compton water district that could be abolished for delivering brown water is waging an eleventh-hour campaign for its survival.
-- It's not just Trump; in this November's midterm election, voters can thank themselves for the state's relevancy.
Get more midterm coverage on our Decision California page.
HOLLYWOOD AND THE ARTS
-- The Emmy Awards take place tonight. Here are five key races to watch.
-- What movies will make waves this awards season? Fresh off the Toronto International Film Festival, our experts break it down.
-- Actress Anna Kendrick flirts with dark comedy in "A Simple Favor," the latest film from director Paul Feig.
-- Matt Shakman has been one of TV's most in-demand directors, including on "Game of Thrones." Now's he's the artistic director of the Geffen Playhouse.
CLASSIC HOLLYWOOD
Anne Bancroft won an Oscar for portraying Helen Keller's teacher in "The Miracle Worker," but her role as Mrs. Robinson in "The Graduate" was so memorable, it stuck in the public's imagination. The actress, who was born on this date in 1931 and died in 2005, came to resent the film's domination over other career accomplishments, which included two Tonys, two Golden Globes and an Emmy.
NATION-WORLD
-- A Mormon man in Utah says he's been excommunicated from the Church of Jesus Christ of Latter-day Saints after he led a campaign against lay leaders asking youths questions about sexuality.
-- Phony mariachis opened fire in Mexico City's Plaza Garibaldi, killing five people and injuring eight. But why?
-- In Guatemala, protests against President Jimmy Morales are growing amid a constitutional crisis.
--Typhoon Mangkhut hit southern China after lashing the northern Philippines, where it left at least 64 people dead and dozens more feared buried.
BUSINESS
-- A year into the #MeToo movement, some films, including four Weinstein Co. titles, are stuck in distribution limbo.
-- A survey of nearly 5,000 flight attendants found that most have seen emotional support animals cause disruptions, including biting, barking and, um, having an accident.
SPORTS
-- In the weekend's big boxing match, Canelo Alvarez took the fight to Gennady Golovkin and took home the belts. Now will there be a third fight?
-- Olympic champion Eliud Kipchoge set a marathon world record, winning the Berlin race in 2 hours, 1 minute and 39 seconds.
OPINION
-- For L.A. Mayor Eric Garcetti's homeless shelters, what's the endgame?
-- Taking money meant for financially pressed homeowners and using it to balance California's budget is plain wrong, writes columnist George Skelton.
WHAT OUR EDITORS ARE READING
-- Hillary Rodham Clinton writes that "our democracy is in crisis." (The Atlantic)
-- Soon-Yi Previn gives an interview about Woody Allen, Mia Farrow and more to a longtime Allen friend. (New York Magazine) Plus: Dylan and Ronan Farrow respond. (Mashable)
-- Along the coast in South Carolina, the story of a ghost known as the Gray Man has something to say about hurricanes and history. (Atlas Obscura)
ONLY IN L.A.
Ahead of a big birthday, columnist Steve Lopez decided to try something new: goat yoga. Specifically, yoga with a Nigerian dwarf goat or two on his back at — where else? — a pub in Los Angeles. And no, the goats are not potty-trained.
If you like this newsletter, please share it with friends. Comments or ideas? Email us at headlines@latimes.com.
---