Newsletter: Today: It's Beginning to Look a Lot Like ... Chaos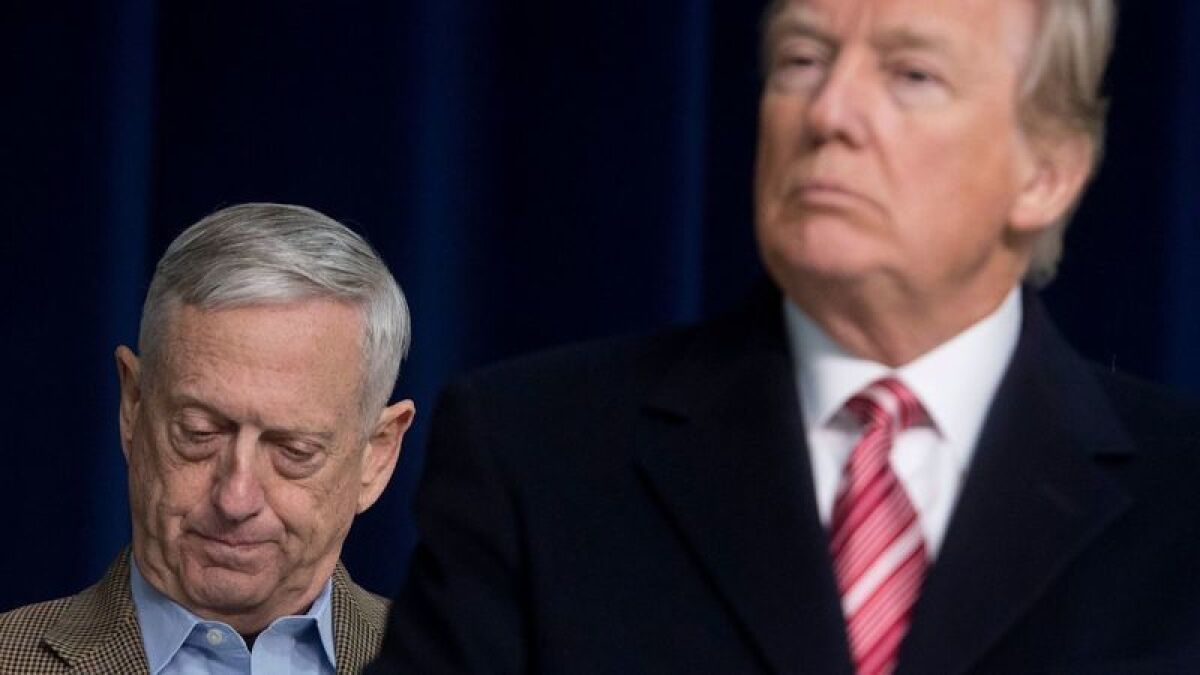 It's almost Christmas, but that hasn't stopped the shake-up at the White House.
TOP STORIES
It's Beginning to Look a Lot Like … Chaos
President Trump already has an acting White House chief of staff and acting attorney general; come Jan. 1, he'll have an acting secretary of Defense too. Angered by news coverage of Defense Secretary James N. Mattis' harsh resignation letter last week, Trump is ousting Mattis two months ahead of schedule. His replacement: the No. 2 Pentagon official, Patrick Shanahan, a former Boeing executive who's not served in the military and has little foreign policy or government experience but has been overseeing weapons acquisition programs and plans for a new "space force." The turmoil in the White House comes as it's dealing with a partial government shutdown, a plummeting stock market and the president's mounting legal woes.
More Politics
-- Treasury Secretary Steven T. Mnuchin startled financial analysts, bankers and economists by issuing an unusual statement declaring that the nation's six largest banks had ample credit to extend to American businesses and households. He also tried to squash reports Trump has discussed whether he could fire Federal Reserve Chairman Jerome H. Powell.
-- Trump's national security team continued to disintegrate over the weekend, as Brett McGurk, the administration's senior envoy to the global coalition fighting Islamic State, quit over the president's abrupt decision to withdraw U.S. forces from Syria.
-- Acting White House Chief of Staff Mick Mulvaney signaled that Trump is willing to accept less money than he's been demanding to build a U.S.-Mexico border wall but that the partial government shutdown is likely to stretch into next year.
Sacramento's New Power Dynamic
Gavin Newsom has been California's lieutenant governor for eight years, so he won't exactly be "the new guy" when he succeeds Gov. Jerry Brown on Jan. 7. Still, members of the state Legislature hope there will be a more balanced power dynamic between them and the governor's office, as they consider major policies such as single-payer healthcare and universal preschool. Those ideas, of course, have big price tags. And Newsom says he's prepared to say no: "Once you're the chief executive officer, you have to be the adult in the room."
Hollywood Box-Office Update: It's Alive!
Reports of the demise of moviegoing appear to have been greatly exaggerated, if this year's projected record haul at the box office is any indication. After a sharp drop last year, Hollywood executives worried streaming services such as Netflix had begun to seriously supplant the theatrical experience. So why is box office expected to hit a high of $11.8 billion in 2018? Rising ticket prices helped, but mostly it was simply a case of — spoiler alert! — making movies that people wanted to see, like "Black Panther," "Jurassic World: Fallen Kingdom" and "Deadpool 2."
Deep From the Heart of Texas
Kliff Kingsbury seems like a guy who has it all: a brilliant mind for football, moxie and movie-star good looks. He works like a guy who has nothing, famous for rising at 3 a.m. and working till 9 p.m. New Braunfels, Texas' leading man is now in L.A. as the new offensive coordinator at USC, and he's hoping that what he's searching for — on and off the field — can be found.
Sign up to get Today's Headlines delivered to your inbox. »
OUR MUST-READS FROM THE WEEKEND
-- USC has been rocked by scandal. Now the university must find a new leader and confront a tarnished reputation, diminished fundraising and growing legal bills.
-- To the best of his knowledge, Dimitri Dunn was born in prison. Now 19, he told columnist Steve Lopez that he's still searching for the home he's never had.
-- A young pastor in Chino preached about depression, then killed himself. His widow wants to help others by talking about it.
-- Fox News host Laura Ingraham mocked Parkland, Fla., shooting survivor David Hogg over his college rejection letters. Now he's headed to Harvard.
-- More naughty than nice: In South Korea, motels, condoms and the pill are in hot demand for Christmas.
HOLIDAYS
-- What to watch on TV over the Christmas holiday? Critic Robert Lloyd has put together this very special guide.
-- This year's essential Christmas albums, from "Shatner Claus" to the irresistible JD McPherson.
-- Oldies but goodies: A collection of recipes for Christmas dinner.
CALIFORNIA
-- Inglewood Mayor James T. Butts Jr. defended his city's decision this month to allow the destruction of years of investigative records involving police shootings.
-- Weeks after the shooting at the Borderline Bar and Grill in Thousand Oaks, regulars gathered for a night of line dancing at a bar eight miles to the east.
-- A lawyer for three San Bernardino County middle school girls who were unlawfully arrested "to teach them a lesson" said they were awarded $390,000 to settle their case.
-- The Laguna Beach City Council has approved purchasing a new odor control system aimed at reducing the stench emanating from a sewer lift station.
HOLLYWOOD AND THE ARTS
-- Director Adam McKay and actor Christian Bale talk about their new film, "Vice," a biopic of Dick Cheney, and whether they would be up for tackling Trump next.
-- On the surface, "Aquaman" may seem pretty silly, but the film has an environmental message that puts the villain in a different light.
-- In 2018, the #MeToo movement and its aftermath roiled Hollywood and was featured in TV shows such as "GLOW," "Murphy Brown" and "The Good Fight."
NATION-WORLD
-- Thousands of Central Americans who traveled north to the U.S. border in migrant caravans have settled into an uneasy existence in Tijuana, facing a backlash on both sides of the border.
-- Affidavits released by North Carolina's elections board allege absentee ballots were collected from voters by the man at the center of vote fraud allegations or those working for him
-- Officials say a tsunami crashed into coastal villages on two of Indonesia's most populous islands, washing away buildings, roads and a rock concert on the beach and leaving over 280 people dead.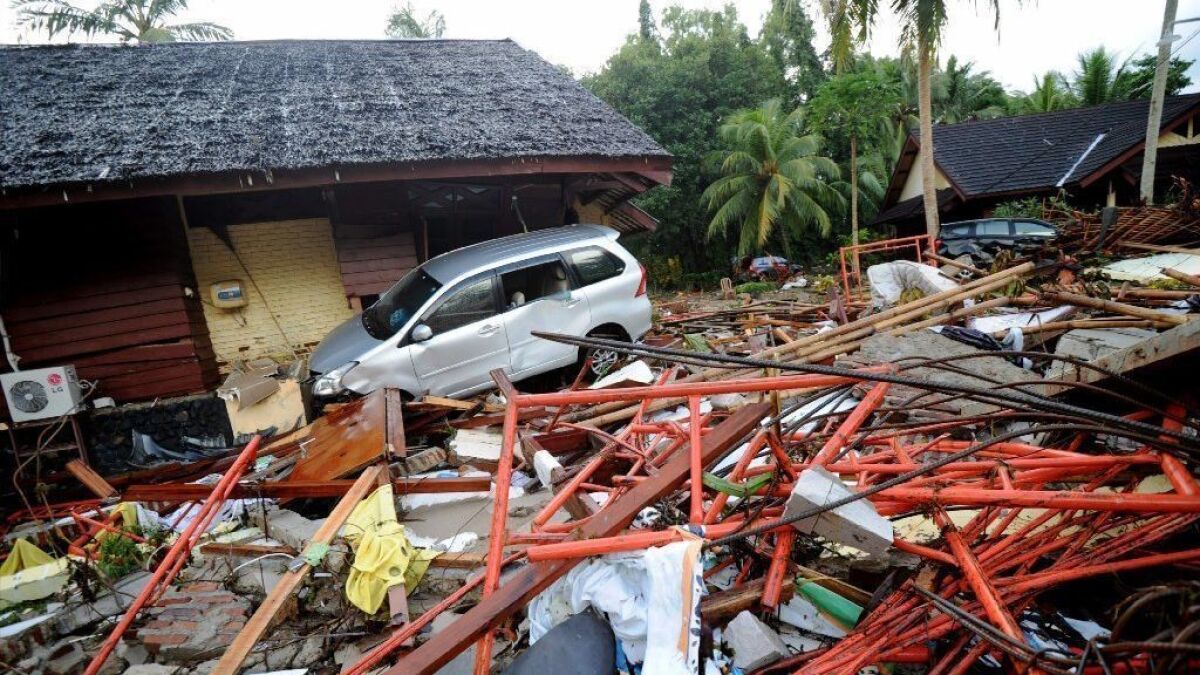 -- Sudan's military pledged to stand by President Omar Hassan Ahmed Bashir during ongoing street protests decrying worsening economic conditions.
BUSINESS
-- High taxes, stifling regulations and exorbitant housing costs may make some people leave California, but a lot of people are still coming, and they tend to be wealthier and better-educated.
-- The Boy Scouts of America may file for Chapter 11 bankruptcy protection as the organization faces fallout from a scandal over sex abuse claims.
SPORTS
-- The Rams defeated the Arizona Cardinals. Columnist Sam Farmer says their performance showed they're capable of literally making a run at the Super Bowl.
-- Columnist Bill Plaschke writes that the Dodgers got the better of last week's blockbuster deal simply by getting rid of Yasiel Puig.
OPINION
-- It's time to grade California Gov. Jerry Brown, who's packing his thousands of books and leaving the Capitol campus for good. Columnist George Skelton says his final two terms easily deserve an A.
-- Reason for optimism next year: A grass-roots movement to depolarize the country, one community at a time, has been growing.
WHAT OUR EDITORS ARE READING
-- Accusations of anti-Semitism are rocking the Women's March movement. (New York Times)
-- The 50 best podcasts of 2018. We foresee lots of listening in 2019. (The Atlantic)
-- For Deion Sanders, the only player ever to participate in a World Series and a Super Bowl, a suicide attempt led him to the Lord. (The Undefeated)
ONLY IN CALIFORNIA
For 39 years, Andrew Lounsbury has had a job with lots of ups and downs — as an elevator operator at the Hotel del Coronado in San Diego County. The hotel dates to 1888, and so does the elevator. But Lounsbury, 66, keeps things fresh, greeting guests by name and breaking out in stories and song. Before working the elevator, Lounsbury was a custodian. Then his mother saw a "help wanted" ad for the job he has now. "She said she wanted me to get out of the line of work I was in," he recalled, "and I said that makes two of us."
If you like this newsletter, please share it with friends. Comments or ideas? Email us at headlines@latimes.com.
---