Newsletter: Today: The Wall Free-for-All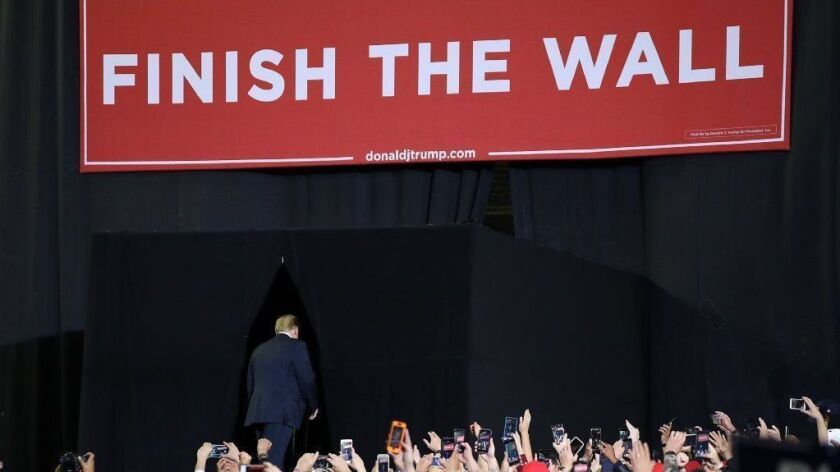 Scenes from the border wall fight: A MAGA rally. Beto-mania. And a potential deal in Washington, albeit without money for the wall.
TOP STORIES
The Wall Free-for-All
In the battle for President Trump's much-desired wall on the border with Mexico, Monday night provided a rare triple-split-screen moment. Inside the El Paso County Coliseum, Trump falsely told a raucous rally that he is already building a wall and unveiled a new slogan: "Finish the Wall." At a park not far away, Beto O'Rourke — El Paso's former congressman and a possible Democratic 2020 presidential candidate — joined other locals in expressing their indignation over Trump's false characterization of the city as a violent one in last week's State of the Union address. Meanwhile, in Washington, congressional negotiators announced a tentative funding deal designed to avert another partial government shutdown — with $1.375 billion for 55 miles of new barrier on the 2,000-mile border, but without the billions more Trump has demanded for a wall.
More National Politics
-- Minnesota Rep. Ilhan Omar has apologized for a widely condemned tweet suggesting that money drives politicians' support for Israel. Her apology came shortly after House Speaker Nancy Pelosi and other Democratic leaders spoke out against her tweet.
-- Secretary of State Michael R. Pompeo says America might be forced to scale back certain operations in Europe and elsewhere if countries continue to do business with the Chinese telecommunications company Huawei.
-- Virginia's Democratic Lt. Gov. Justin Fairfax said he will not step down regardless of any attempts to remove him from office amid allegations that he sexually assaulted two women.
Tag-Teaming Against Trump?
California Atty. Gen. Xavier Becerra has already filed more than four dozen lawsuits against the Trump administration's policies. But whereas former Gov. Jerry Brown generally took a low-key approach to dealing with the president, new Gov. Gavin Newsom is taking a more aggressive style. (Witness his decision to pull National Guard troops from the Mexico border and reassign them elsewhere.) Together, Newsom and Becerra could ramp up Democrats' resistance to Trump. But some worry that too much presidential eye-poking could backfire.
The Kentucky Hemp Derby
Kentucky farmers have been hit hard by the decline of tobacco because of the dangers of smoking. But now they have a new cash crop — albeit one they grew for hundreds of years before the Controlled Substances Act of 1970 made it illegal: hemp. So when Trump signed a bipartisan farm bill in December legalizing the commercial cultivation of hemp nationwide, Kentuckians were ready to capitalize on this species of cannabis.
Meanwhile, Back at Hollister Ranch
For nearly 40 years, landowners and would-be beachgoers have battled over access to the pristine coastline of Hollister Ranch. In the latest round of fighting, a Santa Barbara County judge has refused to approve a deal reached last year between ranch and coastal officials that would keep the beach closed to all but a select group. The ruling did not reject the settlement outright, but it does allow the legal conflict to continue, while a separate state effort to establish an access program goes on.
Sign up to get Today's Headlines delivered to your inbox. »
FROM THE ARCHIVES
On this date in 2000, Charles M. Schulz went for one last skate in the Santa Rosa, Calif., ice rink he owned and died in his sleep about 9:45 p.m. at home with his wife, Jeannie, by his side. His death came as his final original "Peanuts" strip ran in newspapers the next day. As The Times' obituary put it: "A master storyteller to the end, Schulz's goodbye message to more than 355 million daily readers worldwide became his own epitaph."
CALIFORNIA
-- An additional 18 million trees in the state died over the last year. Still, officials see the grim toll as a sign that the epic forest die-off in the mountains is finally slowing.
-- An appeals court upheld the conviction of former L.A. County Sheriff Lee Baca. That clears the way for the ailing Baca to go to prison for obstructing justice and lying to federal authorities, but the legal fight isn't over.
-- Former state Sen. Kevin de León is looking to shift his political base of operations to Los Angeles City Hall, by seeking the Eastside council seat being vacated by Councilman Jose Huizar.
-- Colusa County hasn't always embraced Jerry Brown, but now that the former governor has retired to a ranch there, his new neighbors just may give him a chance.
HOLLYWOOD AND THE ARTS
-- How would you slim down the Oscars ceremony? The film academy has chosen to hand out four awards — cinematography, film editing, live action short, and makeup and hairstyling — during the commercial breaks.
-- Speaking of questions concerning the Oscars: What should determine whether a film wins the award for best picture? Columnist Mary McNamara thinks a key test should be whether you'd watch the film more than once.
-- In the TBS limited series "Miracle Workers," Steve Buscemi portrays a slacker God and Daniel Radcliffe plays the angel Craig from the novel "What in God's Name?"
-- BET has apologized after a disrespectful Grammy night tweet about Nicki Minaj led the rapper to drop out of the network's upcoming music festival.
NATION-WORLD
-- A powerful winter storm is pulling away from Hawaii after unleashing damaging winds, massive waves, coastal flooding and even snow in unusual places.
-- Venezuela's self-proclaimed interim president, Juan Guaido, announced that a shipment of nutritional supplements for infants and pregnant women had arrived in the capital, but did not disclose where it came from nor how it entered the country.
-- Thousands of people took to the streets of Iran's capital to commemorate the 40th anniversary of the Islamic Revolution, which ousted a secular, pro-American monarchy and replaced it with an anti-Western theocracy.
-- Egypt's parliament is speeding its push for constitutional amendments that would give President Abdel Fattah Sisi more power and could keep him in office until 2034. Opposition parties and some lawmakers have vowed to fight it.
BUSINESS
-- In the largest wage-theft case ever brought by California against a private company, the labor commissioner has cited RDV Construction, a City of Industry drywall subcontractor, for cheating more than 1,000 workers out of minimum wage, overtime and rest breaks.
-- Millions of Americans filling out their 2018 tax returns will probably be surprised to learn that their federal refund will be less than expected or that they owe money to the Internal Revenue Service after years of receiving refunds.
SPORTS
-- Magic Johnson raised some eyebrows when he said the Philadelphia 76ers' Ben Simmons reached out to the Lakers to request a meeting with him to talk basketball. That request is now drawing scrutiny from the NBA.
-- New columnist Arash Markazi has more than a few thoughts on L.A., its sports teams and its fans.
OPINION
-- Then-Gov. Brown was right to send National Guard troops to the border. Gov. Newsom is right to withdraw them.
-- In a racist tweet, Trump treats the genocidal Trail of Tears as a laughing matter. So who's calling him out on it?
WHAT OUR EDITORS ARE READING
-- A tribute to Joe Alex Morris Jr., an L.A. Times correspondent who was fatally shot 40 years ago while covering the Iranian revolution. (Washington Post)
-- With an aging population at home and younger folks moving away, Maine is one of only two states where deaths now outnumber births. (Boston Globe)
-- An artist placed an 800-pound opioid spoon sculpture outside the entrance of a drug manufacturer owned by the Sackler family. (Hyperallergic)
ONLY IN CALIFORNIA
Dalmatians might be the best known firehouse mascot, but a tortoise-shell cat named Edna purred her way into the hearts of firefighters at San Francisco's Fire Station 49. Then someone apparently let the cat out of the bag, telling Fire Department brass of Edna's presence at the station, which is a big no-no. Fortunately for this cat, she'll be landing on her feet — at the home of an ambulance staff member.
If you like this newsletter, please share it with friends. Comments or ideas? Email us at headlines@latimes.com.
---