Newsletter: Today: Where Weed and Wine Meet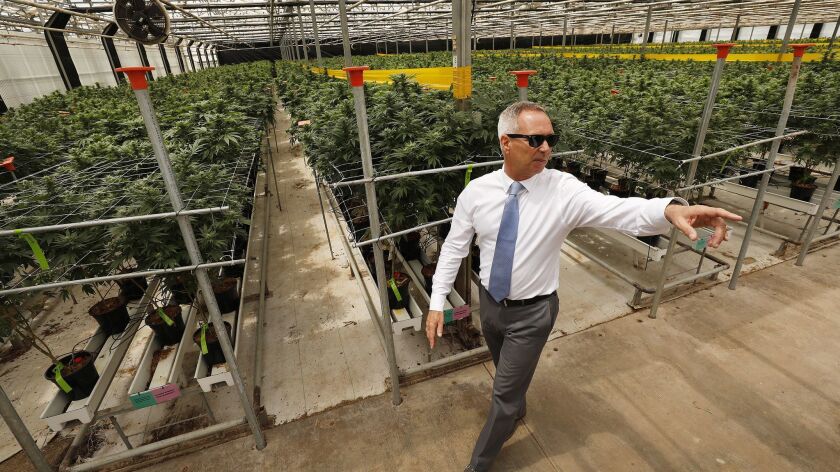 In the hills of Santa Barbara County, legalized pot growers are coming up against the needs of residents and vintners.
TOP STORIES
Where Weed and Wine Meet
The hills of Santa Barbara County's famed wine region have become the unlikely capital of California's legal pot-growing market, and rolling vineyards and country estates suddenly find themselves next to sprawling rows of white plastic hoop houses. But the cannabis boom has caused a backlash from residents and vintners afflicted by the smell and farmers who fear spraying their avocados could make them financially liable for tainting multimillion-dollar marijuana crops. The county is now trying to rein in the industry with stricter regulations and law enforcement action.
Border-Crisis Creep
The little boy playing in the parking lot of a Seventh-day Adventist Church in Blythe was startled when three U.S. Customs and Border Protection vehicles pulled in. But the agents weren't there to round up people who were in the country illegally. They were dropping immigrants off. The scene that unfolded recently in this desert city about 100 miles from the U.S.-Mexico border exemplifies how the immigration crisis has spilled over into communities farther north, where nonprofits and local officials are tapped to provide care. "I don't know how we can keep this up," one Riverside County supervisor said. "This is a new phenomenon, and it's an unfortunate situation we're in."
More Politics
-- President Trump couldn't wait to arrive in Iowa before attacking Joe Biden. And vice versa. With the rivals both campaigning in the state Tuesday, the bitter back-and-forth began early and kept up all day, a possible sign of the tumult to come.
-- House Democrats voted to authorize going to court to enforce their subpoenas against Atty. Gen. William Barr and former White House Counsel Donald McGahn, the most dramatic move yet to prod the administration to respond to Congress' oversight inquiries.
She's Just Getting Started
For 25 years, Kim Goldman has been the ultimate thorn in O.J. Simpson's side, with lawsuits, a podcast, interviews and more. She says she's just getting started. One of her goals has been getting Simpson to pay a $33.5-million civil court judgment that she and her family won in 1997 when a jury held the former NFL great responsible for the deaths of Nicole Brown Simpson and Ron Goldman, even after he was acquitted in criminal court. It's not about the money, she said, as much as about holding Simpson accountable.
A Tastier Bar Exam
Food columnist Lucas Kwan Peterson is here with the unassailable, infallibly factual and 100% correct L.A. Times Candy Bar Power Rankings. He has judged every candy bar in known existence (with the exception of ones he deemed unworthy or could not find at CVS, or both) and ranked them by the metrics of 1) taste and 2) attractiveness of the wrapper. How does your favorite measure up?
Your support helps us deliver the news that matters most. Subscribe to the Los Angeles Times.
Sign up to get Today's Headlines delivered to your inbox. »
FROM THE ARCHIVES
On this date in 1931, The Times took to the air to photograph the wreck of the Harvard, a popular steamship serving San Francisco and Los Angeles that had run aground at Point Arguello on May 30 in heavy fog. Damage to the ship had grown considerably since the initial incident, which left at least some passengers unruffled. " 'Shipwreck de luxe is what it was,' said Mrs. Elizabeth Stoddard, a gray-haired Oakland woman, as she came ashore. 'Nobody hurt, all our baggage saved, a ride on the Navy's newest cruiser and a turkey dinner to top it off.' "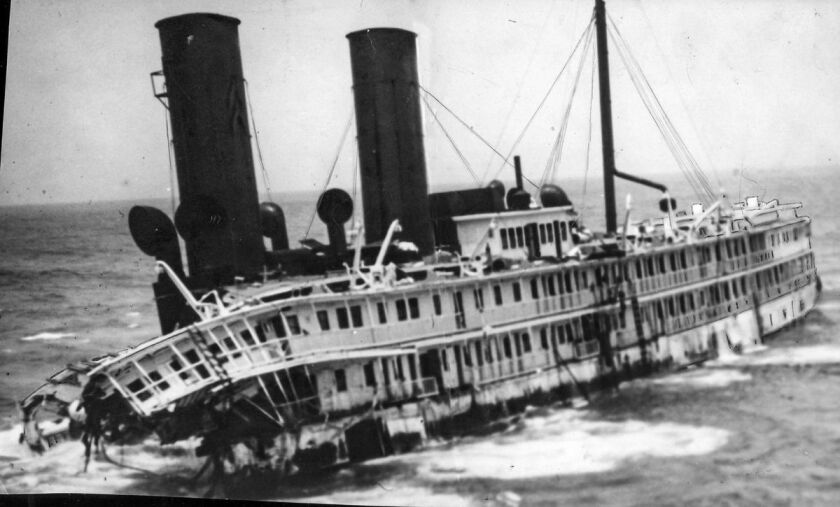 CALIFORNIA
-- After LAUSD's Measure EE parcel tax got clobbered last week at the polls, Steve Lopez's follow-up column blaming local apathy got voted down 9 to 1 by angry readers.
-- Over the objections of anti-poverty advocates, Los Angeles lawmakers came out Tuesday against state legislation that would prevent California cities from towing vehicles left on the street for more than 72 hours.
-- A man arrested in the Monday night shooting of an off-duty L.A. sheriff's deputy at an Alhambra Jack in the Box may be linked to a Los Angeles homicide less than an hour earlier.
-- Don't forget Paige St. John's investigative series "Man in the Window," about tracking the suspected Golden State Killer.
HOLLYWOOD AND THE ARTS
-- The film "Booksmart" and upcoming HBO series "Euphoria" are evidence that we need the universal experience of high school to unite us, columnist Mary McNamara says.
-- Rather than pay ransom for stolen music, Radiohead has released session recordings from the making of its 1997 album "OK Computer" for fans to buy, even if the tunes were never meant for public consumption.
NATION-WORLD
-- Comedian Jon Stewart scolded Congress for failing to ensure that a victims' compensation fund set up after the 9/11 attacks never runs out of money.
-- Botswana became the ninth country in the last five years to decriminalize gay sex, a landmark case for Africa, as its High Court rejected laws punishing it with up to seven years in prison.
BUSINESS
-- With its Star Wars: Galaxy's Edge expansion just opened, Disney is now moving full steam ahead to launch a land at California Adventure themed for the superheroes of Marvel comics and movies.
-- Less than two months after touting a plan to put more than a million driverless Tesla taxis on the road by "next year for sure," Chief Executive Elon Musk walked back the ambitious timetable at the company's annual shareholders meeting.
SPORTS
-- Nearly halfway through the season, consistency remains elusive for Dodgers pitcher Joe Kelly, and the results remain unsightly. Witness one bizarre inning against the Angels.
-- As the U.S. women's national soccer team notched a 13-0 win over Thailand in its first Women's World Cup match Tuesday, five-goal scorer Alex Morgan was happy and healthy and ready to lead the U.S. to another title.
OPINION
-- As a county panel prepares to releases its plan for overhauling juvenile probation, it's time to reconsider the entire concept.
-- Men can't hear it, women don't say it — the everyday importance of "no."
WHAT OUR EDITORS ARE READING
-- A 2008 fire on the Universal Studios backlot wound up wiping out Universal Music Group's main West Coast storehouse of one-of-a-kind master recordings, some dating back to the 1940s. (New York Times Magazine)
-- Saving the planet with electric cars means strangling the lithium-rich Atacama desert. (Bloomberg)
-- American homes are a lot bigger than they used to be, but apparently American homeowners aren't getting any happier with them. (The Atlantic)
ONLY IN L.A.
The working witches of Los Angeles just want you to be your best self. "If you think being a witch is just sitting around doing spells all the time, you think wrong," says the Oracle of Los Angeles. "Half my business is being on Instagram." Today's working witches primarily see themselves as healers, helping clients who are struggling to cope with life's hurdles — heartache, aging, misogyny, work stress — and who find that more culturally accepted remedies, such as therapy and meditation, aren't enough. "People see the witch when they have a situation nobody else can help them with," says the Witch of the Dawn. "Nobody comes to see me when everything is OK."
If you like this newsletter, please share it with friends. Comments or ideas? Email us at headlines@latimes.com.
---