Editorial: North Korea's nukes call for concerted action, not loose talk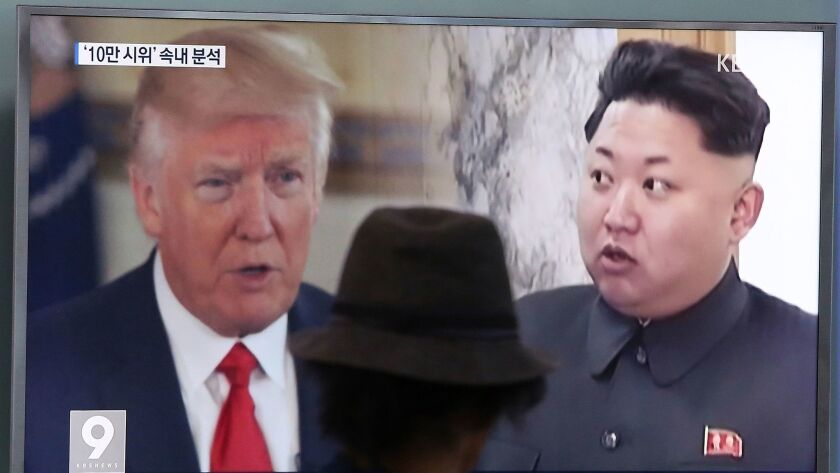 Seeking to capitalize on a chorus of condemnation of North Korea's latest nuclear test, the Trump administration rightly has been trying to rally international support for additional sanctions, while moving to reassure South Korea of U.S. support for its security.
Unfortunately, President Trump continues to make the work of his diplomats and military strategists harder with bellicose rhetoric, insults to U.S. allies and threats that he almost certainly can't deliver on.
On Sunday, North Korea tested what it described as a hydrogen bomb, generating about six times as much destructive force as its previous test — and the bomb the U.S. dropped on Hiroshima. It was the latest in a series of provocations that also included sending a ballistic missile over Japanese territory last week.
In a powerful speech at the United Nations Security Council on Monday, U.S. Ambassador Nikki Haley said the time has come "to exhaust all of our diplomatic means, before it's too late." The U.S. is drafting a new sanctions resolution, which could include a proposal to block oil sales to North Korea.
President Trump continues to make the work of his diplomats and military strategists harder with bellicose rhetoric.
Haley and the administration are right to seek multilateral support for their policies at the U.N. and to build as global a consensus as possible. It will take a united international front to crack down effectively on the sources providing North Korea with the hard currency and materiel that sustain its nuclear efforts.
But contrast Haley's statement with two tweets from Trump on Sunday. In the morning, he tweeted: "South Korea is finding, as I have told them, that their talk of appeasement with North Korea will not work, they only understand one thing!" Later that day he fired off another tweet suggesting that the U.S. is considering "stopping all trade with any country doing business with North Korea."
Like the president's unscripted warning last month that North Korea would face "fire and fury" if it continued to threaten the U.S., Trump's idea of cutting ties with any nation that did any business with North Korea is improbable to the point of fantasy. It would mean, for example, ending trade between the U.S. and China unless China agreed to cut off all trade with North Korea. By broaching such an unlikely response, Trump may make it harder to persuade China to take less sweeping but still significant measures, such as restricting North Korea's oil supplies.
It's notable that the administration's principal public response to Sunday's test came not from Trump but from Secretary of Defense James Mattis. While Mattis reminded North Korea that the U.S. had military options available to it, he also said that the U.S. doesn't seek the "total annihilation" of the North. Mattis and other top officials also have made it clear that the U.S. has not closed the door on diplomacy, contrary to what Trump has suggested.
Secretary of State Rex Tillerson ventured last month that the U.S. might be willing to resume talks if North Korea were to "stop these missile launches." Last week, after Trump tweeted that talking to North Korea "is not the answer," Mattis told reporters that "we're never out of diplomatic solutions."
That said, the administration — again, rightly — is rebuffing suggestions from Russia and China that it attempt to revive negotiations by agreeing to a deal in which North Korea would freeze its nuclear testing program in exchange for a cessation of joint military exercises by the U.S. and South Korea. The exercises aren't threatening North Korea in the way its nuclearization is threatening Asia and the United States. And if the U.S. halts them, there's no guarantee that Russia and China can hold North Korea to its end of the bargain.
While the U.S. continues to insist that the only acceptable outcome of talks is the dismantling of the North's nuclear program, other scenarios are possible. Some experts believe that the U.S. and the international community may have to accept, at least temporarily, an agreement in which the North would place ceilings on its nuclear program and stop its testing of nuclear devices and delivery systems.
Conceding to North Korea's nuclear ambitions, however, would have terrible implications for the spread of nuclear weapons in Asia. And U.S. policymakers should be loath to discuss such a possibility when North Korea is behaving so provocatively. Haley may have been exaggerating when she said that the government of Kim Jong Un is "begging for war"; but she was right to characterize its recent actions as threatening. In attempting to have the world address that threat, the U.S. needs to be both determined and deliberate, in word and deed.
That includes Trump, whose pronouncements on North Korea have been inconsistent to the point of incoherence. (On Wednesday, asked whether he was considering military action, he said: "Certainly, that's not our first choice." But he quickly added: "We'll see what happens.") On the campaign trail, Trump found success with outrageous rhetoric that, as the saying goes, his supporters took seriously but not literally. Such pronouncements may be useful in domestic politics, but they're dangerous when uttered by a president in an international crisis.
Follow the Opinion section on Twitter @latimesopinionand Facebook
MORE FROM THE OPINION SECTION:
When is human rights hero Aung San Suu Kyi going to act like one?
Ending DACA was an act of pure cruelty by Trump
The pendulum swings too far on school accountability
---
UPDATES:
2:30 p.m.: This article was updated with a new quote from President Trump.
This article was originally published at 3 a.m.
---
A cure for the common opinion
Get thought-provoking perspectives with our weekly newsletter.
You may occasionally receive promotional content from the Los Angeles Times.