What next for L.A. Unified?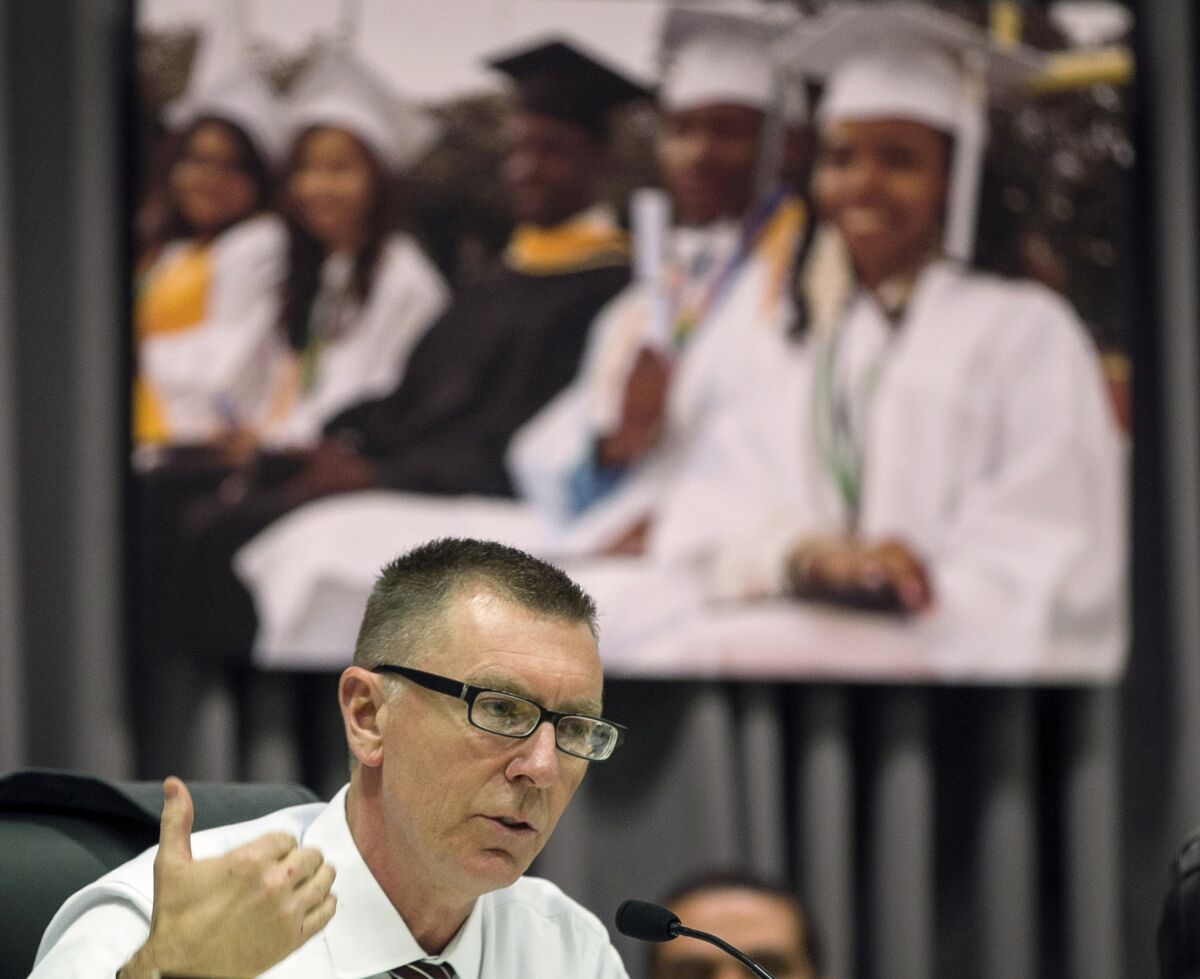 Good for the Los Angeles Unified school board and Supt. John Deasy for agreeing — after several days of gamesmanship and high drama — that he should continue on as the schools' chief executive. Now, both sides need to work out a plan going forward that will calm the upheaval and allow the board and the superintendent to function harmoniously in the best interests of students.
For the board, that means dropping the posturing, and learning how — and when — to question some of Deasy's more problematic ideas without obstructing the workable ones.
But not all the posturing has been by the board. Deasy is now getting a contract to see him through to 2016. He should honor the intent of that agreement — stability under a strong superintendent — and end the periodic, supposedly confidential talk, which somehow always becomes public, of quitting when the board's actions frustrate him. Those I'm-out-of-here revelations have brought Deasy vocal support from reform-oriented organizations, but they also have been disruptive and have probably cost him some goodwill on the board.
There are difficult decisions ahead for the board, pitting competing views against each other. The board, whose balance of power shifted in the most recent election, is still grappling with Deasy's problem-prone plan to buy an iPad for every student. This is one area where the superintendent conspicuously underplanned and oversold. The answers to many questions, including whether the district should continue to purchase bundled curriculum that no one has seen because it isn't even complete, will remain unclear for some time. At this point, the board should simply put the rollout on hold and see how the first phase, under which 45,000 students are expected to receive tablets, works out. And it shouldn't commit to buying unseen curriculum.
On the issue of new state funding, the board should seek a compromise with Deasy. The board majority wants to use the money that is coming in under the state's new school-funding formula to rehire staff; Deasy wants to use some of the money to reduce the district's structural deficit while giving another portion of the money to individual schools to spend as they see fit. Both scenarios have strengths and weaknesses. In these and many issues, the board should resist becoming mired in going-nowhere discussions and should discourage individual members from engaging in divisive, hostile actions. An example of that was Deasy opponent Bennett Kayser's inappropriate, unilateral letter to the superintendent requesting a succession plan for whenever he might leave L.A. Unified.
It's very good news that Deasy has elected to continue his work improving the education of the district's roughly 650,000 students. But he's going to have to learn to persuade a more skeptical board, and he'll have to compromise more than he might like. His job will be even more demanding than it used to be, but for the next two and a half years, the superintendent should consider himself committed to that difficult but vital task.
---
Life is stressful. Our weekly mental wellness newsletter can help.
You may occasionally receive promotional content from the Los Angeles Times.