Op-Ed: I never imagined I'd say it: Jeff Sessions deserves our admiration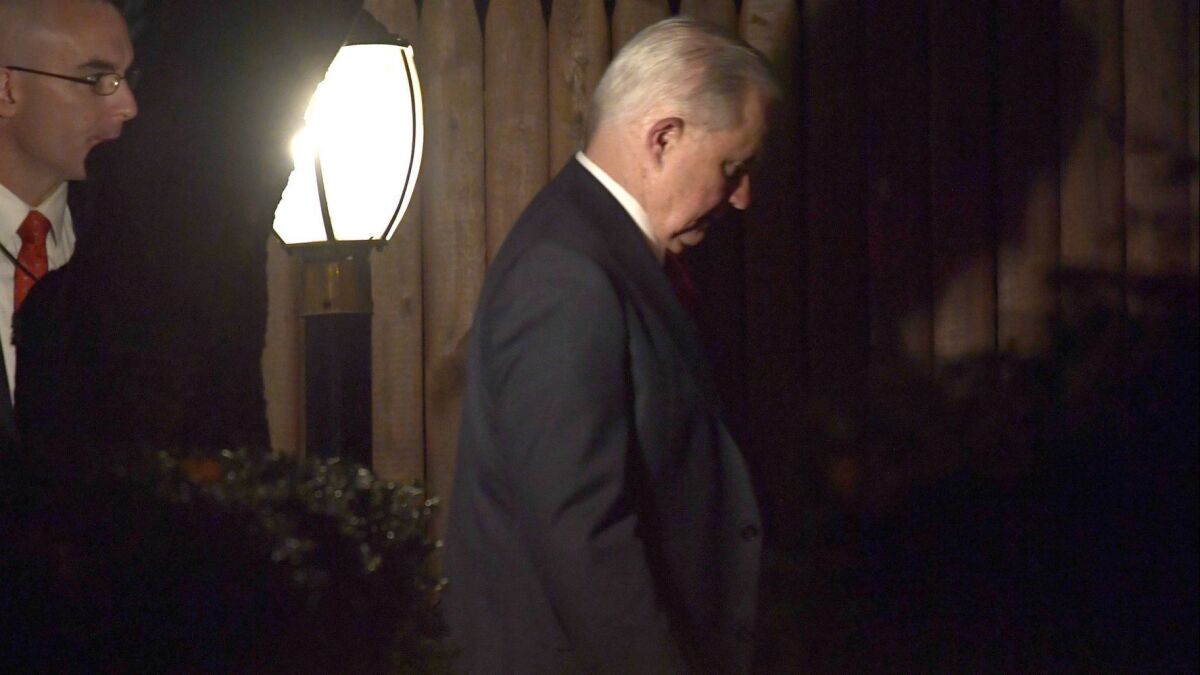 Donald Trump did something that seems impossible: He made Jeff Sessions into a sympathetic figure.
The firing of Sessions as attorney general on the day after the election made me realize how much Sessions has been integral to upholding the rule of law in the first two years of the Trump presidency. The core of the rule of law is that no one, not even the president, is above the law, and it is Sessions who, despite all of Trump's personal attacks and insults, insured that special counsel Robert S. Mueller III could continue his investigation.
I have found much of Sessions' conduct as attorney general to be loathsome. He initiated and defended the illegal and morally bankrupt policy of separating children from their parents at the border. He has threatened cities with loss of federal funds if they don't cooperate with federal immigration authorities, a policy that several federal courts have declared unconstitutional. Sessions has mandated that those arrested for federal crimes, including drug offenses, be charged to the maximum. He made clear that the Justice Department would no longer bring actions against police departments for having a pattern and practice of violating civil rights.
Despite withering attacks by Trump, Sessions never caved to the pressure.
Despite all of this, Sessions has been crucial in protecting the special counsel's work. Although Trump repeatedly has called it a "witch hunt" and a "hoax," it is an essential investigation into crimes that go to the very heart of the integrity of our election system.
Any assertion that the investigation is a witch hunt is belied by its success. So far, it has resulted in 32 indictments or guilty pleas, including guilty pleas from former top-level Trump advisors such as Michael Flynn, Rick Gates and Michael Cohen. Paul Manafort, who managed the president's 2016 campaign, was convicted by a jury of charges that could keep him in prison for decades.
Mueller's team, quite appropriately, has not revealed what it has learned or exactly what the lines of the investigation are. But there remains the possibility that it may lead to evidence against Trump's family or the president himself. It is essential that Mueller not be impeded.
Despite withering attacks by Trump, Sessions never caved to the pressure. Trump repeatedly referred to Sessions as "missing in action" and called him "Mr. Magoo," referring to a bumbling cartoon character from decades ago. I can think of virtually no instance where a president so viciously criticized a member of his Cabinet.
Trump was most outraged at Sessions for recusing himself from overseeing Mueller's investigation. But Sessions did exactly the right thing in removing himself.
Mueller's brief includes looking at whether federal laws were broken in connection with Russia's involvement in the 2016 campaign. During Sessions' Senate confirmation process, Sen. Patrick J. Leahy, a Democratic member of the Judiciary Committee, asked the attorney general designate in a questionnaire if he had "been in contact with anyone connected to any part of the Russian government about the 2016 election, either before or after election day." Sessions' answer was "no." During the hearings, Sen. Al Franken asked Sessions what he would do if he learned of evidence that someone affiliated with the Trump campaign had communicated with the Russian government in the course of the campaign. Sessions replied, "I'm not aware of any of those activities. I have been called a surrogate at a time or two in that campaign, and I did not have communications with the Russians."
It was later revealed that Sessions had at least two conversations with the Russian ambassador to the United States in July and September 2016. Sessions knew he was a potential target for the investigation, and therefore he was required by ethics rules to recuse himself.
Enter the Fray: First takes on the news of the minute from L.A. Times Opinion »
Deputy Atty. Gen. Rod Rosenstein replaced Sessions as the official to whom Mueller reported. Trump attacked Rosenstein for not limiting the investigation. He attacked Sessions for not controlling Rosenstein and Mueller. But Sessions never flinched, and he never backed down from his recusal. He deserves our admiration for standing up for the rule of law.
With Sessions gone, Mueller's future is uncertain. The newly appointed Acting Atty. Gen. Matthew Whitaker has been hostile to the investigation and critical of Mueller. When Democrats take control the House of Representatives in January, they are sure to launch oversight hearings related to the musical chairs at Justice, Russian collusion and more. But members of Congress cannot bring criminal indictments, and it is easier for a president to refuse to cooperate with Congress than to resist court orders.
I never imagined I would say this, but we might come to find we miss Jeff Sessions as attorney general.
Erwin Chemerinsky is dean and professor at UC Berkeley School of Law.
Follow the Opinion section on Twitter @latimesopinionand Facebook
Our six-week newsletter will help you make the right decision for you and your property.
You may occasionally receive promotional content from the Los Angeles Times.