Op-Ed: The Josh Newman recall effort is all about retaliation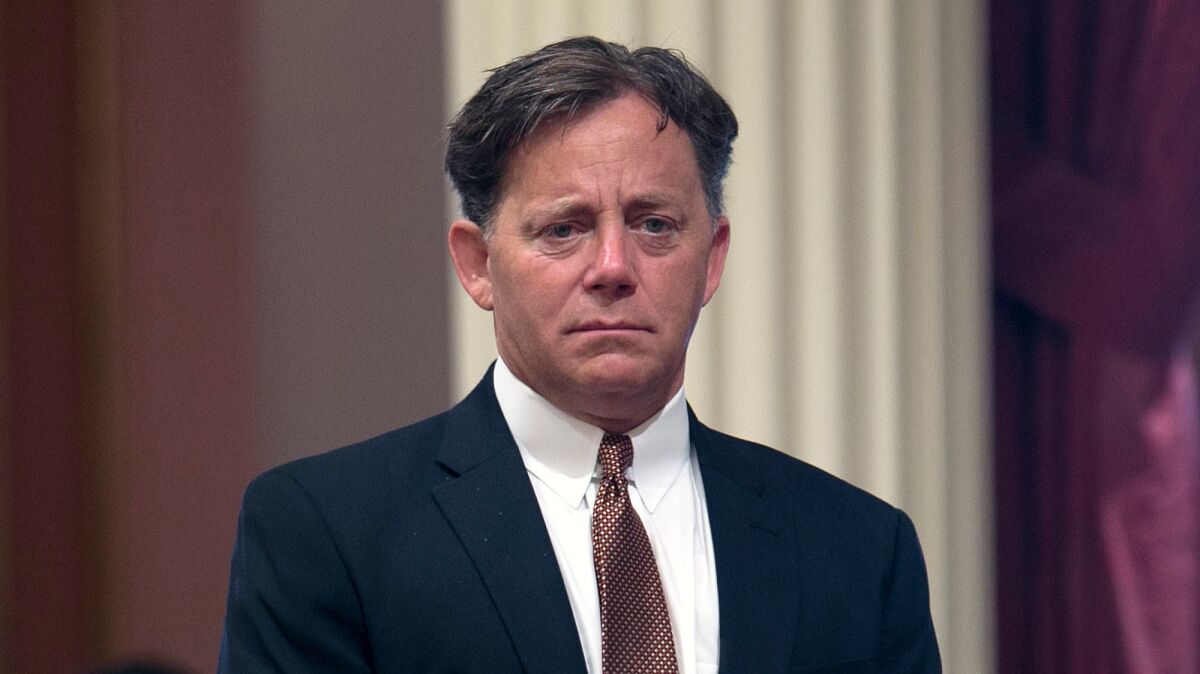 One of the more troubling things happening in California politics right now is the signature-gathering effort to recall freshman state Sen. Josh Newman from his seat in the 29th District, straddling Los Angeles, Orange and San Bernardino counties. Efforts on the ground consist of canvassers in parking lots and supermarket entryways, confidently offering shoppers a chance to repeal the latest gas tax hike if they sign.
That's an enticing offer. Commuters with young families and steep mortgages, late-career professionals closely monitoring their 401ks as the 2008 recession sits uncomfortably in the rearview, and retirees with grandkids climbing a tuition mountain — everyone wants a reprieve.
But the canvassers aren't telling the whole story; recalling Newman won't magically undo the $52-billion transportation package passed by the state Legislature in early April, which funds road improvements with a 12-cent-per-gallon gas tax increase and a bump in vehicle registration fees.
The signature-gathering effort to recall Newman, as the president of the Howard Jarvis Taxpayers Assn. candidly admitted in an op-ed for the Orange County Register, is really about "political retaliation," not a legislative reversal.
Recalling Newman won't magically undo the $52-billion transportation package passed by the state Legislature in early April.
Newman did vote for the transportation package, but he was hardly "the deciding factor,"as one Republican-funded ad claims. The bill passed the state Senate 27-11, and one Republican, Modesto's Sen. Anthony Cannella, voted for it too. The recall effort targets Newman simply because he won a historically Republican district by only 3,185 votes. Republicans view this as their seat, and they are keen to take it back.
One force behind the recall effort is a former San Diego City Council member who hosts a local talk radio show, Carl DeMaio. San Diego state Sen. Joel Anderson from the 38th District is also on board. They've been encouraging folks to swarm Wal-Mart and Sprouts stores in Anaheim, Fullerton, Brea, Yorba Linda, Chino Hills and West Covina to collect the requisite 63,592 signatures from registered voters in Newman's district. (By Friday, proponents had already gathered over half of the signatures.)
I met two signature-gatherers at my local supermarket. Neither lived in the district; both acknowledged that they knew nothing about California politics in general or Newman in particular. What's more, an analysis of recent tax documents revealed that as of Saturday, less than 5% of the $44,000 raised to recall Newman came from Newman's constituency.
Those behind the recall effort don't seem to care that Newman won a fair election, or that attempting to recall a legislator just for doing his job — voting for what he believes is right — sows turbulence and chaos. No one's accusing Newman of incompetence or corruption, high crimes or misdemeanors.
And it's not as if there's no down side to the recall effort. If it's successful, a standalone election could cost OC taxpayers alone up to $1.6 million, and that's not including what L.A. and San Bernardino counties will have to put up or the cost to the state as a whole. Supporters of the recall don't seem to mind the waste.
We run elections all the time. Why not just wait for the next cycle and then challenge Newman on the merits?
Newman's a big boy and he can defend himself. One thing lost in the gas-tax furor, however, is who he actually is. He hosts town halls and local coffee gatherings, volunteers at our Special Olympics events, advocates for veterans and regularly meets with constituents to hear our concerns, all while caring for a young family. He's community-oriented, committed and connected.
Whatever Newman's angry opponents think of the transportation bill or Newman's vote in favor of it, they ought to consider the fact that he's actually a pretty good representative of his constituency.
Jason Sexton is editor in chief of Boom California, published by University of California Press, and teaches at Cal State Fullerton.
Follow the Opinion section on Twitter @latimesopinion or Facebook
Our six-week newsletter will help you make the right decision for you and your property.
You may occasionally receive promotional content from the Los Angeles Times.