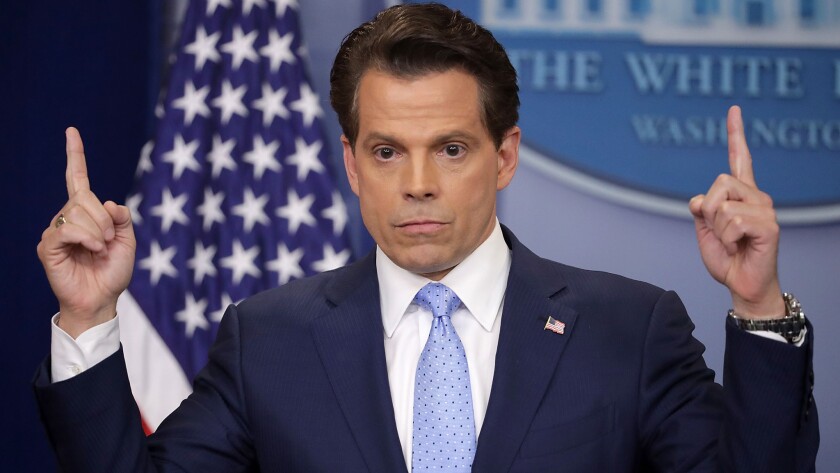 Good morning everyone. This is Opinion's digital editor, Matthew Fleischer, filling in for Paul Thornton.
As I write this from my desk on Friday afternoon, I'm painfully aware of the fact that all the news I'm about to share with you may be stale by the time you read this the following morning.
At the risk of understatement: Things have been moving a little fast.
It's hard to even remember last Tuesday, when President Trump woke up in a huff and brutalized his own attorney general, Jeff Sessions, on Twitter. Or when the president declared (also on Twitter) that transgender soldiers were no longer welcome in the military — seemingly without consulting the Pentagon.
And then there's Anthony Scaramucci, who earned widespread praise for his smooth and confident debut as the new White House communications director — only to lose his mind a day later when he accused Steve Bannon of a certain act of … autoeroticism in a phone call with journalist Ryan Lizza of the New Yorker.
But not even Mooch's foibles could top the return of Republican John McCain to the Senate floor, days after brain surgery. After voting to allow debate to proceed to repeal and replace Obamacare, McCain ultimately killed his party's "skinny bill" repeal effort with a dramatic thumbs down.
The Times editorial board lauded McCain's bravery — as well as that of GOP Sens. Lisa Murkoski and Susan Collins — in putting country over party in the face of overwhelming political pressure.
Early Friday morning, the U.S. Senate came within one thin vote of dropping a megaton legislative bomb on the health insurance markets serving roughly 1 in 10 Americans. Republican senators were so eager to keep their promise to repeal the 2010 Affordable Care Act, yet so unwilling to compromise on a coherent approach to unwinding the law, that 49 of them backed an eight-page, lowest-common-denominator proposal that seemingly every major healthcare trade association and patient-advocacy group had warned would be disastrous for all concerned. The measure even attracted the support of three senators who'd dubbed it a fraud and pledged to vote "yes" only if they were assured the House wouldn't pass the thing into law.

Three other GOP senators bravely joined all 46 Democrats and two independents in voting against the so-called "skinny repeal" proposal, which Senate Majority Leader Mitch McConnell (R-Ky.) unveiled late Thursday night after days of closed-door negotiations within the GOP caucus. But the willingness of Susan Collins of Maine, Lisa Murkowski of Alaska and John McCain of Arizona to part company with their colleagues isn't nearly as remarkable as the spectacle of 49 Republicans blithely voting in favor of a bill that would have quickly made health insurance unavailable or unaffordable to millions of their constituents — a measure that hadn't even been seen, let alone subjected to the ordinary legislative process of hearings and debate, until two hours before it was brought to a vote.

McConnell pulled out all the stops to keep the "repeal and replace" effort alive, even delaying the final vote for a tense hour while Vice President Pence buttonholed McCain on the Senate floor. But the dissenters (thankfully) held their ground.
John McCain's dramatic return to the Senate floor to vote against the GOP healthcare reform bill took up the limelight. But it was Sens. Lisa Murkowski and Susan Collins who performed the truly heroic feat of blocking the GOP's cynical "repeal and replace" attempt. L.A. Times
Who is responsible for the woeful state of our political affairs? Is it Trump? Is it Republican nihilism? Democratic obstructionism? Nope. It's men. Careerist, selfish, narcissistic, violent men. Especially men like Texas Rep. Blake Farenthold, who threatened to step outside with Murkowski and Collins and settle the healthcare debate "Aaron Burr-style." L.A. Times
Of all the news to come out of the Trump administration these past few months, Lizza's interview with Scaramucci in the New Yorker may be the most bonkers. And that is saying something. No spoilers here. Just read. You will not be disappointed. New Yorker
Lizza's blockbuster interview sucked the oxygen out of Trump's previous outrage: the president's Twitter edict that transgender soldiers would no longer be allowed to serve in the military. Even quieter, but potentially far more legally binding, was the Trump administration's subsequent rush to insist that Title VII of the 1964 Civil Rights Act doesn't protect gays and lesbians — in a case in which the federal government isn't even involved. L.A. Times
Why is Trump abusing Jeff Sessions? Russia, of course. L.A. Times
The news outside the realm of politics has been no less unsettling. Last week, the music world tragically lost one of its stars with the death by suicide of Linkin Park lead singer Chester Bennington. Coming on the heels of the high-profile suicide of Soundgarden singer Chris Cornell, Bennington's death naturally aroused great media interest. "Because suicide is difficult for many people to talk about, the media play a significant role in how those who do not know someone who has died by suicide perceive it," writes Opinion contributor Melissa Batchelor Warnke. "Unfortunately, much of the coverage of Bennington's death didn't take this responsibility seriously enough. It was callous and deeply flawed." L.A. Times
Follow the Opinion section on Twitter @latimesopinion and Facebook
---