Readers React: Mourning the loss of chef, explorer and storyteller Anthony Bourdain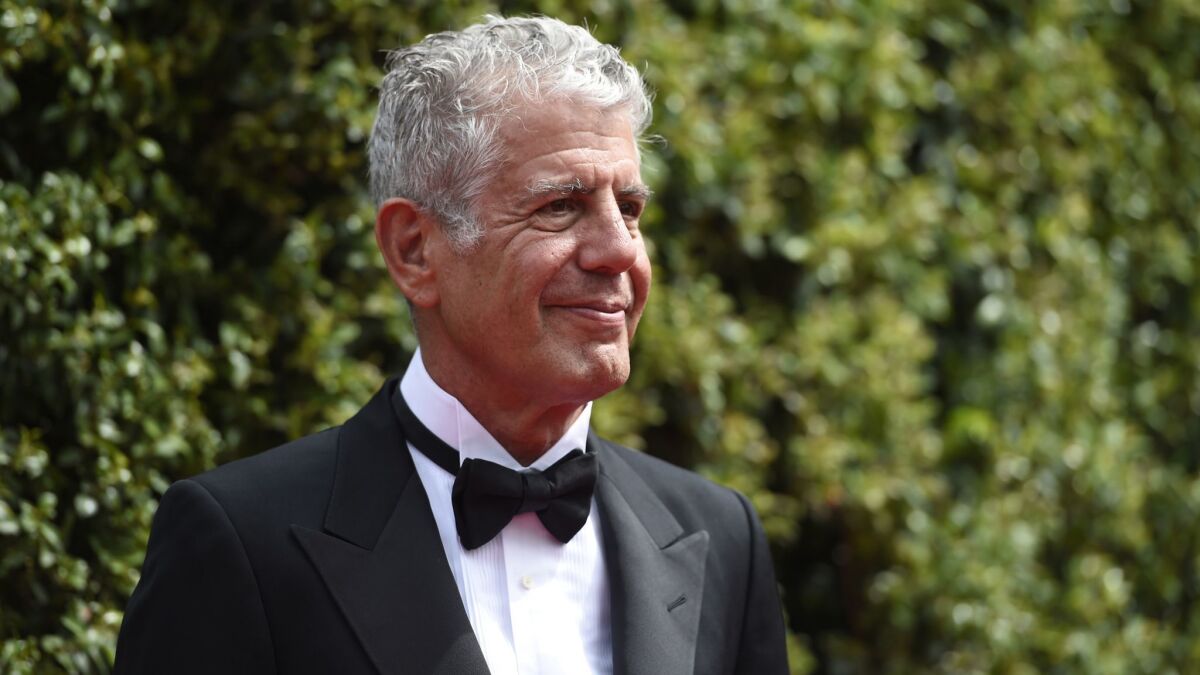 To the editor: At a time when common courtesy and understanding are regarded by some in high office as a sign of weakness, there was celebrity chef Anthony Bourdain.
He set about to understand people and to have a bite to eat with them along the way. And we were always his unseen, off-camera invited guests, made to feel welcome and comfortable.
He was part wise guy and part wise man and opened a new page in looking at people and places.
We'll not see his like again, and that made the time that he chose to spend with us all the more delicious.
Doug Stokes, Duarte
..
To the editor: Bourdain, the host of the highly popular and long-running CNN show "Parts Unknown," was adventurous, friendly, fun-loving, award-winning, a renowned storyteller, highly informative, insightful, the ultimate world traveler, a lover of all types of foods.
He always seemed to have a smile on his face. He brought diverse groups of people together and helped unify the world.
It is hard to believe that he would take his own life at age 61.
Kenneth Zimmerman, Huntington Beach
..
To the editor: On Tuesday morning, we woke to news that designer Kate Spade had committed suicide. By Friday morning, the news was covering Anthony Bourdain's suicide.
The deaths of these two individuals is devastating – not because they were prominent and successful (although they certainly were both) – but because they were two people suffering immense pain who felt that they had nowhere else to turn. Anyone reading about the suicides should have information on where to go for help, should they need it. Suicidal people read about suicide.
What I understand now is that suicide – much like mental illness – does not discriminate. My husband, who committed suicide by train several years ago, along with Kate Spade and Anthony Bourdain, seemed to have it all – a great career and healthy relationships. And yet all three tragically chose to end their lives. And unfortunately, they aren't anomalies. The Centers for Disease Control and Prevention reports that suicide rates have increased by 25% across the United States over the last two decades – and more than half of those who died by suicide had never been diagnosed with a mental health condition. With 45,000 lives lost to suicide in 2016 alone, this is now a critical mental health crisis.
Americans as a whole, and specifically our youth, are in drastic need of education and information. Andy Spade, Kate's estranged husband, said that there were no warning signs. The thing is, those warning signs are easily overlooked by those not educated on them – as I was not.
We need to eliminate the stigma associated with mental illness. My husband never wanted to "disappoint" people – including me – by talking about his struggles. Kate Spade feared injuring her brand by seeking help.
If you are experiencing thoughts of suicide, or know someone exhibiting warning signs, call the National Suicide Prevention Lifeline at (800) 273-8255.
Kristi Hugstad, Dana Point
..
To the editor: I was roughly two-thirds of the way through my first time reading of "Kitchen Confidential" when I heard the news this morning. I will, of course, finish it and enjoy it no less.
To a fan who never advanced past dishwasher in the restaurant business, Bourdain provided a new appreciation for all of its levels. And I shall always remember your description of the chef's trade as not an art, but rather as a true and precise craft.
Chris Blankenhorn, Valencia
Follow the Opinion section on Twitter @latimesopinion and Facebook
Our six-week newsletter will help you make the right decision for you and your property.
You may occasionally receive promotional content from the Los Angeles Times.