Readers React: How Congress can stop Trump from going to war with Iran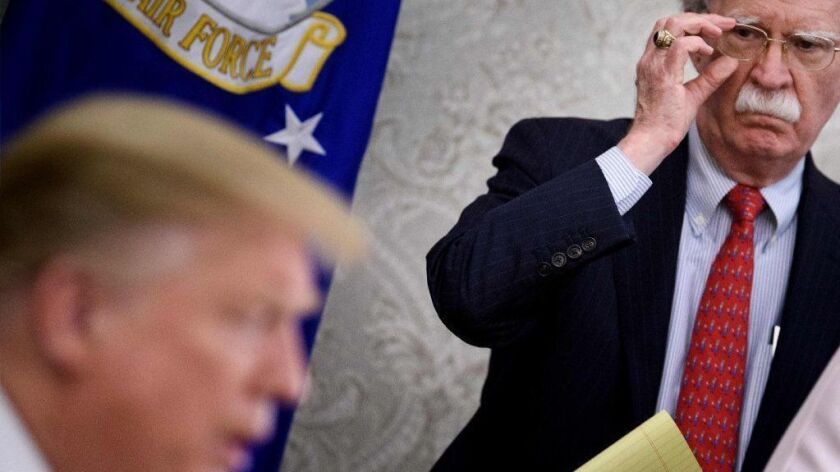 To the editor: Colin H. Kahl and Jon B. Wolfsthal's warning of national security advisor John Bolton's ambitions for war with Cuba, Venezuela and Iran is truly ominous, and their assessment of his power over President Trump is all too plausible.
War with Iran would be catastrophic. It's all the more important for Congress to reassert its sole constitutional power to declare war and bar Trump from attacking Iran without congressional authorization.
The Prevention of Unconstitutional War with Iran Act of 2019, recently introduced in the Senate by New Mexico Democrat Tom Udall and in the House by California Democrat Anna Eshoo, would do that. No single person should be able to commit the lives of our young men and women to war without full debate by our elected representatives.
Dee Abrahamse, Long Beach
..
To the editor: Bolton's desire to topple the Nicolas Maduro regime in Venezuela and restore democracy in that country, while laudable, is misguided.
If we are serious about expelling socialism from this hemisphere, we should restore democracy in Cuba. This would be easier since we already have a military base there.
Cuba has been the exporter of socialism to Latin America since 1960. Nearly 60 years later, the ruling dynasty started by the late Fidel Castro continues, and the U.S. has yet to eradicate it.
Once Cuba is no longer socialist, Maduro will not have the services of Cuba's intelligence apparatus. Military "advisors" will have to return to Cuba, and so will all the "experts" that Cuba has exported.
If we are going to intervene in the name of democracy, let's do it where it will be more effective. Let's get rid of the Castros' pernicious influence in Latin America once and for all.
Jorge Montero, Downey
Follow the Opinion section on Twitter @latimesopinion and Facebook
---
A cure for the common opinion
Get thought-provoking perspectives with our weekly newsletter.
You may occasionally receive promotional content from the Los Angeles Times.