Readers React: Jackie Lacey reinforces the dangerous belief that cops are above the law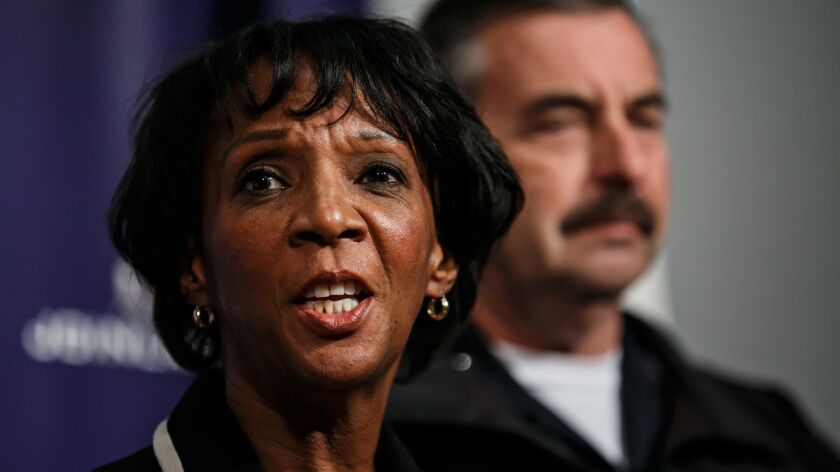 To the editor: Los Angeles County Dist. Atty. Jackie Lacey paints her failure to bring charges against ex-LAPD Officer Clifford Proctor in the death of Brendon Glenn in 2015 as simply performing her prosecutorial duty. But in reality, it's further evidence of her failure to protect citizens from officer wrongdoing. ("How L.A. County's district attorney should be responding to police shootings," editorial, March 9)
Lacey claims prosecutorial ethics prevent her from charging if a jury may not convict. Yet these ethics did not prevent her office from bringing drug possession charges against Ronald Shields, despite video evidence of an officer planting drugs he claimed to find. While Shields ultimately escaped conviction, Lacey has not charged the perjuring officers.
Nor can she portray her inaction as a refusal to bow to political pressure. Los Angeles Police Department Chief Charlie Beck, who has every motivation to defend his officers, reviewed the same evidence and uncharacteristically called for prosecution.
Lacey's inaction only reinforces the dangerous belief that officers are above the law.
Melanie Ochoa, Los Angeles
The writer is a staff attorney at the American Civil Liberties Union of Southern California.
..
To the editor: Lacey, after spending almost three years considering whether to file criminal charges, finds no culpability for the officer by "proving" the existence of a negative: She said that "no witnesses stated that Glenn was not attempting to grab the gun."
Lacey's decision flies in the face of the positions taken earlier by Beck and the Police Commission. She argues that the department's unprecedented recommendations are no more persuasive than an individual officer urging an assistant district attorney to file an indictment.
If D.A.'s are really able to convince a grand jury to indict a ham sandwich, Lacey should have pursued criminal charges so the matter could be decided by a jury of the former officer's peers.
Noel Johnson, Glendale
Follow the Opinion section on Twitter @latimesopinion and Facebook
---
A cure for the common opinion
Get thought-provoking perspectives with our weekly newsletter.
You may occasionally receive promotional content from the Los Angeles Times.