Readers React: Should readers have to look at a front-page photo of the accused Waffle House killer?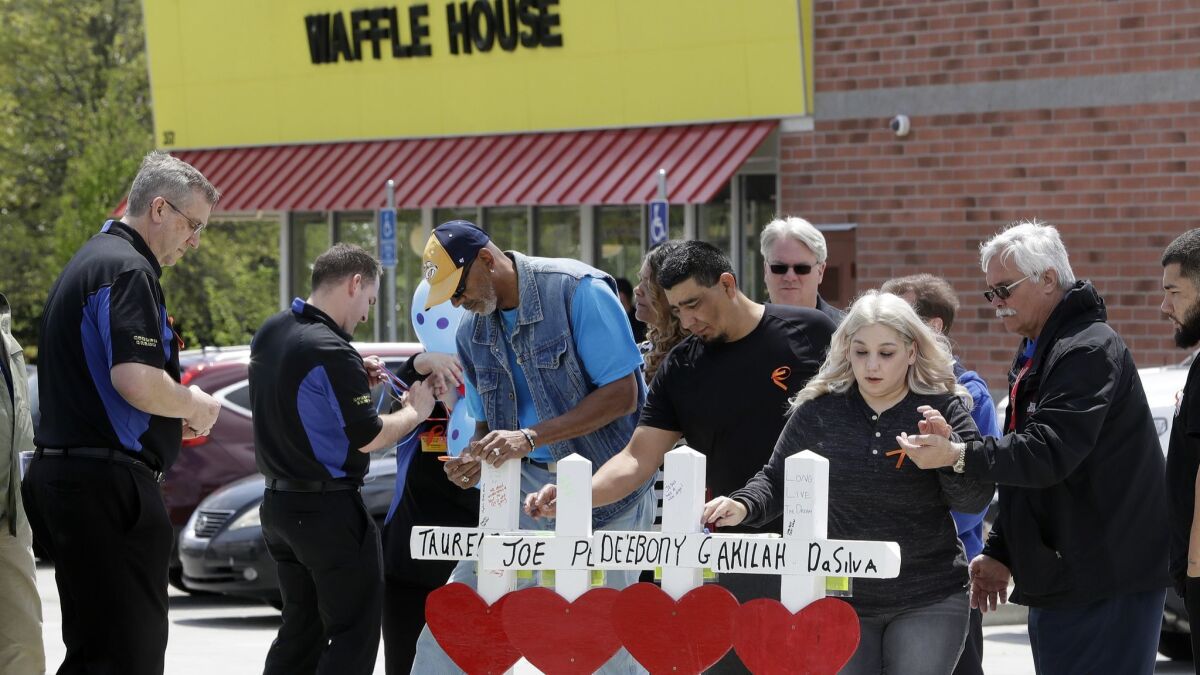 It's an objection raised by letter writers whenever the Los Angeles Times covers the sadly common occurrence of mass killings in this country: Putting the pictures of alleged gunmen, homicidal truck drivers, knife-wielders, etc. on the front page of a major newspaper gives them the fame they seek and encourages others contemplating similar atrocities to act.
But to some readers, having to look at the faces of the people accused of committing heinous acts serves an important purpose besides providing basic information about the crime: It forces us to confront assumptions about what we believe the most dangerous people look like. While several readers have said The Times should cease publishing any photos of people like Travis Reinking — the alleged Nashville Waffle House shooter — a handful of others have written letters strongly implying that publishing these images performs a service.
Beverly Hills resident Alan Burbank puts himself in the "objection" column:
I object to front-page photos of accused mass killers. It gives them instant notoriety and fame and may cause copycat murders by others desiring vast media coverage to satisfy some twisted inner need.
An example is the April 24 photo of the accused Nashville shooter on the front page of the Los Angeles Times. It would be sufficient news coverage to simply provide the facts that the authorities have identified and arrested a suspect and to provide the suspect's name and age and omit the photograph, thereby denying the accused killer instant fame.
It is time for all media to make a contribution to public safety by establishing new guidelines that limit photographic publicity given to those who are accused of having committed heinous crimes.
Moira Niblo Obermeyer of San Juan Capistrano seconds that objection and suggests alternative photos:
Really? You decided that a photo of the suspected Nashville shooter should be displayed on the front page of the print edition of the Los Angeles Times on Tuesday?
How about photos of his victims? Yeah, I know that might be difficult since you would probably have to obtain photos from the families, but I really think that your paper can make better choices than this.
The story itself was buried on Page A5, but the photo was still published on the front page.
Karen Obryan of Torrance praises her local newspaper, but not The Times:
I was disappointed to see the alleged Waffle House shooter's picture on the front page of your paper this week. I was pleased to see that the Daily Breeze did not feature him.
Please don't glorify these murderous acts by making them front-page news. In my opinion, it just fuels the fire.
Doris K. Reed of Los Angeles implies that publishing the photo serves a purpose:
Take a good look at the face of terrorism in this country, America: It is white, male and home grown.
Barbara Gary of Los Angeles makes a similar point:
I'm sure it has come to the attention of most of your readers that the majority of mass killers have been young, deranged, white men.
Follow the Opinion section on Twitter @latimesopinion and Facebook
Life is stressful. Our weekly mental wellness newsletter can help.
You may occasionally receive promotional content from the Los Angeles Times.