Opinion: Would a female God be OK with electing Roy Moore to the Senate?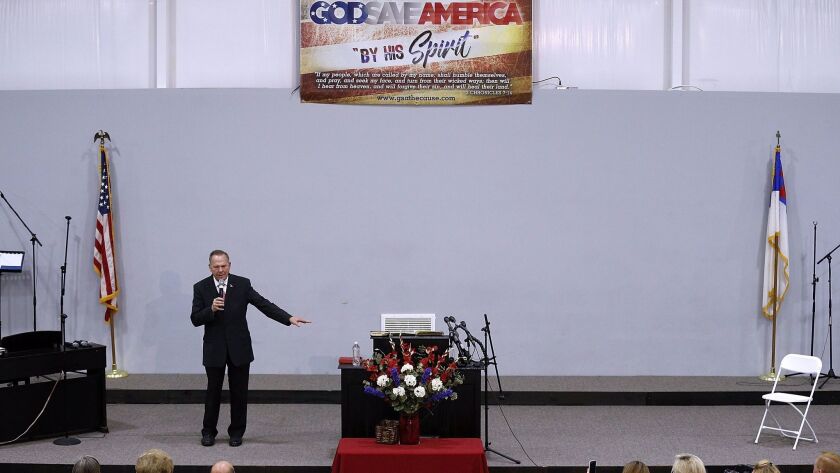 To the editor: Heaven help us. Now, despite mounting claims of Roy Moore's decades-old sexual acts with minor girls, many evangelicals seem fine with electing the Alabama Republican to the U.S. Senate. ("Roy Moore's alleged pursuit of a young girl is the symptom of a larger problem in evangelical circles," Opinion, Nov. 10)
Any faith that condones adult males dating and marrying girls in their early teens should reconsider its fundamental tenets. Better yet, contemplate a gender change for its deity.
The time seems ripe. As humans evolved, their religious preferences settled on anthropomorphic gods — mostly male ones, reflecting the preponderance of patriarchal cultures. Surely a female deity can do no worse than a male God who gives Moore a pass on groping minor girls.
Though an agnostic, I'm open to prayers that begin with, "Our Mother, who art in heaven."
Aaron Mills, Solana Beach
..
To the editor: Only in Alabama can Democratic nominee Doug Jones — who as a prosecutor put behind bars the KKK church bombers who killed four Africa American girls in 1963 — possibly lose the upcoming Senate election to a former state Supreme Court justice twice removed from the bench who has allegedly had sexual contact with a teenage girl.
It's mind boggling what you can get away with in Alabama if you can either run as a Republican or run with a football for the University of Alabama.
Larry Yarchever, San Marcos
..
To the editor: Moore should have repented and asked his alleged victims for forgiveness. Most people can understand as the decades go by, no one is the same mentally or in his maturity.
Moore is not qualified to be a senator. As an apparent liar, he cannot be trusted.
Edward Ip, Arcadia
Follow the Opinion section on Twitter @latimesopinion and Facebook
---
A cure for the common opinion
Get thought-provoking perspectives with our weekly newsletter.
You may occasionally receive promotional content from the Los Angeles Times.