Readers React: How to reduce street-racing deaths: Bring back public drag strips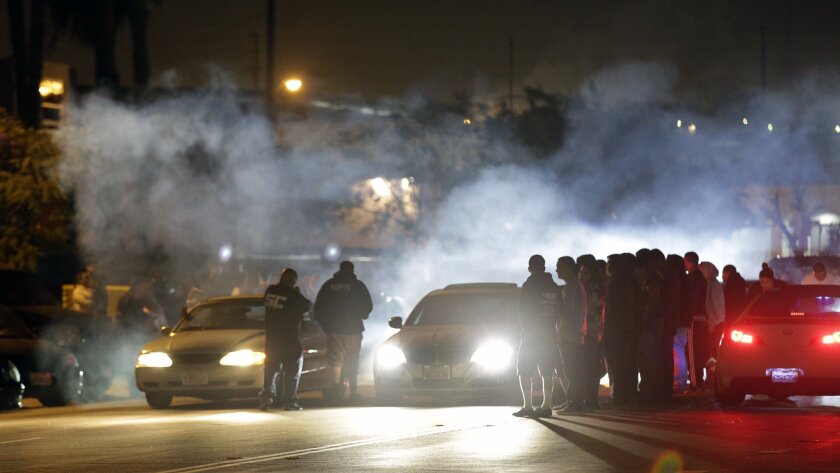 To the editor: I got my driver's license in the 1960s, had a mechanical nature, modified my car and did some drag racing. The cars weren't as powerful back then, but neither were they designed with safety in mind. ("Out of control," March 17)
But one thing the young hot-rodders had was a safe place to show off if they were of the mind. Local drag strips were commonplace with names such as San Fernando, Lions, Pomona and Irwindale. Not only did they furnish an outlet to prove ourselves and our machines, but they also helped us recognize what conditions contribute to a safe racing environment. Just as important, they fostered racer's etiquette and sportsmanship.
The unintended consequence of closing these facilities was to push racers back onto the streets with no understanding how to play the game or size up the conditions. With the strips gone we lost out on the lessons they taught and the outlet they provided.
Jim Dryden, Tujunga
..
To the editor: Street racing is definitely dangerous and illegal.
I remember a time when there were several drag racing tracks in Southern California. There was a night during the week, Wednesday as I remember, called Grudge Night, when you could race another contender to test your car and your skills.
These drag strips were closed down one by one because of the noise and nuisance to the neighbors. Sadly, there is no place for these street racers to go anymore.
But that isn't an excuse for this kind of behavior. I don't know what the solution is, but I'm sure it will continue as long as there are no alternatives. Blaming the "The Fast and the Furious" movies is ridiculous and isn't going to solve the problem.
Alan Woodard, Irvine
..
To the editor: The Saturday print edition of the Los Angeles Times contained one story on people killed by illegal street racing and two stories on race cars that are available to be driven on public roads.
Are there no mirrors at The Times' building?
Jon Hartmann, Los Angeles
Follow the Opinion section on Twitter @latimesopinion and Facebook
---
A cure for the common opinion
Get thought-provoking perspectives with our weekly newsletter.
You may occasionally receive promotional content from the Los Angeles Times.