Readers React: Trump's obsession with McCain ought to make Americans very nervous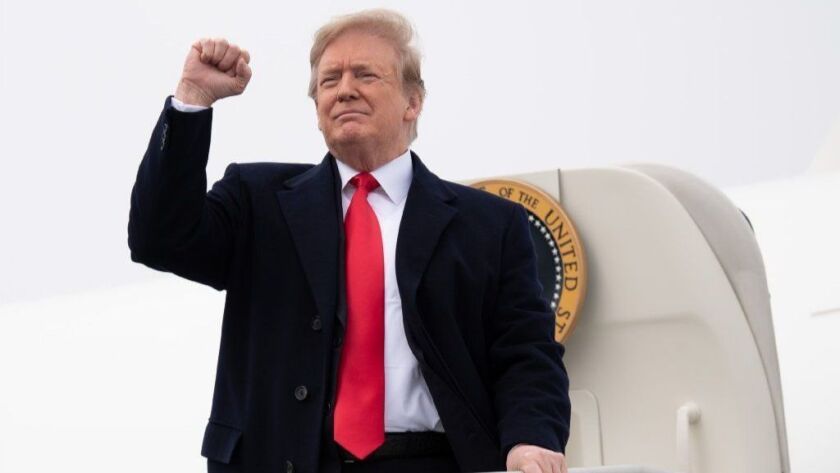 To the editor: Only a person who is insecure, cowardly, empty and devoid of any kind of human feelings or emotions would pick a fight with a man who died and can't answer back. In President Trump's warped mind, it's actually a win-win situation. ("Veterans to Trump: Enough already with the attacks on late Sen. John McCain," column, March 20)
Whatever beliefs you hold politically, you must acknowledge that the late Sen. John McCain was a genuine war hero who truly loved this country and served it well.
While this president watches TV and fritters and twitters his life away in his ivory tower, his grip on reality seems to be loosening each day.
Frances Terrell Lippman, Sherman Oaks
..
To the editor: By all accounts, the vast majority of Republicans thinks Trump is doing a good job.
Every one of these people must read the 50 tweets Trump sent out over the weekend. Try ignoring the fact that Trump wrote these tweets, and ask yourself if this is a person who is fully in charge of his faculties.
The obvious answer to that question is no. Trump is clearly not fit to hold any position of responsibility, let alone the presidency.
Phil Kirk, Encinitas
..
To the editor: Kudos to columnist Steve Lopez for writing about the disgust expressed by veterans over Trump's attacks on McCain because McCain voted against the repeal of the Patient Protection and Affordable Care Act in 2017. For this, Trump said he was "never a fan of John McCain and I never will be."
There's the old idiom that says never kick a person who's down. Here, Trump not only kicks a decorated veteran, but he also kicks someone who's dead.
However, the dead will speak up in the 2020 election. Perhaps the salient words of the English writer G.K. Chesterton capture my sentiments: "Tradition means giving votes to the most obscure of all classes, our ancestors. It is the democracy of the dead. Tradition refuses to submit to the small and arrogant oligarchy of those who merely happen to be walking about."
Democratic traditions encourage us to support the good people of our country.
Tom Kaminski, Manhattan Beach
..
To the editor: Why aren't more Republican members of Congress condemning Trump for his continued attacks on McCain?
It took Joseph Welsh admonishing Sen. Joseph McCarthy — "You've done enough. Have you no sense of decency, sir, at long last?" — to stop that demagogue. Trump's obsession with the late American war hero should prompt Republicans to ask him that question.
Barbara Stern, Palm Desert
Follow the Opinion section on Twitter @latimesopinion and Facebook
---
A cure for the common opinion
Get thought-provoking perspectives with our weekly newsletter.
You may occasionally receive promotional content from the Los Angeles Times.