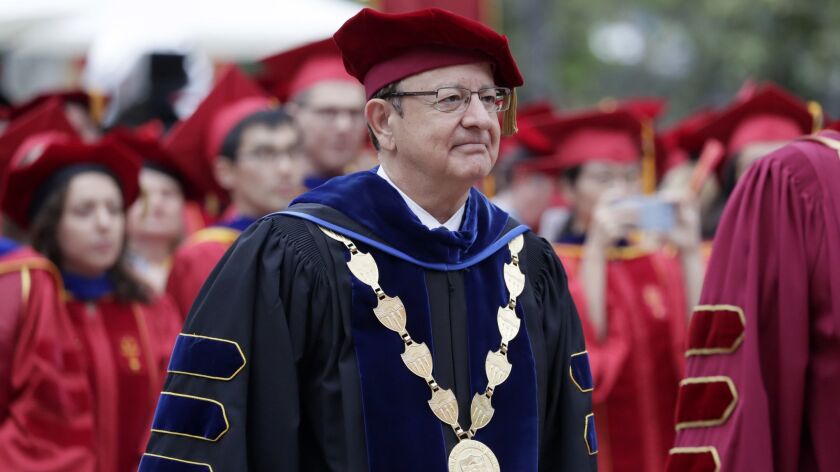 To the editor: I submitted a comment almost one year ago regarding the scandals raging at USC, my alma mater. I supported the ouster of now ex-president C.L. Max Nikias. ("Despite his ouster, Max Nikias is still a force at USC, leaving some worried," April 25)
In response to an email I sent him, Board of Trustees Chairman Rick Caruso informed me that it was a "customary designation" for former USC presidents to be life trustees. I contend that there was nothing customary about the manner in which Nikias mismanaged one disaster after another at the university.
The reputation of USC has been and continues to be tarnished, and yet Nikias has been afforded a golden parachute. I fear for the future of my alma mater.
Sylvana L. Guidotti, Oxnard
..
To the editor: No doubt while on campus, Nikias will "encounter women suing the university … faculty members who had demanded his removal and others who view his tenure as marked by several ethical lapses."
He will also encounter the many, many members of this organization who are amazed at what USC has achieved, and who are profoundly grateful to Nikias for the years he spent in leadership roles enabling our transition. So will his opponents and his relentlessly incompetent former subordinates.
James E. Moore II, Los Angeles
The writer is a professor in USC's Viterbi School of Engineering and Price School of Public Policy.
..
To the editor: The members of the USC Board of Trustees don't get it. They really have only one employee to supervise — the university president.
With Nikias, board members act is if they were employed by him and not the other way around. I hope Chairman Rick Caruso can fix this problem.
Richard M. Nordin, Los Angeles
Follow the Opinion section on Twitter @latimesopinion and Facebook
---