Democratic debate: 5 things to watch for on the first night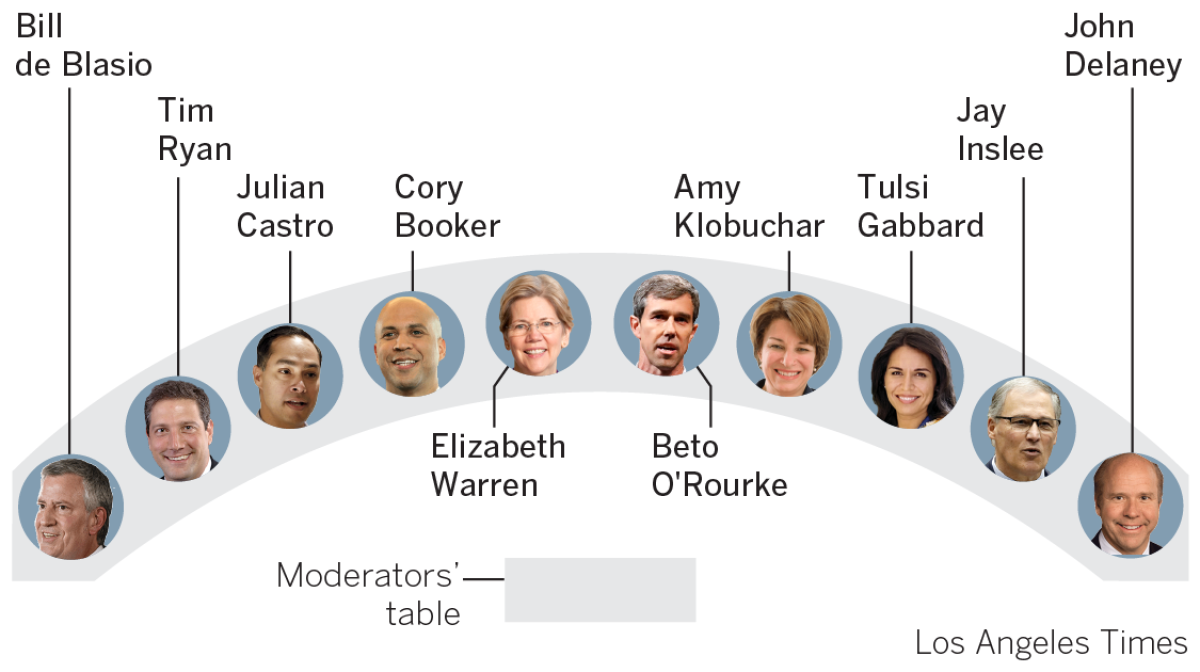 The Democrats vying to challenge President Trump will no doubt take turns denouncing him when they gather in Miami for their first debate on Wednesday and Thursday.
Will they be as combative toward one another?
Most of the 20 candidates onstage — 10 each night — will be grasping for ways to stand out. Attacks are high-risk, though, so civility might well prevail.
For the opening round on Wednesday, center stage will belong to Sen. Elizabeth Warren of Massachusetts and former Rep. Beto O'Rourke of Texas, flanked by Sens. Cory Booker of New Jersey and Amy Klobuchar of Minnesota.
Joining them will be former Housing Secretary Julián Castro; Reps. Tulsi Gabbard of Hawaii and Tim Ryan of Ohio; Washington Gov. Jay Inslee; New York City Mayor Bill de Blasio and former Rep. John Delaney of Maryland.
Some of the best-known contenders — former Vice President Joe Biden and Sens. Bernie Sanders of Vermont and Kamala Harris of California — will be absent; they're in the group that debates on Thursday.
To watch Wednesday's opener, tune in at 6 p.m. PT on NBC, MSNBC or Telemundo.
Live chat: Join our political team for analysis »
Who are the Democratic debate candidates? »
Here are five things to watch:
Can Warren leapfrog Sanders?
With one of the boldest progressive policy agendas of the field, Warren has steadily risen in the polls, eroding Sanders' standing as the favorite of the party's left wing. The debate gives Warren a chance to make further gains in what's likely to be the most widely watched event of the campaign so far.
At the same time, the absence of both Biden and Sanders the first night could make Warren a tempting target, particularly for Klobuchar, who markets herself as a moderate alternative with appeal in the crucial general-election battlegrounds of the upper Midwest.
Will a lower-tier candidate catch fire?
Castro, the sole Latino in the race, has worked mightily to compete with Warren on the policy front with far-reaching plans on immigration and housing — so far to no avail. The debate will give the former San Antonio mayor his biggest audience since his keynote address to the Democrats' 2012 national convention.
Trump's threat to deport millions of immigrants risks backlash in 2020 »
For O'Rourke, whose campaign has faded since his heavily hyped entrance into the contest, the center-stage spot next to Warren offers a prime opportunity for a reset.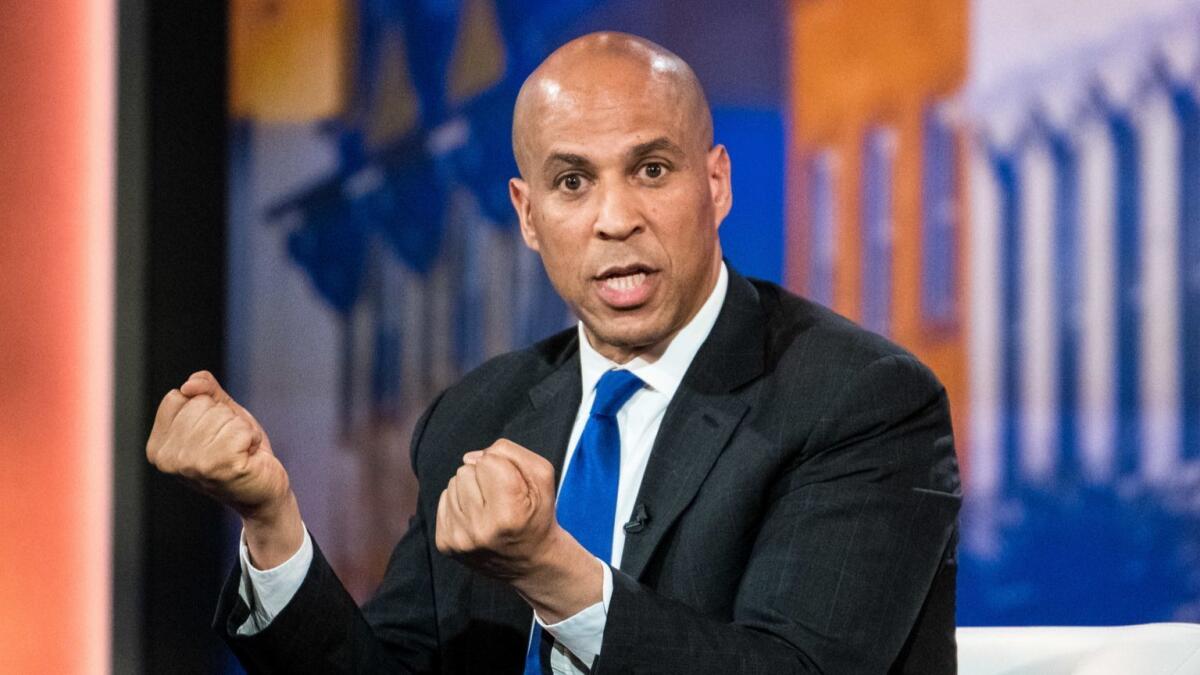 Booker, too, is hoping to burst into the top tier after months of languishing in the low single digits. One of two African Americans among the most serious contenders for the nomination, he raised his profile last week when he attacked Biden for praising the civility of segregationists in the Senate decades ago.
For those stuck at the bottom of the field, such as Gabbard, Ryan and Delaney, a vault upward could require some serious theatrics.
Have the times changed on global warming?
Climate change got scant attention in the 2016 presidential debates — to the disappointment of many voters and the outrage of environmentalists.
That could change in the 2020 debates, and not just because Trump has sought to reverse every major Obama administration policy aimed at slowing global warming.
It's a growing concern among Democrats, especially younger voters. Several candidates have released ambitious proposals to fight climate change. And it's the signature issue of Inslee, who is all but certain to bring it up even if he's not asked about it.
The debate's setting is also noteworthy: Miami is one of the most vulnerable cities in the world to rising sea levels.
Trump's climate science denial clashes with reality of rising seas in Florida »
How will moderators keep control?
Five moderators — Lester Holt, José Diaz-Balart, Savannah Guthrie, Chuck Todd and Rachel Maddow — will pose questions to the candidates.
Will they tag-team on one another's questions, allowing a deep exploration of issues? Or will they keep starting a fresh round of questioning that cuts off some of the candidates?
The stakes are high as Democratic presidential hopefuls prepare to debate »
Will the candidates attack Biden, even though he's not onstage?
It's always dangerous for one contender to attack another in a multi-candidate debate. The one attacking can wind up suffering blowback.
As the clear front-runner, Biden is the most obvious target, but he won't be onstage the first night. Will opponents go after him anyway? If they do, will the moderators try to stop them?
Times staff writers Mark Z. Barabak, Evan Halper and Matt Pearce contributed to this report.
Get our Essential Politics newsletter
The latest news, analysis and insights from our politics team.
You may occasionally receive promotional content from the Los Angeles Times.