Trump thrives on polarization, but this time it may hurt him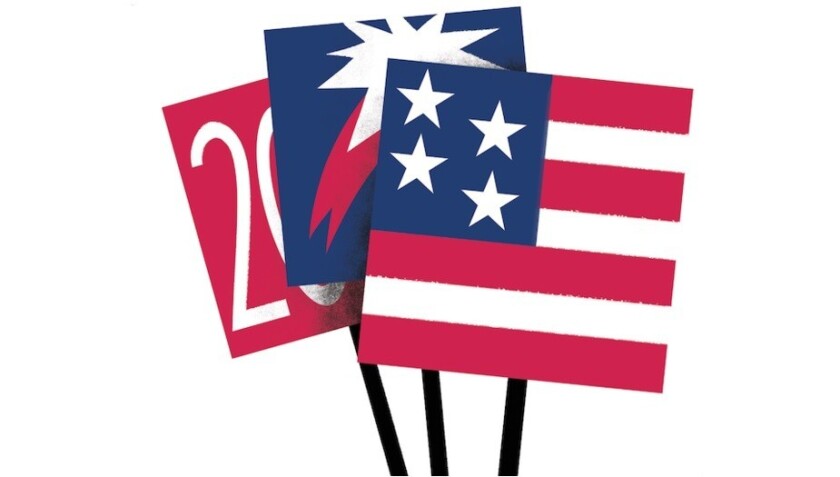 Reporting from Washington —
Like the hedgehog in the ancient epigram, President Trump in politics knows only one big thing, but he knows it very well — how to polarize.
Trump won the presidency in 2016, beating the odds, by polarizing voters at every opportunity, from his first official campaign statement about Mexican rapists to his final chants of "Lock her up."
This year, confronted with a midterm election that could hand at least a share of power to his opponents, Trump has stuck to the one thing he does. But he hasn't quite done it the way he did in 2016, and the evidence so far suggests he won't achieve the same result.
Sign up for the Essential Politics newsletter »
LOVE HIM OR HATE HIM, THERE ARE NO NEUTRALS
In the closing weeks of 2016, Trump kept the spotlight largely off himself, focusing the glare on Hillary Clinton. That helped his cause: We've seen repeatedly that Trump's popularity drops when his behavior becomes the primary focus of public attention.
This time around, Trump has not shown similar discipline. Instead, he has relentlessly stepped onto center stage.
This week alone he has announced plans to send thousands of additional troops to the U.S.-Mexico border, declared that he wants to issue an executive order to eliminate the Constitution's automatic grant of citizenship for children born in the U.S. and repeatedly blamed the news media for creating divisions in American society.
(If Trump actually goes through with his plan for an executive order on birthright citizenship, most legal scholars expect he'd quickly lose in court, David Savage wrote. And Jaweed Kaleem noted that Trump's claim that no other country has birthright citizenship is not even close to being true.)
Trump's emphasis on immigration and his insistence on pushing divisive messages personally is not what Republican strategists had planned. With the economy continuing to hum, they had wanted a campaign focused on low unemployment. It was Trump's choice to close the campaign with a message focused on immigration — an issue that strongly motivates his core supporters, but not others.
As Noah Bierman and Eli Stokols wrote, White House aides' first plan after the killing spree at a synagogue in Pittsburgh last weekend was to portray Trump as empathetic and a national unifier. The president seemed to have little interest in playing that role.
The result, Bierman and Stokols wrote, has caused some Republican strategists to ask: Is Trump's campaigning helping his party or hurting?
"In the last week, the president has behaved like a guy trying to build a permanent political majority in the Ozarks," Josh Penry, the strategist for Rep. Mike Coffman of Colorado, said. Coffman is battling to hold on to a seat in a suburban district outside Denver. Polls show him behind, and Trump's not helping.
That's only part of the answer, however.
As Jennifer Haberkorn reported from Missouri, Democratic incumbents in conservative areas, like that state's Sen. Claire McCaskill, need to court Trump supporters to keep their seats. By widening the gap between the two parties, Trump makes reaching across it much harder. That hurts candidates like McCaskill and Sen. Joe Donnelly in Indiana.
Meanwhile, as Victoria Kim wrote from Orange County, Trump's divisive personality is exactly the thing that has spurred a new generation of activists among suburban women.
Our USC-Dornsife/Los Angeles Times poll last week showed that voters who dislike both sides lean toward the Democrats this year, the reverse of the pattern set in 2016.
The more Trump makes the election a referendum on himself, and the more he pushes polarizing issues like immigration, the more he inflames Democratic activists and reminds swing voters of all they dislike about him. That increases the chance of Republicans losing in suburban House districts, even as it hurts Democrats running in red states.
Trump's closing strategy, then, increases the likelihood of a split verdict: Democrats win the House, but Republicans expand their slim majority in the Senate by a seat or two.
If that happens, look for him to take credit for the Senate wins. As for losses in the House, he's already set the stage for blaming Republican leaders, starting with House Speaker Paul D. Ryan (R-Wis.).
DECISION CALIFORNIA
In the Trump era, Republicans have repeatedly had to decide how to deal with openly racist supporters. The latest to face that problem: Rep. Steve Knight, who represents the closely contested 25th Congressional District in northern Los Angeles County.
Knight's campaign produced an online ad featuring a supporter who is a military veteran. Unfortunately for Knight, the veteran in question has an extensive history of posting racist rants and violent threats on Facebook, as Michael Finnegan and Maya Sweedler reported. After the article appeared, Knight's campaign removed the ad from their website.
With housing issues on the ballot, California has become a national battleground on rent control, Liam Dillon reported.
As Christine Mai-Duc reported, Asian Americans hold the key to victory in several Southern California districts. Those voters matter especially in the extremely close race between Gil Cinseros, the Democrat, and Young Kim, the Republican, in the 39th Congressional District, which covers parts of Orange and Los Angeles counties.
Asian American voters could also play a major role in the adjacent 45th and 48th districts.
And in the 10th District, in the Central Valley, water is "lifeblood," Jazmine Ulloa reported. Incumbent Republican Rep. Jeff Denham hopes his years of work on water policy will continue to give him an edge.
DEMOCRATS WINNING THE MONEY WAR
Nationwide, Republican campaign money is stretched thin as Democrats rake in huge amounts, Evan Halper reported.
The Democrats, combining the fervor of hundreds of thousands of small contributors with the largess of a few liberal billionaires, have expanded the number of districts in which they can compete.
As Haberkorn reported, the closing weeks of the campaign have seen unlikely Democratic House candidates gaining momentum, even in GOP strongholds. They won't all win, but some may, and they're forcing Republican campaign committees to burn up resources defending seats that party strategists thought were safe.
Republicans have their own coterie of super-wealthy big donors, but they've struggled to keep up.
All told, spending on the midterm election has approached a record $5 billion, Finnegan reported.
RACES AROUND THE COUNTRY
The fight for control of Congress gets most of the attention, but Democrats also expect to make some big gains in state legislatures, Halper reported. That could have a major impact on policy as well as on redistricting after the 2020 census.
In many state races, Democrats have seized on public concerns about schools, Chris Megerian wrote. They could win governorships in several red states, including Kansas and Oklahoma, where a backlash against deep cuts in education spending has hurt Republicans.
Republican candidates are saying they will protect Americans with preexisting health conditions, but they continue to fight against expanding Medicaid to help the poorest patients, Noam Levey wrote.
In the Georgia gubernatorial race, Stacey Abrams could make history, Jenny Jarvie wrote. But Georgia law requires a runoff if no candidate gets 50% of the vote, a prospect that seems increasingly possible in that race.
The midterm election features the most diverse group of candidates ever, and we're featuring some other potential historic firsts, in addition to Abrams.
PARSING THE EARLY VOTE: BEST NOT TO TRY
As Mark Barabak wrote, early voting numbers are blowing the doors off in some states in this midterm election, but it's very unclear what that means for the final count.
In 24 states, more people already have voted early than did so in 2014, even before what's usually a big weekend for early voting. In some states, the early numbers appear to favor Democrats; in others Republicans.
But there's a big problem with trying to interpret early voting numbers: There's never any way to know until after the fact whether encouraging people to vote early has added to a party's final vote total or just shifted when certain people cast their ballots.
TRADE, SANCTIONS AND CEASE-FIRES
Robert Lighthizer, Trump's trade czar, is the man with the president's ear these days, Don Lee writes. Lighthizer has long believed that the key to boosting U.S. industry is playing hardball with China.
The White House is reimposing oil sanctions on Iran, putting the U.S. on a path toward a confrontation with Europe, Tracy Wilkinson wrote.
Under pressure from Congress, the administration called for a cease-fire in Yemen, where Saudi Arabia has waged a horrifically destructive war.
The administration is denouncing Cuba, Venezuela and Nicaragua as a "troika of tyranny," Wilkinson wrote.
And Trump appears to be moving toward naming the State Department's spokeswoman, Heather Nauert, as U.S. envoy to the United Nations.
LOGISTICS
That wraps up this week. Until next time, keep track of all the developments in national politics and the Trump administration with our Essential Washington blog, at our Politics page and on Twitter @latimespolitics.
Send your comments, suggestions and news tips to politics@latimes.com.
If you like this newsletter, tell your friends to sign up.
---
Get our Essential Politics newsletter
The latest news, analysis and insights from our politics teams from Sacramento to D.C.
You may occasionally receive promotional content from the Los Angeles Times.