Government shutdown: A timeline of how we got here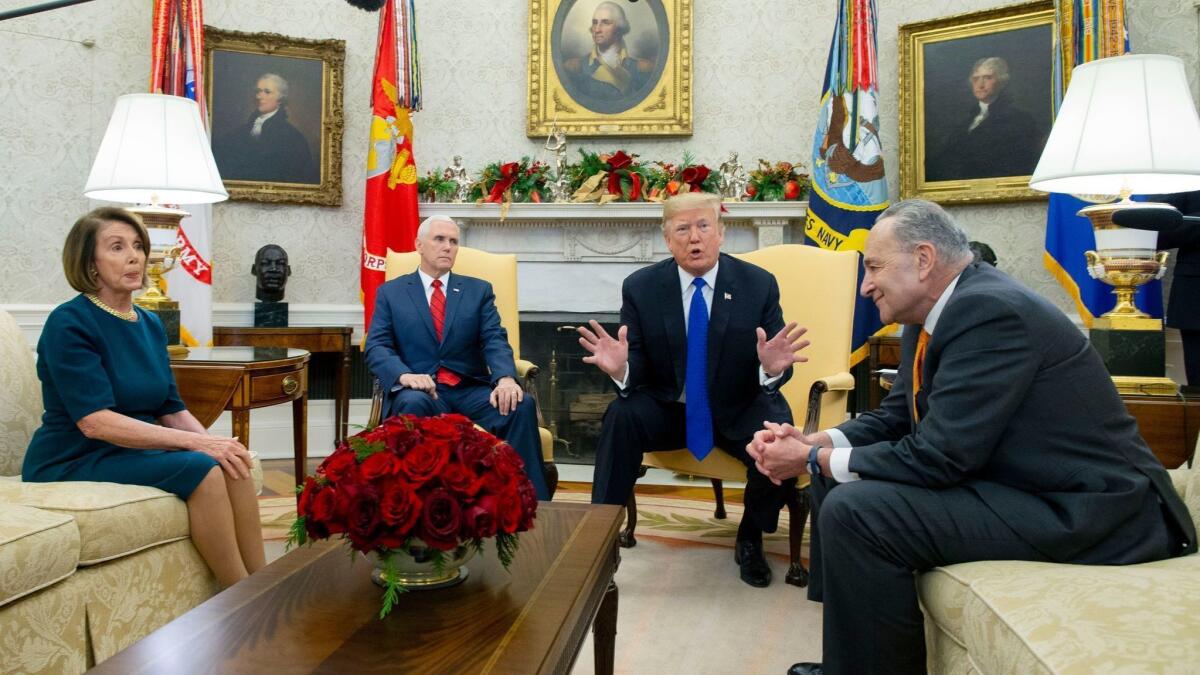 This record-breaking government shutdown started as a result of stalled talks between House Democrats and President Trump over funding for a border wall. Hard to believe it all began with a White House chat in mid-December, way back when LeBron James was still healthy.
Here's a look at how the shutdown began and how it became the longest in U.S. history, plus a sampling of the words exchanged along the way.
DEC. 11 | 'A manhood thing'
Trump says he would be "proud" to shut down the government over border wall funding.
Trump:
"We have to have a wall. … I will take the mantle of shutting it down. I will shut it down for border security."
Senate Minority Leader Charles E. Schumer (D-N.Y.):
"We have solutions that will pass the House and Senate right now ... and that's what we're urging you to do — not threaten to shut down the government because you can't get your way."
House Speaker Nancy Pelosi (D-San Francisco):
"It's like a manhood thing for him — as if manhood could ever be associated with him. ... The fact is, we did get him to say, to fully own that the shutdown was his. That was an accomplishment."
DEC. 16 | 'Tantrum'
The Trump administration signals that it will not compromise.
Schumer:
"All he's going to get with his temper tantrum is a shutdown."
Stephen Miller, White House policy advisor:
"At stake is the question of whether or not the U.S. remains a sovereign country."
DEC. 18 | Signs of retreat
Trump appears to back away from threats.
Sarah Huckabee Sanders, White House press secretary:
"We have other ways that we can get to that $5 billion. At the end of the day, we don't want to shut down the government, we want to shut down the border."
Pelosi:
"We cannot accept the offer they made of a billion-dollar slush fund for the president to implement his very wrong immigration policies."
Senate Majority Leader Mitch McConnell:
"I think a government shutdown is not a good option. I'm discussing with the White House where we go next."
DEC. 19 | Missed opportunity
Just before the holidays, Congress works to avert a shutdown by sending Trump a budget bill funding federal operations for about seven weeks, postponing the fight over the billions he demands for a wall. Trump does not sign the bill.
Trump:
"We won on the Military, which is being completely rebuilt. One way or the other, we will win on the Wall!"
Rep. Mark Meadows (R-N.C.):
"The time to fight is now. Zero excuse."
DEC. 20 | 'Steel slats'
During the signing of a farm bill at the White House, Trump says he's not necessarily demanding a border wall — he'd be happy with "steel slats."
Trump:
"At this moment, there is a debate over funding border security and the wall, also called — so that I give them a little bit of an out — 'steel slats.' We don't use the word 'wall' necessarily, but it has to be something special to do the job — steel slats."
DEC. 21 | 'A very long time'
Trump warns that the looming shutdown 'will last for a very long time' if Democrats resist funding a wall.
Trump:
"The Democrats ... will probably vote against Border Security and the Wall even though they know it is DESPERATELY NEEDED. If the Dems vote no, there will be a shutdown that will last for a very long time. People don't want Open Borders and Crime!"
Schumer:
"The bottom line is simple: the Trump temper tantrum will shut down the government, but it will not get him his wall."
Trump:
"The Democrats are trying to belittle the concept of a Wall, calling it old fashioned. The fact is there is nothing else that will work, and that has been true for thousands of years. It's like the wheel, there is nothing better."
DEC. 21 | Hello, shutdown
As Congress and Trump remain deadlocked, roughly one-quarter of the federal government officially shuts down at midnight.
Trump:
"Mitch, use the Nuclear Option and get it done! Our Country is counting on you!"
DEC. 22 | 'Let work begin!'
Trump:
"The crisis of illegal activity at our Southern Border is real and will not stop until we build a great Steel Barrier or Wall. Let work begin!"
DEC. 24 | Down on Christmas Eve
The shutdown forces Trump to abandon plans to spend the holidays at his Mar-a-Lago resort. His "poor me" Christmas Eve tweet draws mockery as 800,000 federal workers go without pay.
Trump:
Pelosi:
"It's Christmas Eve and @realDonaldTrump is plunging the country into chaos."
DEC. 26 | 'Whatever it takes'
After five days, there's no end in sight.
Trump:
"Whatever it takes. We need a wall. We need safety for our country."
DEC. 27 | Officer down
The suspect in the killing of an officer in Stanislaus County was in the United States illegally, officials say. Trump cites the case in his push for a wall.
Trump:
"There is right now a full scale manhunt going on in California for an illegal immigrant accused of shooting and killing a police officer during a traffic stop. Time to get tough on Border Security. Build the Wall!"
DEC. 28 | 'Immoral, ineffective and expensive'
The president threatens to close the U.S.-Mexico border and seeks to shift blame to Democrats.
Trump:
"We will be forced to close the Southern Border entirely if the Obstructionist Democrats do not give us the money to finish the Wall & also change the ridiculous immigration laws that our Country is saddled with."
Drew Hammill, spokesman for Pelosi:
"Democrats have offered Republicans three options to reopen government that all include funding for strong, sensible and effective border security — but not the president's immoral, ineffective and expensive wall."
DEC. 29 | 'Come on over'
Trump and Democrats trade blame for the shutdown but do little talking with each other.
Trump:
"In the White House waiting for the Democrats to come on over and make a deal on Border Security."
DEC. 30 | 'Never'
Senior Republican allies of the White House, appearing on news-talk shows, acknowledge that the president's full demands on border security will almost certainly go unmet. They also say that no quick resolution is in sight. And Democrats continue to describe Trump's demands as a nonstarter.
Sen. Lindsey Graham (R-S.C.), on CNN's "State of the Union":
"There will never be a deal without wall funding."
Rep. Hakeem Jeffries (D-N.Y.), on ABC's "This Week":
Jeffries calls the president's desired barrier a "5th-century solution to a 21st-century problem."
DEC. 30 | 'Steel slats' again
John F. Kelly, former White House chief of staff, in an exclusive L.A. Times interview:
"The president still says 'wall' — oftentimes frankly he'll say 'barrier' or 'fencing,' now he's tended toward steel slats. But we left a solid concrete wall early on in the administration, when we asked people what they needed and where they needed it."
JAN. 4 | National emergency?
Speaking to reporters in the Rose Garden after a meeting with top Democrats, Trump suggests that he could declare a national emergency to build a wall unilaterally without congressional approval. The shutdown is now two weeks old.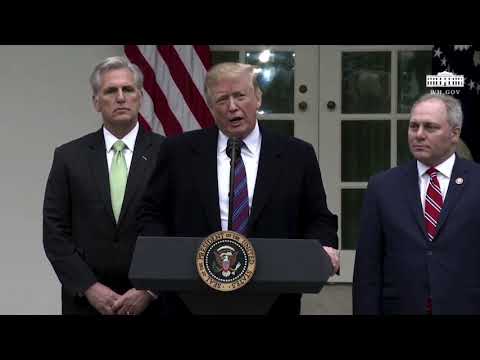 "Absolutely, I said that," said President Trump at a press conference when asked to confirm whether he said the ongoing government shutdown could last "months, or even a year, or longer."
Trump:
"We could call a national emergency and build it very quickly. That's another way to do it. But if we can do it through a negotiated process, that's better."
JAN. 6 | 'Steel fence'
Mick Mulvaney, acting White House chief of staff, suggests on NBC's "Meet the Press" that Trump has softened his stance and is willing to accept less border wall funding than he's been demanding.
Mulvaney:
"If he has to give up a concrete wall, replace it with a steel fence in order to do that so that Democrats can say, 'See? He's not building a wall anymore,' that should help us move in the right direction."
JAN. 7 | 'Wasteful and ineffective'
Trump announces that he'll address the nation the following evening, prompting Schumer and Pelosi to issue a joint statement in which they request equal time to respond.
Schumer and Pelosi:
"On Day One of the new Congress, the House passed bipartisan legislation that honors our responsibility to protect the American people with funding for smart, effective border security solutions — just not the president's wasteful and ineffective wall."
JAN. 8 | 'Imagine if it was your child'
Trump takes his case for a border wall directly to the American people with a prime-time televised address. That's followed minutes later by a televised rebuttal from Schumer and Pelosi.
Trump:
"There is a growing humanitarian and security crisis. All Americans are hurt by uncontrolled illegal migration.
"To those who refuse to compromise in the name of border security, I would ask: Imagine if it was your child, your husband, or your wife whose life was so cruelly shattered and totally broken?"
Schumer:
"The president just used the backdrop of the Oval Office to manufacture a crisis, stoke fear and divert attention from the turmoil of his administration."
JAN. 9 | 'Bye-bye'
Trump storms out of a White House negotiating session when Democratic leaders refuse to agree to his demand for taxpayer funds to build the wall. Democrats accuse him of throwing a temper tantrum.
Trump:
"Just left a meeting with Chuck and Nancy, a total waste of time. … Nancy said, NO. I said bye-bye, nothing else works!"
Schumer:
"He didn't get his way and he just walked out of the meeting."
Trump:
"This is not a fight I wanted. I didn't want this fight."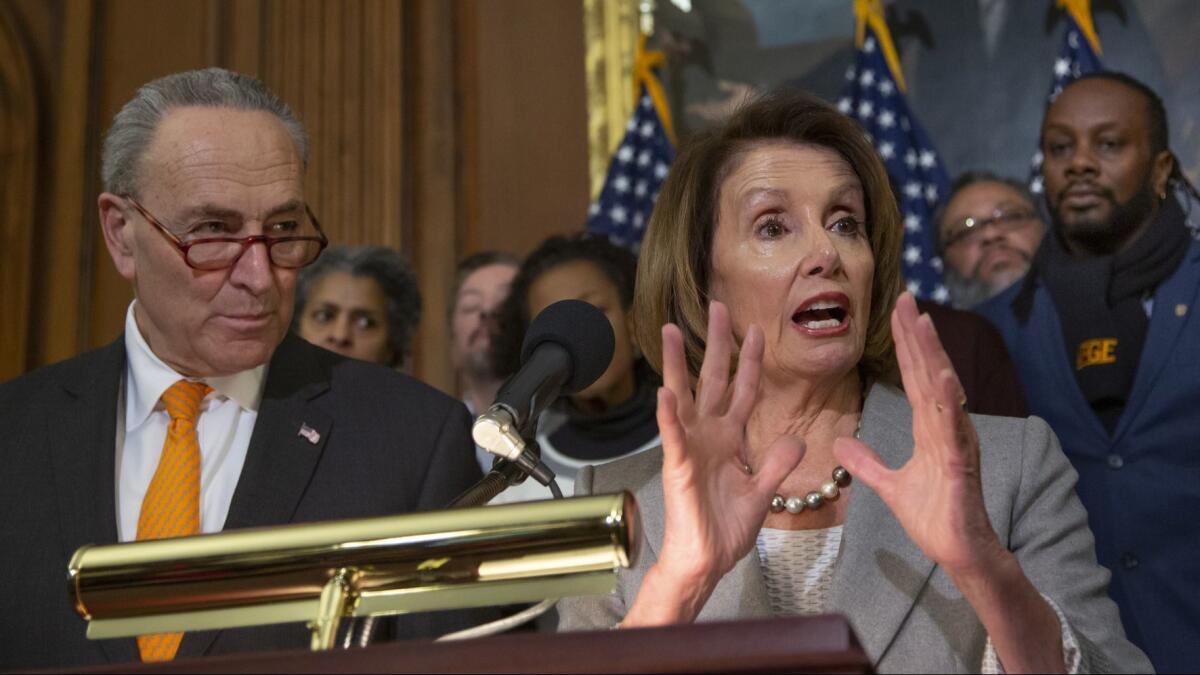 JAN. 11 | No national emergency
Trump tempers his talk of declaring a national emergency to fund the wall. But he insists he has the power to make the declaration if he decides to do so.
Trump:
"We want Congress to do its job. What we're not looking to do right now is national emergency."
JAN. 12 | Making history
The shutdown, now 22 days old, becomes the longest in history. Some 800,000 federal workers miss their paychecks. Of those, about 41,000 are based in California. The state is home to more federal workers — about 144,000 — than any other.
JAN. 16 | The speaker's jab
Pelosi asks Trump to postpone his State of the Union address, citing security concerns amid the shutdown.
Pelosi:
"Sadly, given the security concerns and unless government reopens this week, I suggest that we work together to determine another suitable date after government has reopened for this address or for you to consider delivering your State of the Union address in writing to the Congress on Jan. 29."
JAN. 17 | The president strikes back
In apparent payback, Trump postpones a visit to Afghanistan planned by Pelosi and other House Democrats, disclosing news of the trip in the process. Such details are typically kept secret for security reasons until lawmakers return.
Trump:
"Due to the shutdown, I am sorry to inform you that your trip to Brussels, Egypt, and Afghanistan has been postponed."
Hammill:
"[The speaker's trip aimed to] obtain critical national security and intelligence briefings from those on the front lines."
JAN. 19 | Movement?
Trump suggests a compromise for fully reopening the government that would temporarily protect certain refugees and immigrants who came to the U.S. illegally years ago as children if Democrats back a scaled-down version of his proposed border wall. Democratic leaders appear unmoved.
Trump:
"I am here to break the logjam."
Pelosi:
"It is unlikely that any one of these provisions alone would pass the House, and taken together, they are a nonstarter."
Get our Essential Politics newsletter
The latest news, analysis and insights from our politics team.
You may occasionally receive promotional content from the Los Angeles Times.