Trump throws off another restraint, firing McMaster as he starts a possible trade war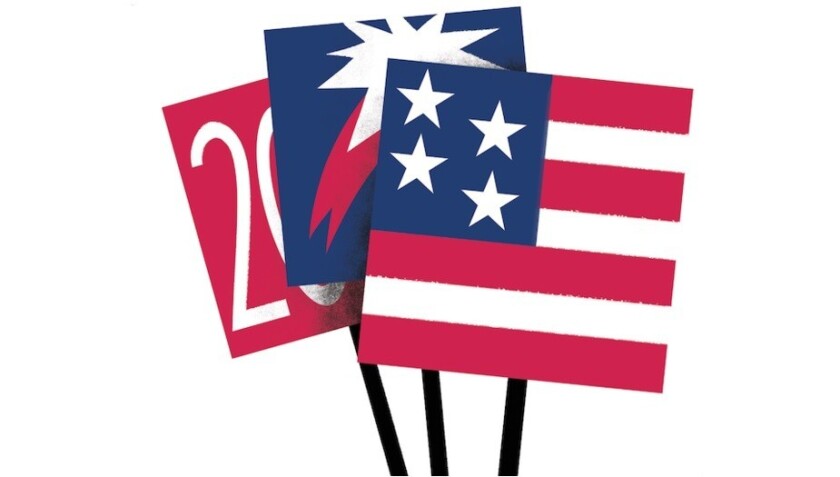 Reporting from Washington —
First Gary Cohn and Rex Tillerson, now H.R. McMaster — President Trump has served clear notice that he has limited tolerance for aides who say "no."
Trump's decision to sack the three-star general who served as his national security advisor came as he opened what could be a prolonged trade war with China. There, too, Trump followed his own instincts, brushing aside aides who urged caution.
Then, once again undermining his aides and blindsiding his congressional allies, Trump on Friday morning said he was "considering" a veto of the $1.3-trillion spending bill that the Senate had just finished work on. His budget director and head of legislative affairs had both publicly said he would sign it. In the end, the threat proved empty.
Sign up for the Essential Politics newsletter »
GOODBYE ESTABLISHMENT
In Trump's transition and first year as president, he largely acquiesced in hiring a foreign policy team that met the approval of the Republican establishment.
Tillerson at the State Department came with the blessing of previous Cabinet officials including Condoleezza Rice, the former secretary of State, and Robert Gates, the former secretary of defense. McMaster had the ardent backing of Sen. John McCain (R-Ariz.), the chair of the Senate Armed Services Committee.
The foreign policy that resulted during the first year more or less stuck to establishment priorities: Trump might be personally enamored of Vladimir Putin, but his administration pledged to deliver lethal weapons to Ukraine to fight Russian subversion. U.S. troops killed hundreds of Russian mercenaries in Syria. Trump sent more troops to Afghanistan, and, to his deep frustration, his advisors persuaded him to stick to the nuclear agreement with Iran. And despite his campaign-season musings about pulling out of U.S. alliances, Trump made the requisite pledges about NATO and the U.S. defense commitments to Japan and South Korea.
With the appointment of Mike Pompeo to replace Tillerson at State and now John Bolton to replace McMaster, much of that will change, some of it dramatically.
As Tracy Wilkinson and Noah Bierman wrote, Bolton has a long history as the hardest of hardliners, one with little use for international agreements or other efforts to constrain U.S. power and a commentator who repeatedly has advocated military action in places like North Korea and Iran.
Bolton advocated "America First" long before Trump picked up that slogan, something that's clear from this profile that we ran in 2005, when President George W. Bush nominated Bolton as his United Nations ambassador.
Overall, his views — as well as his often-abrasive manner — deeply estranged him from much of the GOP establishment.
The chance that Trump would uphold the nuclear deal with Iran was already slim. Now, it's virtually nonexistent, administration officials say.
Both on that issue and on others, Bolton and Pompeo likely will augment, more than restrain, Trump's instinct toward confrontation.
A TRADE WAR AHEAD?
Trump has similarly surrounded himself with an aggressive, confrontation-oriented set of advisors on trade. With Cohn's departure, Trump's trade advisor, Peter Navarro, and his U.S. trade representative, Robert Lighthizer, led the process that ended with Thursday's announcement of some $50 billion in tariffs on imports from China.
Unlike many other Trump moves, the decision to adopt a tougher policy on China got early, bipartisan support: In both parties and in much of the business community, leaders have grown disenchanted with China's efforts to strong-arm companies into giving up technological secrets. Senate Democratic leader Chuck Schumer, who often spars with Trump, was among those who announced quick support.
But that backing could dwindle if the tariffs lead to a prolonged trade war with China. Beijing almost immediately announced the first round of retaliatory tariffs aimed at U.S. agriculture, and the response likely will escalate. And even backers of the administration's overall plan questioned whether Trump had weakened his position by alienating potential allies in other countries.
China likely will target some big farm exports, such as soybeans. That could hurt Trump in farm states that form a major part of his political base.
White House officials, briefing reporters ahead of Trump's announcement, insisted that China had far more to lose in a trade war than the U.S. does — a stance that reflects Navarro's view that China seeks to dominate the industries of the future and must be blocked from doing so.
Lighthizer, however, took a somewhat more nuanced position in testimony to Congress the day before Trump acted.
"Nobody wins from a trade war," he said. "On the other hand … if you're on a course that's unsustainable, you have to change."
Speaking of unsustainable: Two weeks ago, Trump made a splashy announcement of new tariffs on imported steel and aluminum. At a White House ceremony, he surrounded himself with burly steel workers, and he touted the move when he went to Pennsylvania to campaign for the Republican candidate in an election last week to fill a congressional vacancy.
Those tariffs led to considerable consternation among Republicans on Capitol Hill, who worried about the impact on automakers, airplane manufacturers, construction companies and others who would face higher prices for their raw materials. The move also angered U.S. allies, which export most of the steel that the U.S. buys. (And, of course, the Republican candidate in Pennsylvania whom Trump supported lost anyway).
Thursday, even as Trump announced the tariffs on China, the administration substantially watered down the tariffs on imported metals, announcing that not only Canada and Mexico, but Argentina, Brazil, Australia, South Korea and the entire European Union would be exempt.
All told, well over half the metal imports to the U.S. will be untouched by Trump's tariffs, and the administration also plans to exempt several industries, which import types of steel that aren't produced domestically. As is often the case with Trump, the end product bears little relationship to the initial, bold rhetoric.
A VETO THREAT RATTLES CONGRESS
Last month, Trump went along with a congressional budget agreement that boosted military and domestic spending, promising much higher deficits as a result.
In the wee hours of Friday morning, the Senate gave final approval to the $1.3-trillion spending bill that fleshed out that budget agreement. Trump had grumbled about the plan earlier in the week, and on Wednesday, when a snow storm shut down most of Washington, House Speaker Paul Ryan had gone to cajole Trump into supporting the bill.
Ryan thought he had prevailed. Even though the bill rejected the vast majority of Trump's budget proposals — including virtually all the cuts in domestic programs — and provided very little money for his proposed border wall, it did fund his top priority, the huge increase in spending for the military. Based on the assurances Ryan received, the House passed the bill Thursday morning; the Senate followed suit in the wee hours of Friday.
Then Trump sent out his tweet. Perhaps he was responding to Pete Hegseth, the Fox commentator, who denounced the bill on "Fox & Friends," Trump's favorite morning show. (Hegseth, by the way, is a leading candidate to replace Veterans Affairs Secretary David Shulkin if Trump decides to sack him.)
Whatever the cause, the tweet generated much consternation on Capitol Hill, where members already have left Washington for a two-week recess. Trump's language, saying he was "considering" a veto, was the tell that he was just venting. A veto would have led to a government shutdown that could have lasted for days, even weeks, and was unlikely to lead to a bill he would prefer.
Trump's threat will only deepen the suspicions that many lawmakers have about whether they can rely on White House assurances over legislation. It also drew attention to how few of his priorities — outside of Defense Secretary James Mattis' wish list —got funded. But for a president who likes drama and wants always to be at the center of the spotlight, maybe none of that matters.
A SEX SCANDAL THAT WON'T GO AWAY
Washington can't get enough of the Russia investigation. The capital hangs on every detail of the investigation being led by the special counsel, Robert S. Mueller III. This week's installment was the drama over the firing of former FBI deputy director Andrew McCabe, the renewed jabs by Trump and at least one of his lawyers at Mueller and the changes in the president's legal team.
In the rest of the country, by contrast, Russia draws yawns, while Karen McDougal, Stormy Daniels and Summer Zervos produce ratings gold.
McDougal and Daniels each have legal agreements that nominally bar them from talking about alleged sexual affairs with Trump. But both women have found ways to tell their stories.
Thursday, McDougal was on CNN, dishing to Anderson Cooper about the details of what she described as a 10-month affair with Trump. Daniels has taped an interview with "60 Minutes" that CBS plans to run Sunday. [Go to latimes.com/politics for our coverage].
And Zervos won a battle in court this week when a judge rejected Trump's efforts to dismiss a defamation suit she filed. She claims Trump defamed her by saying she was lying about allegations that he tried to force himself on her.
Zervos' case could be the most troublesome of the three for Trump because it could force him to give testimony under oath. Lying under oath about sex was, of course, what led to President Clinton's impeachment.
As Michael Finnegan and Mark Barabak wrote, the sex scandals promise months, if not years, of headlines reminding voters of Trump's conduct toward women. Those allegations weren't enough to prevent his election, but in the year since then, anger on the part of women has been a major factor in Democratic gains.
Democrats have a decent shot at winning control of Congress this fall; the constant reminders to voters about aspects of Trump that they dislike play an important role in that.
LOSING WOMEN, COLLEGE GRADUATES
More on that voter reaction:
The nonpartisan Pew Research Center has produced a major study of who the voters are who back each of the two major parties.
The study provided some attention-grabbing data: Fully 70% of women in the millennial generation now back the Democrats. College graduates have moved sharply away from the Republicans. At the same time, the GOP has never been stronger among white voters who did not graduate from college.
And, overall, the voters behind the two parties are less alike than at any time in the past generation.
RUNNING AGAINST PELOSI
It's no secret that Republicans love to run against House Democratic leader Nancy Pelosi of San Francisco.
The new twist, as Sarah Wire writes, is that increasingly, Democrats are doing so, as well, and Pelosi seems willing to give them a pass if that's the best way to victory. The risk for Pelosi, of course, is that enough Democrats could get elected on pledges not to support her that she would fall short of the votes she would need to regain the speakership even if the Democrats win the majority. Right now, however, that's a risk she seems willing to run in the interest of gaining back a Democratic-led House.
LOGISTICS
That wraps up this week. My colleague Christina Bellantoni will be back Monday with the weekday edition of Essential Politics. Until then, keep track of all the developments in national politics and the Trump administration with our Essential Washington blog, at our Politics page and on Twitter @latimespolitics.
Send your comments, suggestions and news tips to politics@latimes.com.
If you like this newsletter, tell your friends to sign up.
---
Get our Essential Politics newsletter
The latest news, analysis and insights from our politics teams from Sacramento to D.C.
You may occasionally receive promotional content from the Los Angeles Times.