EPA threatens to cut California's highway funding over Clean Air Act 'failure'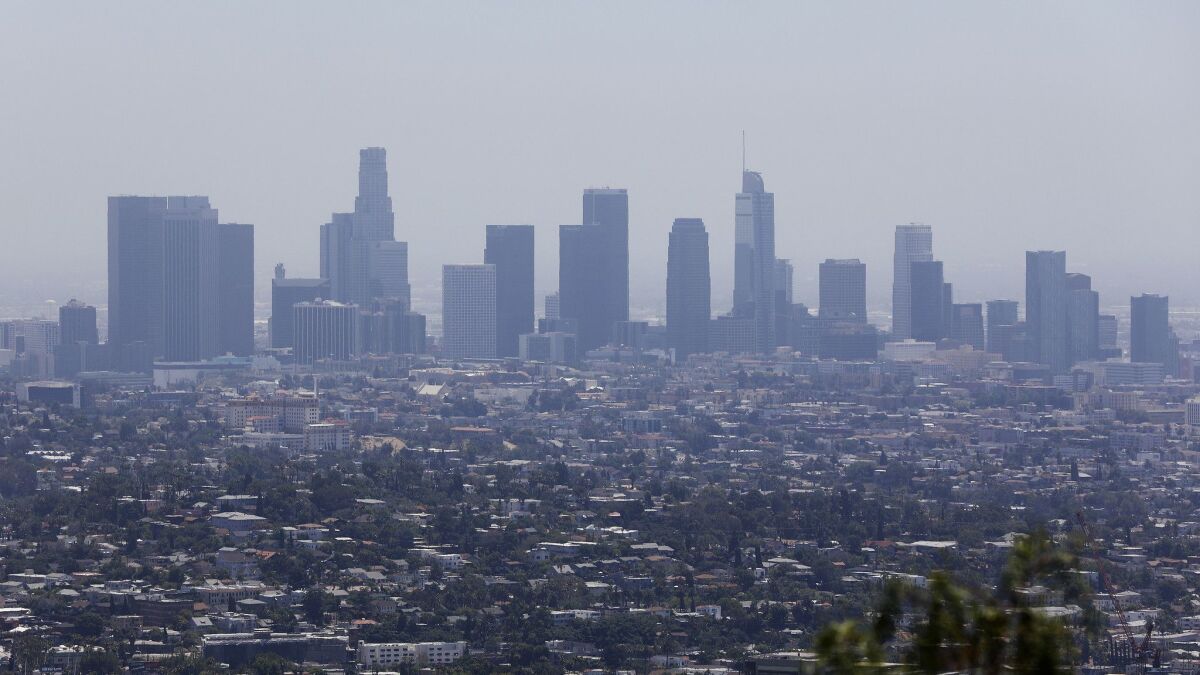 WASHINGTON —
The Trump administration's political feud with California intensified Monday with a letter from the Environmental Protection Agency threatening to cut federal transportation funding from the state as punishment for not submitting timely pollution-control plans.
The letter from EPA Administrator Andrew Wheeler to California's chief air quality regulator accused the state of having failed for decades to take required steps under the Clean Air Act, specifically allowing a backlog of more than 130 inactive smog-reduction plans to accumulate.
"California has the worst air quality in the United States," says the letter, which states that 82 areas within California aren't meeting federal air quality standards. The letter was first reported by the Sacramento Bee.
California politicians and the Trump administration have been engaged in open political warfare for years — each casting the other as its foil. But recent months have seen an escalation in the fighting.
California regulators surprised the White House in July by secretly negotiating a deal with four major automakers to voluntarily abide by California's emissions rules and increase fuel efficiency. The agreement bypassed the Trump administration's plans to roll back car pollution standards put in place under the Obama administration and deeply angered the president.
Last week, the administration launched an assault on California's role as an environmental leader in reducing greenhouse gas emissions and improving air quality. It announced the revocation of a decades-old rule that empowers California to set tougher car emissions standards than those required by the federal government.
California Atty. Gen. Xavier Becerra sued the administration the next day, arguing that the state's stricter pollution rules were lawful and needed to improve air quality.
The state's standards "are necessary to protect the public health and welfare," California Air Resources Board Chairwoman Mary Nichols said at a news conference last week. "We actually need these extra clean cars in order to meet the health standards that are set by the federal government that we violate now on a very regular basis throughout Southern California and the San Joaquin Valley."
In his letter to Nichols, Wheeler attacked the foundation underlying the state's argument by saying California's decades-old smog problem was its own fault, not a result of the Trump administration's policies.
Wheeler warned that if California did not withdraw its "backlogged and unapprovable" reports and work with the EPA to develop new ones, the administration could hand down sanctions that would mean cuts to highway funding and allow the federal government to impose its own restrictions.
A senior EPA official, speaking in a conference call with reporters on condition of anonymity, insisted the move was unrelated to the administration's revocation of California's car emissions waiver and was only meant to bring California into compliance with federal smog standards.
Ann Carlson, a professor of environmental law at UCLA, criticized the agency's move.
"It's actually hard to think of a more hypocritical move by the most anti-environmental EPA in history than today's threat to withhold highway funds from California for failing to do enough to fight air pollution while simultaneously taking away the state's most effective tool for doing so," she said.
Under the Clean Air Act, the EPA can respond to inadequate smog clean-up plans from states by imposing a series of escalating sanctions, including increased restrictions on polluting industries and the loss of federal highway funds.
The act's 18-month timeline for sanctions, however, means that even if the EPA rejected one of California's pollution-reduction plans tomorrow, penalties would not take effect until well into 2021.
By that time, the country may be under a new presidential administration, said David Pettit, a Natural Resources Defense Council attorney based in Los Angeles. The EPA's threat is "more like a schoolyard bluff than anything substantive at this point," he said.
Billions of federal highway dollars are at stake if the EPA ultimately follows through. Wheeler's letter asks the California Air Resources Board to respond by Oct. 10.
"We certainly want to avoid these statutory triggers," Wheeler wrote, "but our foremost concern must be ensuring clean air for all Americans."
In fact, Trump's EPA has pursued an agenda of rolling back or significantly weakening Obama-era environmental policies that were written to protect clean air.
Responding to industry complaints that federal air regulations were too strict, the president in 2018 instructed former EPA Administrator Scott Pruitt to more quickly review states' smog-reduction plans and to evaluate health-based smog and soot standards to determine whether they "should be revised or rescinded."
Trump's EPA has also ended a requirement for the oil and gas industry to report methane emissions.
California Gov. Gavin Newsom is in New York for the United Nations Climate Action Summit, his first big stage at events bringing together international leaders together to address climate change.
The EPA's threat follows President Trump's trip to California last week in which he ramped up his attacks on the state over its homeless crisis. He also threatened San Francisco with some type of violation notice for its "tremendous pollution" flowing into the ocean because of waste in storm sewers, specifically citing used needles.
"It's a terrible situation — that's in Los Angeles and in San Francisco," Trump said. "And we're going to be giving San Francisco — they're in total violation — we're going to be giving them a notice very soon."
It remains unclear whether San Francisco has violated any rules.
The war on smog has been called one of America's greatest environmental successes.
---
Life is stressful. Our weekly mental wellness newsletter can help.
You may occasionally receive promotional content from the Los Angeles Times.