And the Golden Foodie statue will go to ...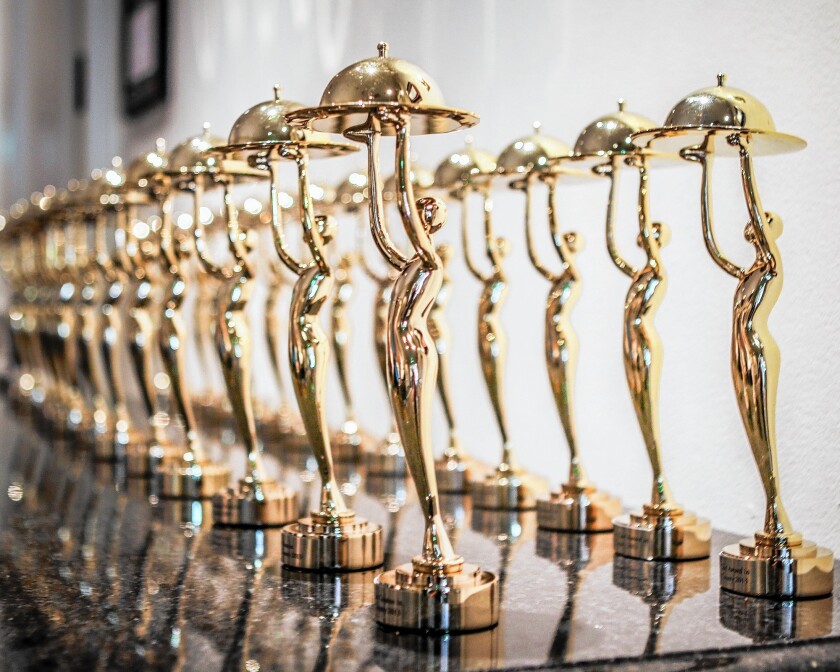 It's like Oscar night for foodies.
The red carpet is rolled out. The coveted award statuettes plated in 14-karat gold shimmer backstage.
The Golden Foodie Awards, now in its fourth year, recognizes the best culinary stars at independent Orange County restaurants.
Organizers say it's prestigious, star-studded and fun.
But before the chefs, restaurateurs and food journalists descend on the Fairmont Newport Beach hotel Sept. 27 and praise is heaped on winners in the culinary industry, food and wine connoisseurs must cast a vote for their favorites in various categories.
Those voters would be you, the public.
The Golden Foodie Awards are the people's choice of food awards, said Pamela Waitt, creator and producer of the ceremony and president of the OC Restaurant Assn.
"I would watch the Oscars and the Golden Globes, and I thought there's nothing that celebrates food, but it's the one thing that binds us," said Waitt. "We want to honor the chefs and restaurants that are not usually celebrated."
Orange County food enthusiasts are invited to vote using the Golden Foodie website during a three-week period ending Aug. 21. The winners will be announced Sept. 27 at the awards gala, which the Los Angeles Times, parent company of Weekend, is sponsoring.
The 21 categories include Best Dessert, Best French Cuisine, Best Food Writer and Service Award for Consistent Outstanding Service. Each of the three weeks, a group of seven will be voted on.
Additional categories, including Chef of the Year, Pastry Chef of the Year and Best New Restaurant Award, are classified as Peer's Choice Food Awards, to be voted on by local restaurant industry insiders only.
For each category, the individual or restaurant with the most votes at the end of each week wins.
"It really is true democracy," Waitt said, explaining that the online voting system doesn't allow users to re-click or refresh the screen once they cast a vote and that IP addresses are checked to weed out fraudulent voting. "This is not your typical awards show."
In past years, "The Real Housewives of Orange County" cast members had emceed the event, but this year the organization decided to seek presenters from within the food industry, Waitt said.
Culinary writer and Food Network television personality Simon Majumdar will lead the awards and bestow the Golden Foodie statue on winners.
"I'm so honored to host the awards," said Majumdar. "It's that perfect balance of fun and credibility that nobody really talks about in Orange County, and it needs to be done."
Majumdar has also hosted the Golden Chef Series, a precursor to the main event that involves past Golden Foodie Award winners preparing a dish or two from their restaurants to guests at Sub-Zero and Wolf Showroom in Costa Mesa. The demonstrations, featuring 11 chefs, began in April and will end in late August.
Wahoo's Fish Taco co-founder Wing Lam and Zov Karamardian of Zov's Bistro were invited to make popular items from their restaurants' menus and share their cooking experience with attendees.
Karamardian, who was mentored by Julia Child, made her restaurant's signature tomato basil soup and told participants she was excited to share her food knowledge.
"Stay true to who you are and what you do," Karamardian said. "That's what makes a difference."
Lam, who said Wahoo's Fish Taco is currently operating in 65 stores with locations in seven states and one in Japan, prepared spicy fish tacos, tortas and a salad. The 2012 Golden Foodie Award winner for Best Restaurant Branding said he enjoys putting a twist on his menu favorites.
Then it's on to the main event, which Waitt describes as an opportunity to celebrate the industry and the people who serve so many. Tickets to the award show are already sold out.
Managers of SeaLegs Wine Bar of Huntington Beach have a few reasons to be proud. The restaurant has received a Golden Foodie Award for three years in a row while being in business for less than three years. Last year it won for Best Californian Cuisine. And the team has secured a place in the Foodie hall of fame.
"It was kind of surreal to win right after we opened," said Alexander Dale, SeaLegs Wine Bar chef, who also participated in the Golden Chef Series.
Dale, who was raised in the kitchens of the now-defunct Villa Nova, an Italian restaurant in Newport Beach founded by his grandfather, said he favors the SeaLegs menu's fresh-cut fries sprinkled with Parmesan and garlic served with a three-cheese fondue with truffle oil.
Such recognition showcases the hard work and love that goes into creating food, said Alicia Whitney, owner of SeaLegs Wine Bar.
"It's such a big triumph," Whitney said. "We really didn't think we'd get three in a row. It's such a brilliant event, and I always look forward to it."
The first time the restaurant won, the event was held on her birthday. This year, the ceremony falls within her birthday week.
"It's the best gift," she said with a laugh. "Here's hoping for a fourth."
For more information and to vote, visit goldenfoodieawards.com
---