Even in defeat, Shohei Ohtani delivers dramatics in Home Run Derby debut
DENVER — It started with one smack of the barrel, sending a high fly ball into the Colorado sky.
Then came another. And another. And another.
After struggling to find a rhythm at the start of Monday's home run derby, just barely forcing Juan Soto into a tiebreaker in their first-round matchup, Shohei Ohtani suddenly hit his free-swinging, moonshot-belting, superhuman-looking stride.
Crack. A high fly ball over the right field wall.
Pop. A scorching drive that landed in the third tier of the upper deck.
Bang. A towering shot out to the back of the center field bullpens at Coors Field.
In a seven-swing span, Ohtani hit six home runs. He had matched Soto's score with still about 15 seconds to go. He looked primed to advance in walk-off fashion.
But, it turns out, Ohtani is mortal after all. In the tie-breaking round, he ran out of gas. And in the ensuing swing-off, he topped his first hack into the ground.
Ohtani lost to Soto by a final tally of 31 home runs to 28.
But after an epic battle that left the Angels two-way star resting his hands on his knees, taking deep breaths with a wide smile on his face, he straightened up, embraced his competitor and walked back toward the dugout to a chorus of cheers.
"It's hard to tell because it was my first time doing it," Ohtani said through his interpreter (and derby catcher) Ippei Mizuhara, "but it was really fun."
After Trey Mancini and Trevor Story secured dramatic finishes in the night's first two matchups, and eventual champion Pete Alonso went on a 35-homer tear to claim the third — Alonso finished the night with a derby-record 131 total big flies — Ohtani walked out of the clubhouse batting cage and onto the field to watch Soto go first.
The 22-year-old Washington Nationals star got off to a good start, driving the ball to both sides of the field, including a monstrous 520-foot blast to the upper deck in right, to finish the initial three-minute round with 18. In the one-minute bonus period, Soto tacked on four more.
Ohtani walked to the plate next, a sold-out stadium rising to its feet.
The left-handed slugger had looked good in his pre-derby batting practice, clobbering his own third-deck blast in his final warm-up swing.
But after having not taken on-field batting practice since opening day -- Ohtani does his hitting work in the batting cage instead -- it took Ohtani time to settle into a groove once the real event began.
Each of his first nine swings failed to leave the yard, resulting mostly in low line drives pulled down the right-field line. And even when he started hitting home runs, several of his early tallies barely got out, including two that clanked off the foul pole.
As Ohtani tried to catch his breath during his mid-round timeout, Angels teammate Jared Walsh came running to the plate holding a cell phone. Another teammate, Mike Trout, was on the other end of the line.
"I think he said, 'Just relax and be yourself,'" Ohtani recalled, struggling to remember Trout's exact words in the midst of his exhausted state.
"[I was] a lot more tired than during the season, for sure," Ohtani added.
But upon entering his bonus-time period needing at least six more to match Soto, Ohtani delivered, hitting a late flurry to right field before the buzzer to level the score at 22 and force the only tiebreaker of the night.
Soto went first in the extra minute-long round, hammering a half-dozen of his own to make it 28-22.
Forced to answer again, Ohtani began to heat up about 30 seconds in.
He hit three consecutive homers, then one off the wall, then quickly three more. After building to a crescendo, the crowd gasped at every swing.
With the score level at 28, Ohtani still had time to take four more hacks. But after almost five total minutes at the plate, his power once again began to fade. He hit a low line drive. Then bounced another off the wall. Then slapped two more that failed to threaten the seats.
"The last 30 seconds of both the first round and the tiebreaker, it was really exhausting," he said.
In the swing-off, when each batter got three untimed swings, Soto hit a bomb on all three. Ohtani pounded his first in front of the plate.
His derby was over. But his mission was still accomplished.
After all, Ohtani's motivation for doing the derby surpassed simply trying to win. He was not only the first pitcher to ever enter the event, but the first Japanese-born slugger in its history too.
"Japan is still going through a lot of crisis from COVID and people are kind of down," Ohtani said. "But everyone [will be] waking up to see the results. It's giving everyone in Japan a lot of energy."
They aren't the only ones.
With Ohtani participating, the rest of the baseball world tuned it. In a season that has seen him capture the sport's imagination with his two-way play, Monday presented perhaps his biggest stage yet.
He knew he'd be tired, that he'd be putting his body through a lot of stress.
But, as he said earlier in the day, "there's a lot of people that want to watch it, and I want to make those guys happy."
The cheers he walked off to on Monday in Denver were confirmation of that.
Juan Soto defeated Shohei Ohtani in the first round of the 2021 MLB Home Run derby.
(Associated Press)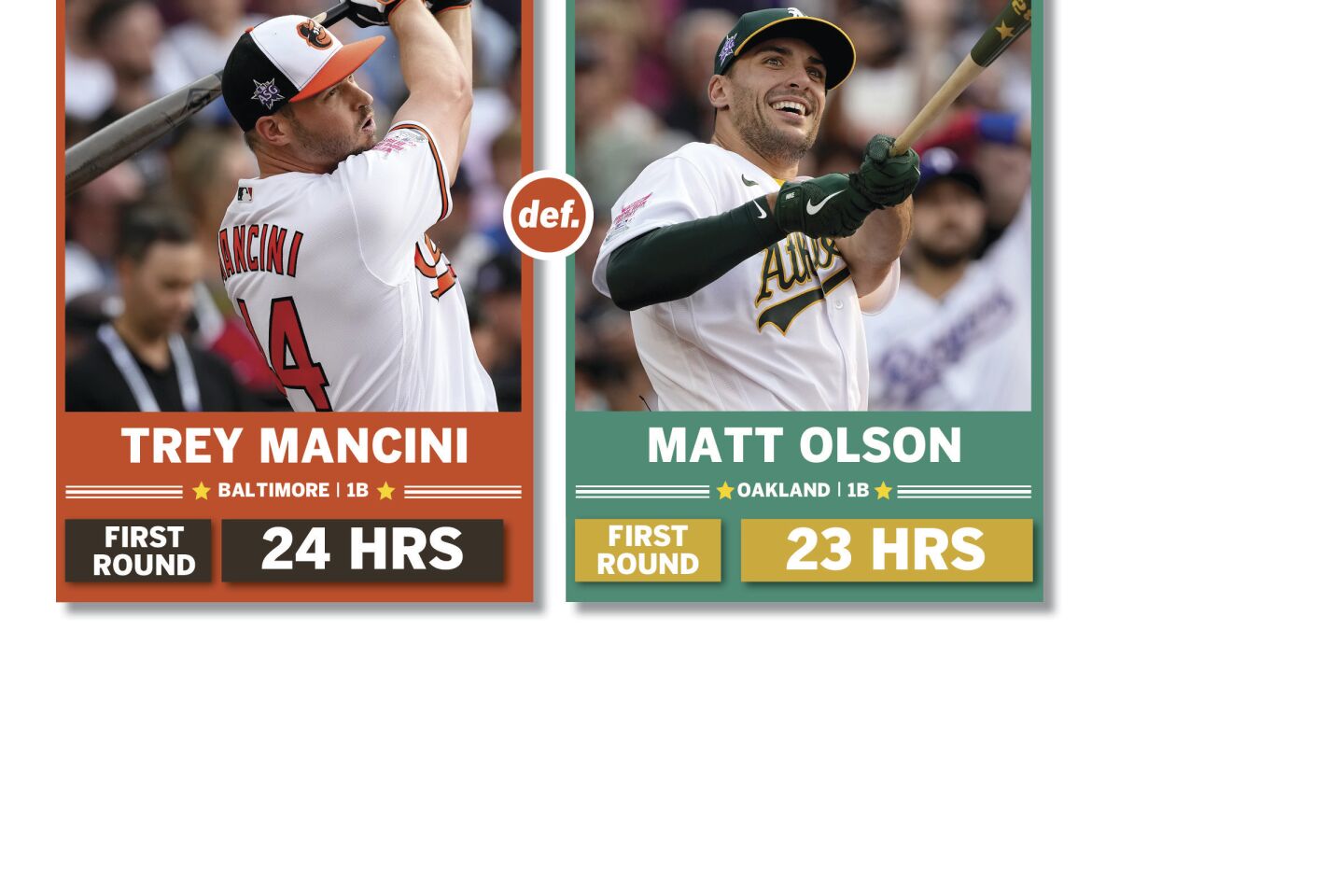 Trey Mancini defeated Matt Olson in the first round of the 2021 MLB Home Run derby.
(Associated Press)
Trevor Story defeated Joey Gallo in the first round of the 2021 MLB Home Run derby.
(Associated Press)
Pete Alonso defeated Salvador Perez in the first round of the 2021 MLB Home Run derby.
(Associated Press)
Pete Alonso defeated Juan Soto in the second round of the 2021 MLB Home Run derby.
(Associated Press)
Trey Mancini defeated Trevor Story in the second round of the 2021 MLB Home Run derby.
(Associated Press)
Pete Alonso edged Trey Mancini in the final of the 2021 MLB Home Run derby.
(Associated Press)
Ohtani says derby performance was fun, exhausting
DENVER — Shohei Ohtani smiled as he squeezed between a group of reporters and answered questions about his home run derby performance about a half-hour after it ended.
"It was fun," he said through his interpreter, Ippei Mizuhara, who also served as Ohtani's catcher during the event.
Ohtani added: "A lot more tired than during the season, for sure."
Ohtani said it took a little while to adjust to size of the field and speed of the pitches, noting that he hasn't been taking outdoor batting practice all year.
But once he got rolling, he didn't stop — until the dying seconds of each round.
"The last 30 seconds of both the first round and the tiebreaker, it was really exhausting," he said.
Still, he said the whole day was a "great experience."
Asked again why he felt compelled to participate in the derby, he answered: "A lot of people back home in Japan wanted to see this happen. I wanted to see it personally happen. It was the first time a Japanese guy was doing this."
Now, he'll prepare for his two-way start in tomorrow's All-Star game, when he will take the mound and serve as designated hitter.
"Just got to get a lot of sleep," he said. "As much sleep as I can."
Angels two-way star Shohei Ohtani talks about his performance at MLB Home Run derby
Ohtani falls to Juan Soto after tiebreaker and swing-off
DENVER — Shohei Ohtani's home run derby appearance lasted only one round. But it took a tiebreaker and a swing-off before he finally bowed out.
In the initial round, Ohtani and Juan Soto both hit 22. In a one-minute tiebreaker, they both hit six more.
That meant, for only the second time in derby history, there was a swing-off, each batter getting three swings to try and decided.
Soto went first and went yard each time.
Ohtani couldn't match it, pounding his first and final swing into the dirt to lose, 31-28.
First round: Mancini, Story, Alonso advance; Ohtani-Soto up next
DENVER — The derby got a dramatic start.
In the first matchup, Trey Mancini beat Matt Olson by one home run, 24-23, after Olson hooked a potential equalizer foul at the buzzer.
The second matchup between Trevor Story and Joey Gallo also was decided by one home run, with Story winning 20-19 after Gallo's potential tying blast came a split-second after the buzzer.
Pete Alonso put on a show in the third first-round meeting, crushing 35 home runs to Salvador Perez's 28.
Next up: Shohei Ohtani vs. Juan Soto.
The winner will face Alonso in the semi-finals.
Ohtani gets big reception during derby introduction
Shohei Ohtani has been introduced for the start of the home run derby. Only local Colorado Rockies slugger Trevor Story got a louder reception from the Coors Field crowd.
Ohtani wows in pre-derby batting practice round
In his home run derby batting practice round, Shohei Ohtani already started to put on a show.
After hitting several home runs to the lower deck at Coors Field, Ohtani sent his last ball sailing over the third deck and onto a bar area nicknamed "The Rooftop," bringing an already well-filled crowd to its feet. According to the in-stadium scoreboard, the ball traveled a projected distance of more than 500 feet.
Watch every Shohei Ohtani home run so far this season
Angels pitcher Shohei Ohtani has gained worldwide recognition for elite pitching and hitting throughout the 2021 season.
His pitching speed and double-digit home runs are drawing comparisons to Babe Ruth and a Japanese comic book hero.
Watch all of Ohtani's home runs so far this season:
No. 1: April 3 vs. Chicago White Sox
No. 2: April 4 vs. Chicago White Sox
Hernández: From Shohei Ohtani to Naomi Osaka, Japanese athletes dominate during golden era
Nearly two decades after Hideo Nomo pitched in the major leagues for the first time, a high school senior in the northern part of Japan's mainland wrote in colored markers his annual goals for the next 50-plus years.
In the chart, Shohei Ohtani included a wedding, the birth of two sons and a daughter, and coaching a team to a Little League national championship. What was most striking about the document wasn't the borderline-comical specificity of his plans outside of baseball, but how he wanted his career to play out.
Ohtani never pictured himself playing in Japan. He wanted to play in the United States and only in the United States, detailing his ambitions to sign with a major league organization at 18 and win multiple Cy Young Awards and World Series championships before retiring at 40.
This week, Ohtani will be the main attraction of Major League Baseball's All-Star festivities, which will mark the unofficial halfway point of what could wind up being the greatest individual season of the last century, if not of all-time. The Angels' two-way star will headline the Home Run Derby on Monday and perform double duty for the American League as a designated hitter and pitcher in the game on Tuesday.
As he envisioned, the world has become his stage.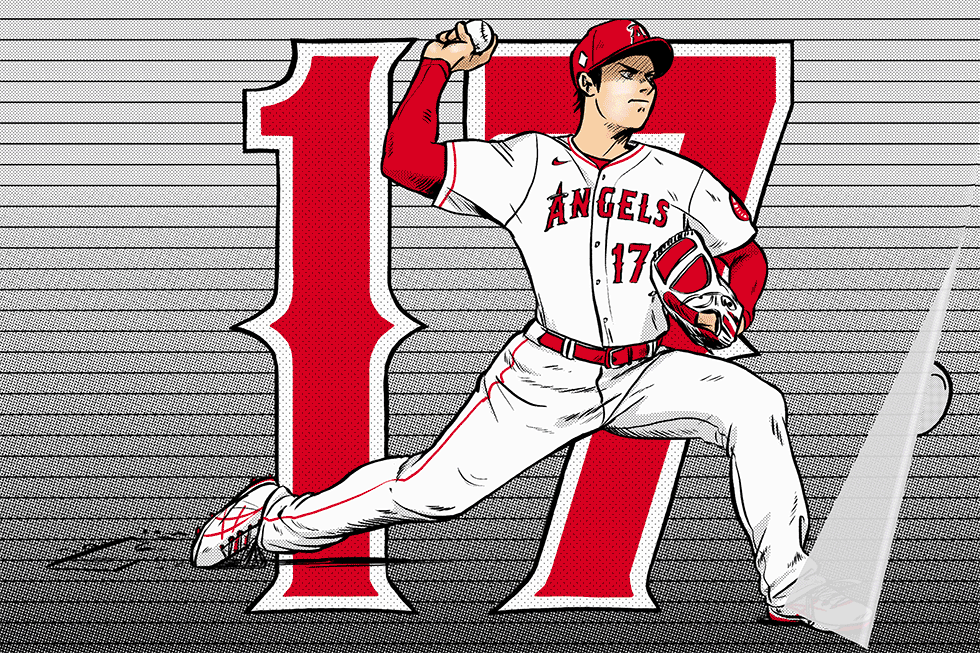 An entire generation of athletes from his homeland shared his ambition of global domination. Now, with Tokyo about to stage the Olympics, Japan is at the dawn of a golden age in sports.
Naomi Osaka is the most marketable female tennis player in the world, her profile as a four-time Grand Slam tournament winner further elevated by her social justice and mental health advocacy.
Golfer Hideki Matsuyama won the most recent Masters tournament. Bantamweight boxing champion Naoya Inoue is No. 2 in Ring Magazine's pound-for-pound rankings. Two-time Olympic gold medalist Yuzuru Hanyu is considered the greatest figure skater of all time. Rui Hachimura was a first-round pick in the NBA draft and is a starter for the Washington Wizards. The Japanese men's and women's soccer teams fancy themselves as medals contenders at the Tokyo Games.
"To want to try to play at the highest level possible," Ohtani said in Japanese recently, "is normal, I think."
In earlier times, the country's sports culture was considerably more insular, with athletes striving to be "Nihon ichi" — or No. 1 in Japan. Remnants of this inward-looking mindset remain in the Japanese language. For example, the term "pro yakyu," which literally translates to professional baseball, is understood to refer to the Japanese league.
So, what changed?
Beyond sobbing girls and screaming homers, Angels see another side of Shohei Ohtani
This was before the pandemic, when Shohei Ohtani was more of a curiosity than a sensation. He could hit. He could not pitch, because his elbow recently had been rebuilt. He carried the hopes and hearts of his homeland with him, and that embrace had not waned.
With one peek out the window of the team bus, the Angels' rookie first baseman understood the magnetism of Ohtani.
"There were four girls sitting outside the bus, sobbing," Jared Walsh said, "because they knew he was on the bus."
In this magical summer, Ohtani has transcended baseball and blossomed into a global pop culture icon. On the Angels' last homestand, a Japanese video game company sponsored a giveaway pillow covered with multiple faces of Ohtani and tweeted: "Babe Ruth never had a pillow this nice."
Ohtani is the undisputed grand attraction of this All-Star week, the favorite to win the home run derby Monday, selected as a pitcher and a designated hitter for the All-Star game Tuesday. He is must-see and scandal-free, such a singular force that he has eclipsed the teammate widely regarded as baseball's best player.
Walsh saw it coming two years ago, even if he did not entirely realize it at the time.
"Mike Trout is a pretty big deal, but I've never seen any girl outside the bus sobbing because Mike Trout was on it," Walsh said. "I think Shohei might have trumped him there."
Would Babe Ruth be a Shohei Ohtani fan? His great-grandson thinks so
Most people don't know much about their great-grandparents.
Then again, most people aren't Babe Ruth's great-grandson.
Brent Stevens never met Ruth, born years after his famous forebearer died. But, Stevens has heard enough family stories, talked to enough older relatives and learned enough of his personal history to have a good sense of what his great (bambino) grandpa was like.
And this year, it gives Stevens unique insight into one of baseball's more compelling questions.
What would Ruth think of Shohei Ohtani's historic two-way season this year?
Best comparisons to Shohei Ohtani's two-way exploits came in the Negro Leagues
Although Joe Maddon has seen every home run Shohei Ohtani has hit and every pitch he has thrown this season, the Angels' manager still has trouble putting the historic performance in perspective.
"We have to go back to [Babe] Ruth to draw any comparisons," Maddon said last week. "There's not been one name mentioned, other than his, to compare Shohei to. We all romanticize what it would have been like to watch Babe Ruth play. He pitched, really?
"You hear this stuff, and it's a larger-than-life thought or concept. Now we're living it."
Bob Kendrick nodded knowingly when he heard those comments.
A former promotions-department copywriter and college basketball player, Kendrick is president of the Negro Leagues Baseball Museum in Kansas City, Mo. It's a role he has used to teach the United States about a forgotten chapter in its history while raising the ghosts of yesterday, giving them the due in death they never received in life.
The Negro Leagues had their heyday between World Wars I and II, the same time Ruth was rewriting the record book. And that, Kendrick knows, cast a large shadow that obscures our view even now.
"I don't take it personally when they just speak of Ruth because Ruth is the name they know," he said. "They've always heard about Babe Ruth.
"As my late mother would say, you don't know what you don't know."
However, the best comparison for Ohtani's incomparable season isn't Ruth, he continued. It's "Bullet Joe" Rogan, Martín Dihigo, Leon Day and Ted Radcliffe, men whose exploits are not well known because they were banned from the white major leagues because of their skin color.
Baseball's decision last winter to recognize the Negro Leagues as true major leagues finally opened the way for the performances of 3,448 players — 34 of them Hall of Famers — to be integrated with statistics from the six segregated leagues, allowing an apples-to-apples comparison between what Ohtani is doing now and what has been done before.
"The success of Ohtani has given us an opportunity to tout the great two-way stars of the Negro Leagues," Kendrick said. "I'm so excited and proud of what he's doing because it has given us really a platform to celebrate those Negro League players who were doing this routinely.
"This is an opportunity to help remind people. And maybe they'll want to learn more about these legendary players."
Shohei Ohtani makes history with announcement of Home Run Derby participation
Shohei Ohtani was already one of the biggest stories of this MLB season.
Next month, he'll step onto one of the sport's biggest stages too.
The Angels' two-way star will compete in MLB's Home Run Derby on July 12 at Coors Field in Denver, Ohtani making the announcement official on Friday before hitting two home runs in the Angels' 11-3 win against the Detroit Tigers.
Ohtani, the 26-year-old left-handed hitting slugger whose 21 homers are third-most in the majors, will be the first Japanese-born participant in the event's 36-year history and first Angels player to take part since Albert Pujols in 2015. He will also be the first derby contestant to have started an MLB game as a pitcher.
"I always wanted to see a Japanese player participate in the Home Run Derby," Ohtani said through his interpreter Friday. "It happens to be me. I'm really excited for it."
In four major league seasons, Ohtani has 66 home runs. Combined with his five seasons in Japan's Nippon Professional Baseball league, he has 114 as a professional.
This year, he hit eight home runs in April, seven in May and four so far in June — including a projected 470-foot blast on June 8 against the Kansas City Royals that marked the longest of his MLB career.
MLB home run derby: Who's competing against Shohei Ohtani and how to watch
With the MLB All-Star game being staged on baseball's version of Cape Canaveral at Coors Field in Denver, there's plenty of buzz this year around the eight contestants who will be sockin' dingers through the thin, mile-high air.
Who are we kidding? Do you even know who's participating in the home run derby outside of MLB home run leader Shohei Ohtani? Well, if the NBA playoffs, Euro 2020 and the Stanley Cup Final left you in a bit of a baseball fog, here's a rundown of the eight players who will be looking to be crowned baseball's newest long-ball king on Monday night (5 p.m. PDT, ESPN, ESPN2).
Shohei Ohtani will be the starting pitcher for the American League in All-Star game
DENVER — Shohei Ohtani's historic All-Star week will include another milestone, as the Angels' two-way star will be the American League's starting pitcher in the game Tuesday night at Coors Field.
Ohtani will also bat leadoff as the designated hitter. MLB tweaked the rules of the game so that Ohtani can remain in the game as a batter even after he comes off the mound.
Ohtani, who will also participate in the home run derby Monday night, is the first player in MLB history to be selected to the All-Star game as both a hitter and pitcher. He is also the first Angels pitcher to start an All-Star game since Jered Weaver in 2011, and the second Japanese-born starting pitcher in the event after Hideo Nomo in 1995.
"I was actually not expecting to be chosen as a pitcher at all," Ohtani said through his interpreter. "To be named the starter, I was really not expecting. It's a huge honor."