Juan Francisco Estrada prepares to take on Felipe Orucuta at the Forum while Sor Rungvisai deals with heartbreak
Juan Francisco Estrada lives and trains in Mexico, and has become attuned to what his countrymen want from a fighter.
So as former flyweight world champion Estrada (36-3, 25 knockouts) prepares for his third appearance in the "SuperFly" series by meeting Mexico's Felipe Orucuta (36-4, 30 KOs) in the HBO-televised main event of "SuperFly 3" at the Forum on Saturday, he expects to delight a large contingent of neighbors and Mexican Americans who'll descend upon the venue.
"Mexico loves the smaller weights. We fight a lot, so there are many good fights over there, with several quality opponents," Estrada said. "By finally bringing us to the United States, everyone has found out how good our fights are.
"I know a lot of people are coming from my hometown, Hermosillo, and from Mexicali … they're coming because they know how I fight."
Estrada, 28, helped lead promoter Tom Loeffler create "SuperFly" by first coming to Los Angeles in 2012 to engage with former four-division champion Roman "Chocolatito" Gonzalez in a classic slugfest at the now-demolished Sports Arena. Gonzalez won that light-flyweight bout by unanimous decision en route to becoming the signature fighter in the first "SuperFly."
"Of all the fights I've had, that's the one people are still asking about six years later: 'When are you going to fight him again?'" Estrada said.
At 115 pounds, Gonzalez was knocked out and hospitalized by current World Boxing Council super-flyweight champion Srisaket Sor Rungvisai last year at StubHub Center, and he returns for the first time next week on the Gennady Golovkin-Canelo Alvarez pay-per-view undercard in Las Vegas.
"If he comes back strong, I think it'll be a better fight — for me, for him, with better money," Estrada said.
But Saturday, Estrada is left to participate in a non-title assignment against the taller Orucuta because Thailand's Sor Rungvisai (46-4-1, 41 KOs) balked at a rematch of their Feb. 24 meeting at the Forum that Sor Rungvisai won by a majority decision. The tightness of the bout was seen in the champion's scant 194-189 edge in punches landed.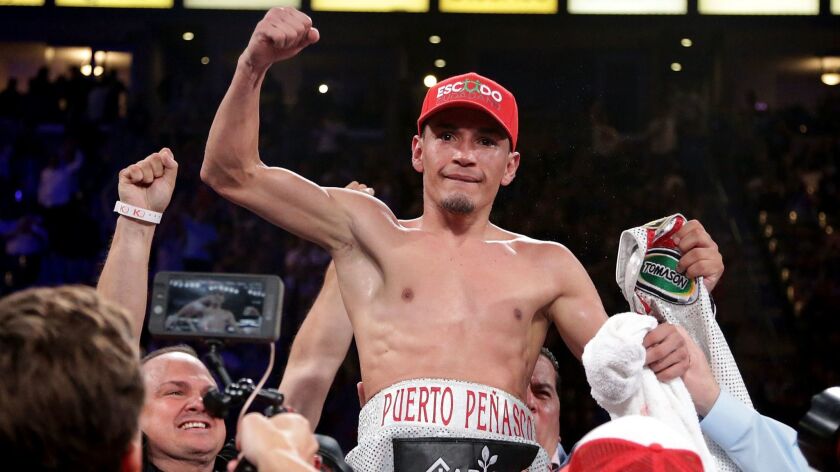 Sor Rungvisai has pointed to the heartbreak over a woman as the reason for remaining in Thailand to take a second consecutive home fight in October, but Estrada has him cornered because WBC President Mauricio Sulaiman declared Saturday's winner as Sor Rungvisai's mandatory opponent.
"I learned the hard way that's not necessarily the truth because I was supposed to fight Sor Rungvisai now … things changed, and there's nothing I can do about it. He's gone his way, and now I need to go my own way," Estrada said, adding that he has doubts about the heartbreak excuse.
"Nah … if that was true, he wouldn't be fighting at all. He's going to be fighting in October for a second time since me. … I've gone through things like my father dying where it shakes you, but if you aren't training hard and preparing yourself right, you might as well not fight."
Estrada has to conquer a two-inch height and 2 ½-inch reach disadvantage against former bantamweight Orucuta, 32, who years ago fought alongside Estrada in a Mexican reality television boxing series, with each advancing to the finals of separate weight classes.
"I know him very well. He'll be stronger, but I know that I'm faster," Estrada said. "I'm thinking about trying to finish the fight as fast as I can."
A win would position Estrada for another "SuperFly" main event, either against Sor Rungvisai, or, if the Thai champion vacates the belt to move up in weight, perhaps Gonzalez or the Kazuto Ioka-McWilliams Arroyo on Saturday winner.
What means the most to Estrada is that Saturday's appearance shows he stands as an authentic fighter and voice to his sport's most astute fans, some of whom have expressed displeasure at Alvarez for his positive drug tests for the banned substance clenbuterol and blaming it as a result of eating contaminated Mexican beef.
"It's all I eat," Estrada said. "I eat it. I don't inject it."
While Alvarez awaits his chance to clear his name next week after providing clean tests through this camp, Estrada welcomes his own main event.
"They see me as one of the most complete fighters out there and they like to see me fight," Estrada said. "This is going to be my fourth fight here in L.A., and I see this as my fourth great fight. I'll bring it again and show everyone how good I can be."
---
Get the latest on L.A.'s teams in the daily Sports Report newsletter.
You may occasionally receive promotional content from the Los Angeles Times.