Gennady Golovkin to Canelo Alvarez and Nevada: Come clean on test results
Gennady Golovkin's scathing indictment of Canelo Alvarez and the Nevada Athletic Commission has ratcheted the pressure on the fighter and the organization to race toward transparency.
Commission executive director Bob Bennett told The Times on Tuesday that his probe into the matter of Alvarez's two positive results last month for the banned, performance-enhancing substance Clenbuterol is ongoing.
Golovkin and Alvarez have agreed to a May 5 rematch in Las Vegas after fighting to a draw in September.
A source close to the situation, who was unauthorized to speak publicly on the matter and asked for anonymity, said there is a key commission meeting scheduled Wednesday with a doping expert, adding the decision to permit the rematch "has not been made yet."
Golovkin's camp is calling for a full meeting later in which Alvarez must appear in person and be questioned under oath about how the substance — banned for its endurance and stamina-enhancing effects — entered his body.
Golden Boy Promotions President Eric Gomez said Alvarez has already met once with Nevada commissioners and testified under oath about the Clenbuterol, and is willing to do it again if asked.
"We are cooperating 100 percent," Gomez said. "One-hundred percent."
The sport's most popular fighter, Mexico's Alvarez has said previously in a statement released by his promoter that he accidentally ingested Clenbuterol in tainted beef in Mexico.
And, while Dr. Daniel Eichner, an expert at the World Anti-Doping Agency lab, which analyzed Alvarez's samples, was quoted in a statement from Alvarez's promoter, Golden Boy, saying the level was consistent with meat contamination, a second line in his statement was chopped from the release.
Eichner had added, "Further investigation is needed to make a final determination," on the matter because Alvarez's Feb. 17 positive sample contained such a higher level than the positive sample collected on Feb. 20.
Golovkin made some damning accusations in a discussion with reporters Tuesday from his Big Bear training camp, alleging that Alvarez doped before their draw in September and calling the Nevada commission "terrorists" for what Golovkin trainer Abel Sanchez said was their "preferential" treatment of the more popular Alvarez.
"People like that," Golovkin said, "have to be in prison."
In light of that position, Golovkin was asked how he could possibly be training for any outcome other than a knockout victory.
"Of course, I want the knockout, but this is boxing at the top level, so it doesn't work that way all the time," Golovkin said. "I hope this time it's going to be more honest."
Bennett told The Times late Tuesday, "There were no adverse analytical findings concerning performance-enhancing drugs or any other illegal substance," in Alvarez's system ever found before his September fight against Golovkin.
An official familiar with Alvarez's testing history said the former two-division world champion has been tested 59 total times by the U.S. Anti-Doping Agency in previous fights, with four tests being "in competition," on fight week, and more than 20 tests requiring a blood draw.
As for Golovkin's criticism of the commission, which placed judge Adalaide Byrd in the first fight, for which she turned in a stunning 118-110 (10 rounds to two) scorecard in Alvarez's favor in a bout most saw as either a slight Golovkin victory or a draw, Bennett said he will respond more thoroughly after the Alvarez investigation is complete.
"There are no instances since I've been at the helm where there was any prejudice, bias or favoritism toward anybody," Bennett said speaking generally on his commission's work. "We are strictly regulators. We have no interest in who wins or loses as long as the playing field is level."
Lost in Golovkin's blistering Tuesday attack was an earlier swipe by his trainer, Sanchez, at the situation.
"I told Gennady we start the fight down two points," Sanchez said.
"It's frustrating. There's preferential treatment for this sport's stars in certain states, Nevada being one of them. Canelo's getting preferential treatment. I find it hard to believe they can't share some information with everyone about what's going on."
Many aren't buying the suggestion that Alvarez ingested tainted meat off something like a street vendor's grill in Tijuana.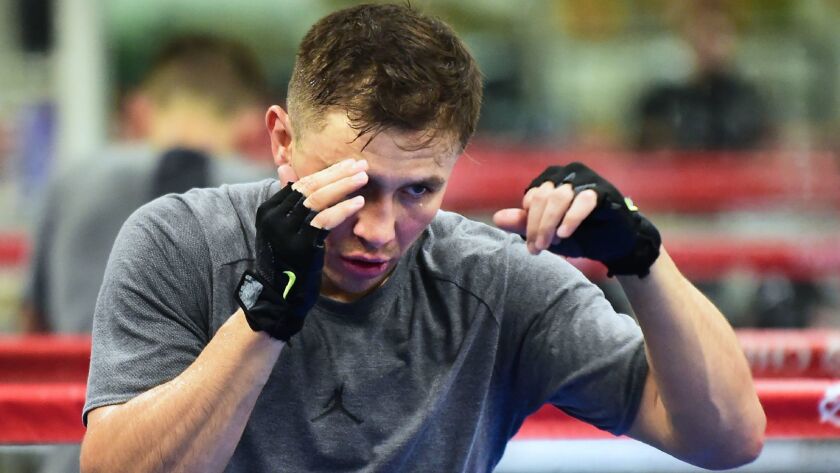 "You mean to tell me they couldn't pay a couple hundred dollars to get [quality meat] shipped in from elsewhere?" Sanchez asked.
"There's been a problem [with tainted Mexican meat] .... If it's [found Alvarez was] just eating tainted meat, then I don't think any sanctions should be applied. [Alvarez is] stupid and he made a mistake. But if they found it's not just the meat, then it's up to Nevada to determine what is appropriate. And the coaches should be sanctioned also."
Sanchez earlier this month lost his case in pleading for Nevada to not allow Alvarez to "stack" his hand wraps, contending such a practice is not allowed in California and several other states.
The trainer's sensitivity is heightened, he said, because he has seen three opponents of his fighters either fatally injured or left in a vegetative state from boxing.
"Gennady doesn't really care … [Alvarez] can be doped up, and he doesn't really care," Sanchez said. "These guys spend 10 weeks in training camp [and] they want to go and hit somebody. Gennady's mind-set is he wants to hit somebody.
"It's up to the authorities to do their due diligence and it's up to us to keep harping on it, and hopefully they find out what it is .… We, as a sport, need to look at this deeper. This sport is intent on destroying itself by some of the things it does to itself."
---
Get our high school sports newsletter
Prep Rally is devoted to the SoCal high school sports experience, bringing you scores, stories and a behind-the-scenes look at what makes prep sports so popular.
You may occasionally receive promotional content from the Los Angeles Times.